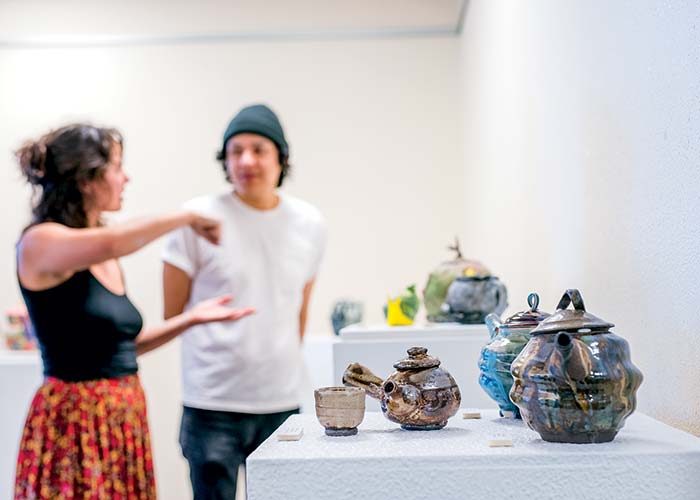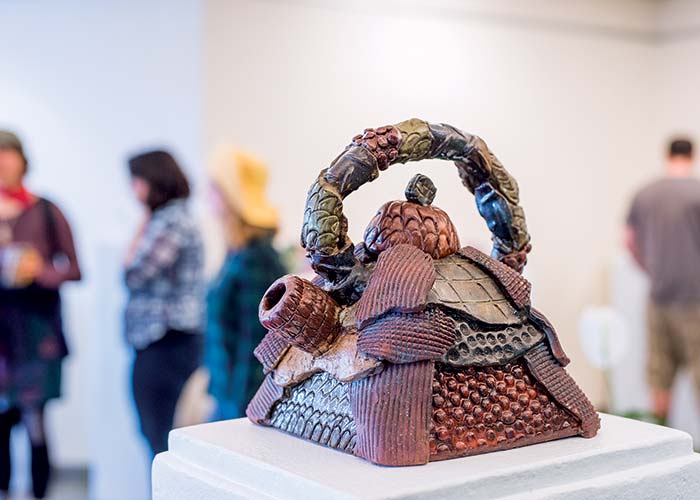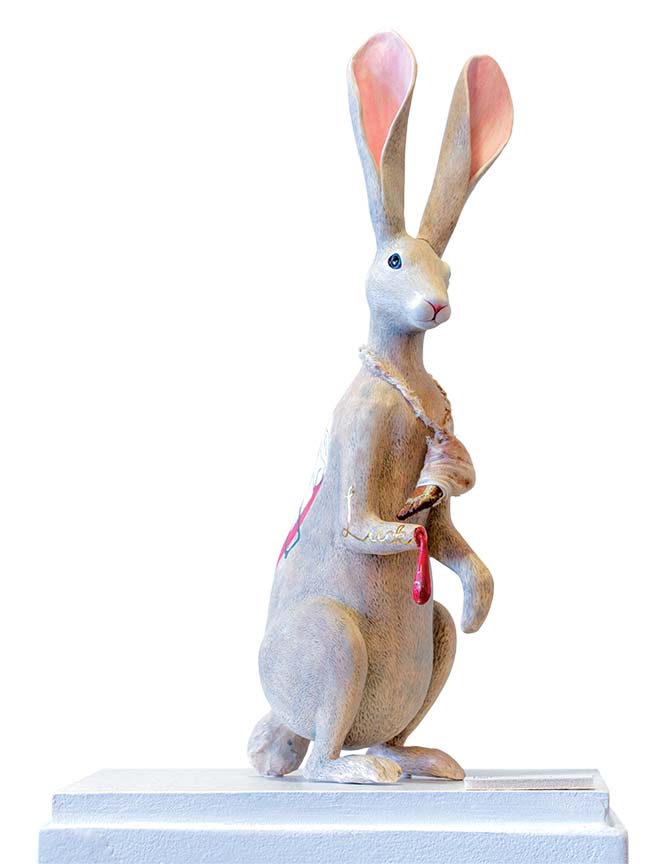 Teapots: the creative process from concept to creation
Besides leaves infused in hot water, what goes into a teapot? Plenty. There's sketching the concept, planning, constructing, glazing, and firing—all part of the process behind turning an unassuming object into an objet d'art.
"The teapot presents technical and artistic hurdles for students and professionals alike, so it's such an accomplishment to make one," says Art Professor Keith Schneider who has guided HSU students through many a teapot in his intermediate and advanced classes since 1996.
The basic teapot has a body, spout, lid, foot, and handle. The challenge is determining how those components fit together and how they're juxtaposed.
"There are certain basic elements to teapots that set them apart from more common forms, like bowls or cups. Keith wants to push us to incorporate these components using as much creativity as possible," says Art major Priscilla La Salle. Her rabbit teapot, "Lucky," and more than 30 other teapots were on display at the annual student teapot show on campus last semester.
Hundreds of years ago in China, tea powder was dissolved in a bowl of boiling water and then whisked into a froth, according to The Eccentric Teapot: Four Hundred Years of Invention by Garth Clark. The teapot's history begins sometime during the Ming dynasty as tea drinkers turned to tea leaves and a method for steeping them using a teapot. Over the next several hundred years, the teapot became more than a place to park your brew. It became highly prized pottery that spans materials, shapes, sizes, styles, and subjects.
Some teapots are fancied for their unique qualities. The beloved Yixing teapots, for instance, are pots made of porous clay found only in the Yixing region of China.
Some teapots are fanciful. The ceramic and plaster "Female Roman Statue" by HSU alumnus and notable ceramicist Michael Lucero ('75, Art) is a teapot head atop a tunic-draped body. His piece and one created by Schneider happen to be among the 17,000 teapots amassed over 35 years by Los Angeles collectors Sonny and Gloria Kamm.
Others are simply fancy. In 2016, the Guinness Book of World Records dubbed "The Egoist" the most valuable teapot in the world. With a body encrusted with 1,658 diamonds and 386 rubies, it's worth a whopping $3 million.
Whether classic, abstract, or ornate, the simple teapot is far from simple, a lesson Schneider's students discover as they push their skills, learning what's possible with clay.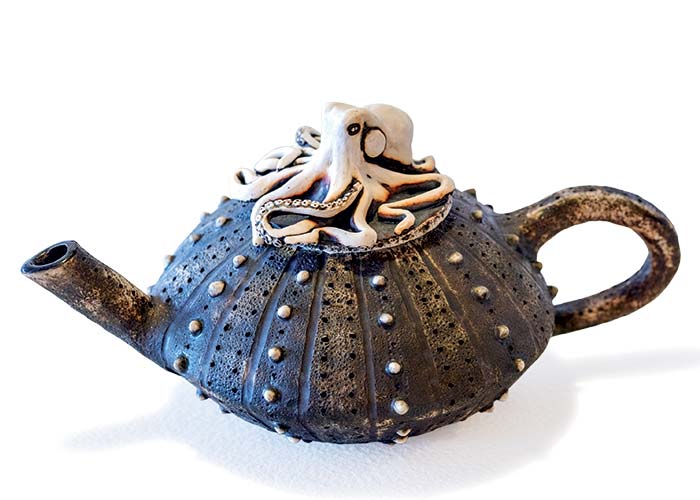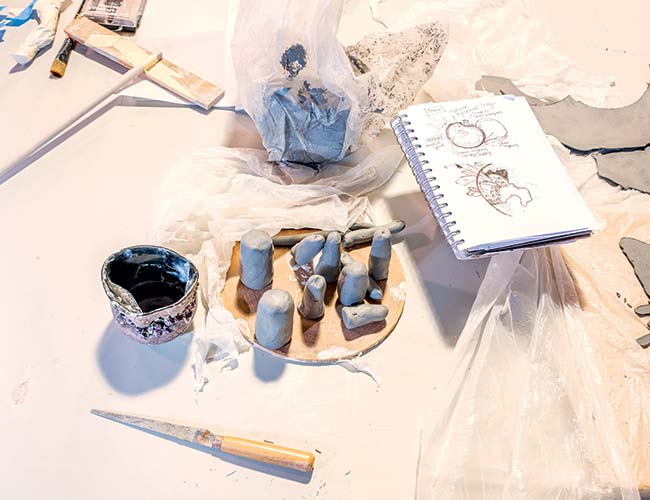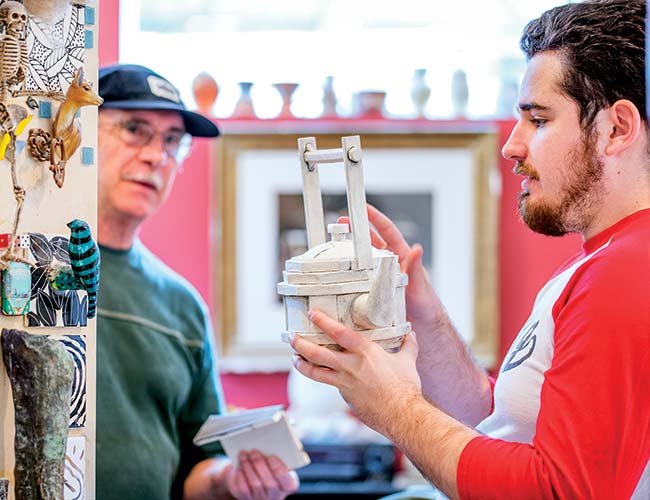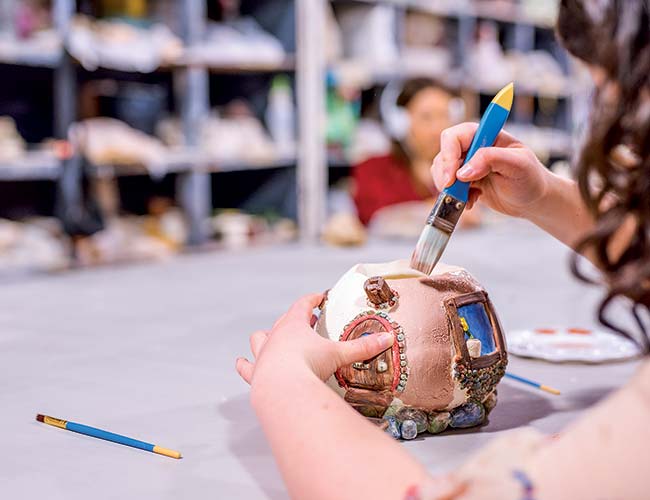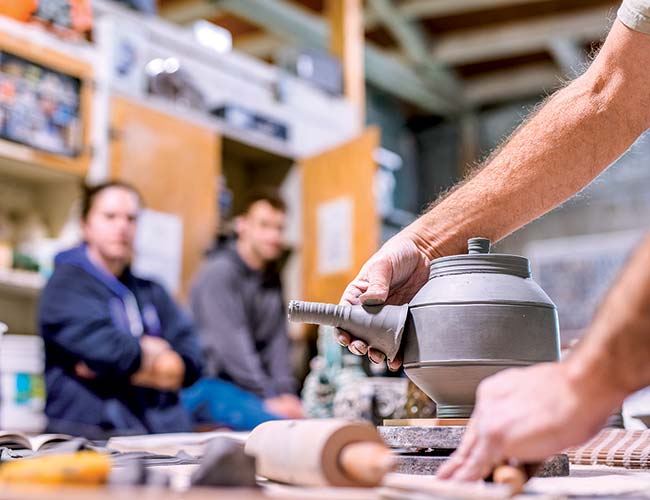 It begins in HSU's ceramics lab where Art Professor Keith Schneider demos basic building techniques. (top right) His ground rules: The teapot needn't be functional, but it has to have a lid, spout, handle, foot, and body. From there, imagination's the limit. Students sketch their ideas, which are inspired by emotions or, in Leonardo Hernandez's case, interests. "I like doing things that are fun and make people happy so I went with a cake and bright colors," he says.
As their teapots take shape, students find working with clay is an exercise in time management. The material needs to be damp enough to stay pliable, and dry enough to maintain its structure. And along the way holes can happen. Cracks, too. But with minor touch ups, like applying wet clay (lower right), and by seeing a teapot through to the end, unwanted imperfections are repairable. It's a great life lesson, says Schneider.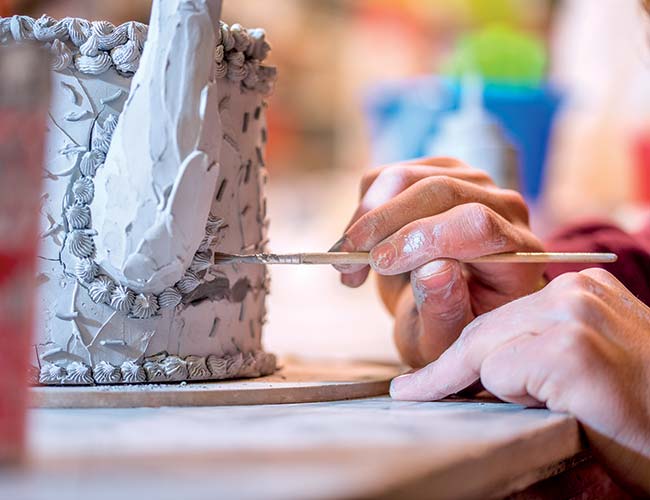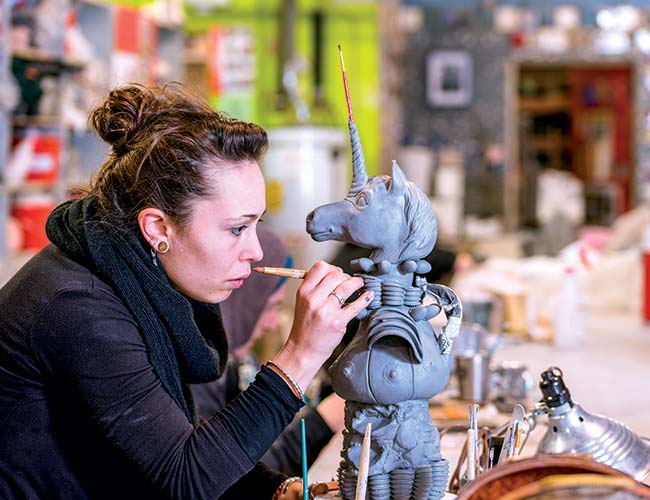 Even in later stages, students take a step back to look at the bigger picture and improvise. Art major Annie Bond (left) felt something wasn't quite right while bringing her molded unicorn to life. "The vertical area between the base of the teapot to the tip of the horn was too flat," she says. The solution? Stepped arches for shoulder pads to create more depth. "I needed to branch out in a different direction—horizontally."
Whether it's playing with dimensional space or firing a piece in the kiln several times to create just the right texture, students are encouraged to experiment and take risks.
"Some students play it safe. Some don't. Often times, they end up surprising themselves, creating something they didn't think they could make," says Schneider.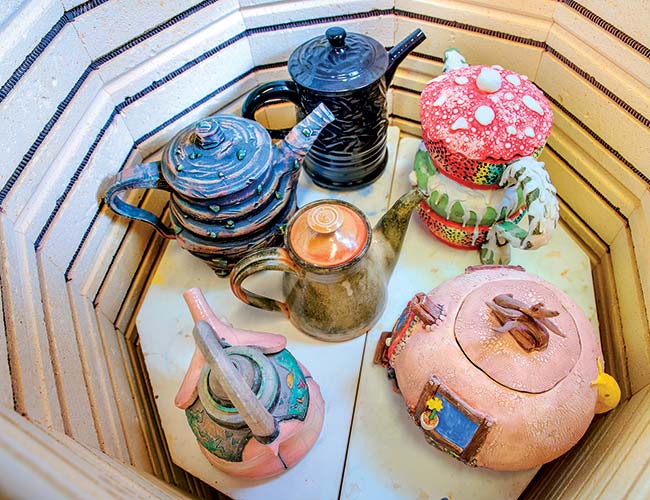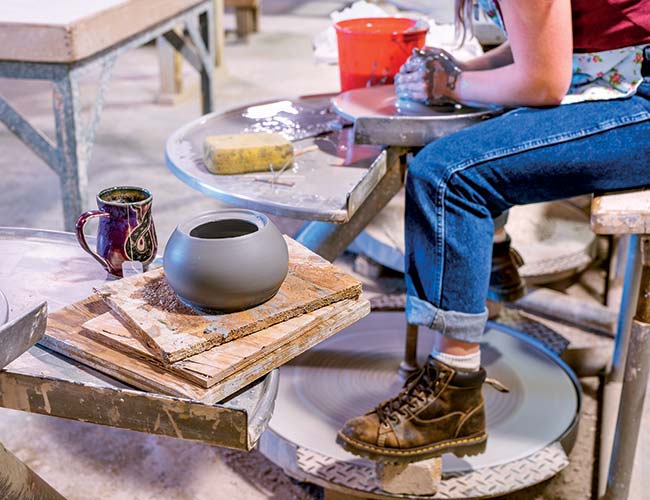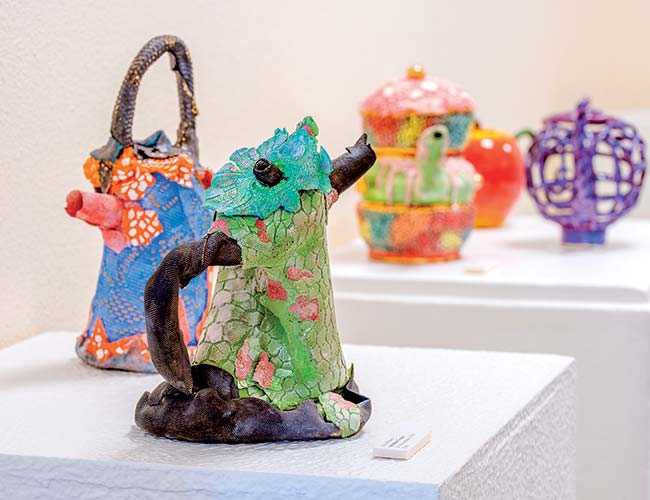 "The teapot presents technical and artistic hurdles for students and professionals alike, so it's such an accomplishment to make one."
— Keith Schneider
Professor, Art Department