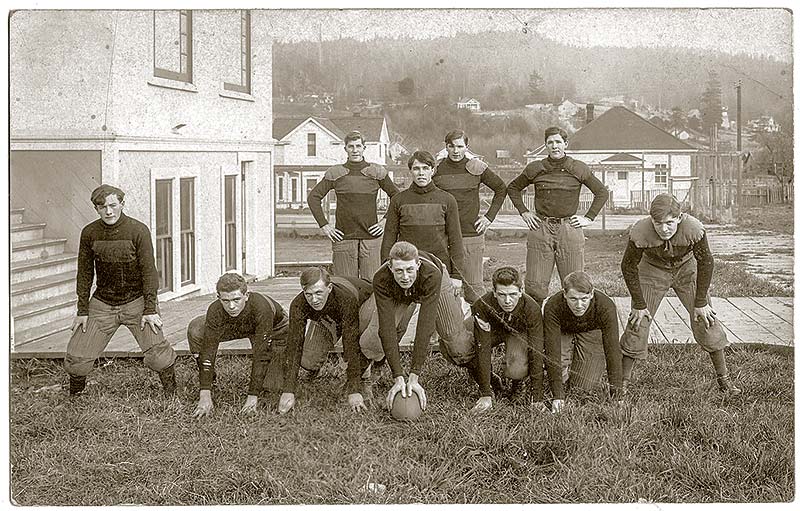 Humboldt State's football team is making its final drive this year, capping 91 years of a program that started small but ends with major accomplishments and a strong community of supporters. Thousands of players and fans won't soon forget the roar of the chainsaws after a Jacks touchdown on a field cradled by redwood trees.
The difficult decision to close the program stemmed from financial challenges faced by HSU and budget deficits within the Athletics Department.
Over the years, a spirit of family and teamwork has endured through the program's ups and downs.
Jacks football was born in 1927 with 12 players—just enough to field a team. They lost 33-0 to Southern Oregon State Normal School in their first intercollegiate game.
Then football was temporarily suspended during World War II, when many HSU students joined the war effort.
In 1960, Humboldt State football made national headlines when it traveled to Florida—a segregated state—for the national championship. Thirty-seven faculty members signed a telegram requesting intervention on behalf of the five black student athletes who stayed in segregated housing, bringing local attention to the issue.
This highlight was just one example of ongoing support of faculty and coaching staff for their student-athletes.
In 90 years the Jacks won a total of 11 conference titles, with the most recent being the team's magical 2015 run. HSU finished second in the nation in 1960 and won a regional championship in 1968.
A (usually) symbiotic relationship with the Marching Lumberjacks created many memories over the years. As football wraps up its final season, the marching band will celebrate its 50th anniversary with a blowout performance at the Nov. 3 game. (See page 6 for more details.)
The New York Times even captured the Lumberjack spirit in a 2012 profile of the team and band.
A longtime rivalry with Chico State, which fueled plenty of off-field hijinks, was brought to a close when the Wildcats program ended in 1997, but the competitiveness between the two continues through the other Division II teams.
The Jacks' recent accomplishments include record-setting seasons by running back Ja'Quan Gardner and quarterback Robert Webber, and offensive tackle Alex Cappa being drafted into the NFL.
Football's legacy—and that of its community of fans and supporters—will be one of teamwork, community, perseverance, and school spirit.
Football Highlights
1924
Bert Smith is the first head coach.
1927
First intercollegiate game versus Southern Oregon.
1942-45
Seasons canceled due to the war.
1946
Football plays its first season as a member of the Far Western Athletic Conference. The Lumberjacks go 2-0-1 in conference and win the conference title.
1946
Redwood Bowl opens and becomes the home of Lumberjack football until present day.
1951
Phil Sarboe becomes head coach, eventually leading the Green and Gold to the most titles in program history (five) from 1951-65.
1959 SIDELINE NOTE
Lucky Logger begins trolling the side- lines as Humboldt State College's mascot. Lumberjacks to a 10-0 record. HSU advances to the Holiday Bowl to face Lenoir-Rhyne University for the NAIA National Championship, but loses on a controversial field goal 15-14.
1968
A season-opening loss in Honolulu doesn't keep the Lumberjacks from earning an invitation to the Western Region NCAA Championship game. HSU defeats Fresno State 29-14 behind an out-standing performance from kicker Dave Banducci.
1968 SIDELINE NOTE
The Marching Lumberjacks make their debut.
1968
The Marching Lumberjacks make their debut.
1975
Head Coach Bud Van Deren is named the Far Western Conference Coach of the Year as he guides the Lumberjacks to a 7-3 season capped by a 33-23 win over rival Chico State.
1981
HSU defeats UC Davis for the first time in 11 years. Prior to the Lumberjacks' 20-18 Homecoming victory, the Aggies had won 38 consecutive games.
1988
The team features a trio of future professional players—David Harper, Scotty Reagan, and Richard Ashe. But the most exciting player is all-conference quarterback Rodney Dorsett.
1991
Fred Whitmire, an HSU Athletics Hall of Famer, is hired as head coach and leads the Green and Gold to back-to-back NCAC Championships in 1994 and 1995.
2011
HSU wins its first Great Northwest Athletic Conference Championship under Head Coach Rob Smith. The Lumberjacks go 9-1 overall, a record that includes memorable wins over Mesa State, Central Washington, and Division I UC Davis.
2015
The Lumberjacks are nationally ranked for much of the season and go 10-2 overall. HSU punches its postseason ticket for the first time since 1968 and even hosts a home playoff game against Augustana College. The Green and Gold defeat the Vikings and fall to eventual national champion Northwest Missouri State University.