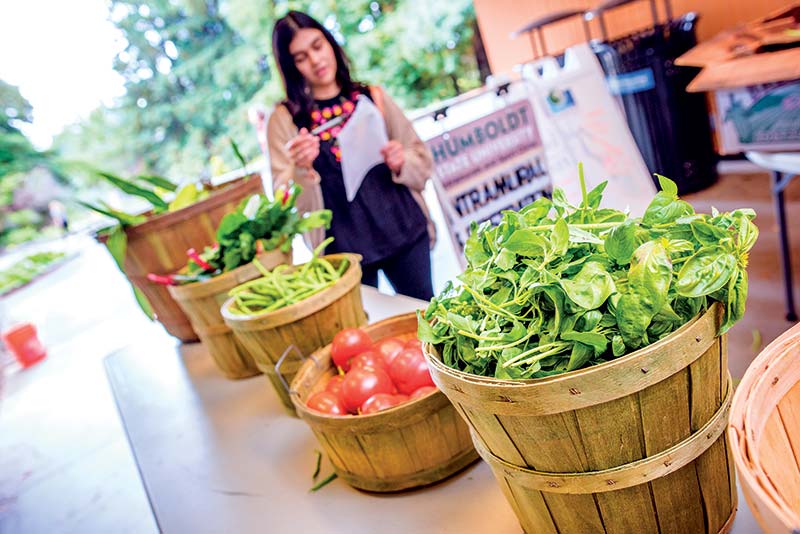 On any given day throughout the year, you'll find students in Room 122 picking up free, nutritious items from the food pantry, sharing meals, or simply having coffee together.
This warm and welcoming space is the heart of HSU Oh SNAP! Student Food Programs. Housed in the Recreation & Wellness Center, the student-led organization has evolved into the hub of Humboldt State University's effort to support food insecure students.
"We've become more visible and opened the conversation about hungry students at HSU," says Health Educator Ravin Craig, who oversees the small group of student staffers, interns, and volunteers who run the program. "We also created a space that lacks shame and stigma that goes with food pantries and where people hang out, eat together, and talk about food in a communal environment."
Oh SNAP! started in 2013 when students and Social Work Professor Jen Maguire began connecting students with state food assistance benefits known as CalFresh. With the help of Lead for Health Education & Clinic Support Services Mira Friedman, Oh SNAP! opened the food pantry the following year and has served thousands of students while adding a slew of services along the way.
Early on, the program connected students with local community resources, held cooking demos, and provided recipes based on pantry ingredients. It now offers fresh produce each week during the fall. Oh SNAP! helped implement the University's meal point donation program and just launched a pop-up thrift shop of donated items.
In 2016, HSU became the second university in the nation to accept Electronic Benefit Transfer cards from the U.S. Dept. of Agriculture's Supplemental Nutrition Assistance Program ("SNAP" lends the program its name). Students can also get help navigating the public health care system to sign up for insurance.
Logistics have been streamlined, too. In addition to helping students fill out CalFresh applications, an Oh SNAP! staffer works directly with the county to process applications. This saves students from the often confusing and frustrating process of contacting local agencies and getting papers signed by different campus entities.
The food pantry and connection to services are part of HSU's multi-pronged approach to tackling student hunger and housing insecurity on campus, while also pushing for changes throughout higher education.
On the research end are Maguire and her students, who have spent the last several years studying the issue. She teamed up with CSU Long Beach Professor Rashida Crutchfield to conduct the Basic Needs Initiative study. Commissioned by CSU Chancellor Timothy White, their research found that 42 percent of CSU students experienced low food security and 11 percent reported being homeless at some point during the previous year.
In March, Maguire, HSU President Lisa Rossbacher and others lobbied California legislators to advocate for more funding and policy changes to support food insecure students. Previously, in 2016, Maguire and Friedman testified before state lawmakers about HSU's efforts to alleviate student hunger. Their testimony played a major role in the passage of a state law that makes CalFresh more accessible to state college students.
Craig emphasizes that the key to success has been and continues to be the students. They run the pantry and choose which foods to purchase based on tastes and needs.
They're also behind the program's focus on sustainability.
Oh SNAP! has become part of HSU's extensive food recovery and redistribution system, which includes composting, changes in food purchasing, and education. For its role in the fight against food waste, Oh SNAP! built an app that notifies students if there are available leftovers from campus events. Dining services donates fresh produce left over at the end of the semester to Oh SNAP!, and students now have the option of donating their extra meal credits (J Points) to other students on an emergency basis.
These efforts have made a big difference: Oh SNAP! diverted about 1.62 tons of food from the landfill in 2017.
Craig's ultimate dream is straightforward: to make basic needs a priority and help students meet those needs so they can be successful.
"We need to think about long-term solutions, such as increasing public transit access to healthy affordable food, and look at food systems in Humboldt County," she says. "I agree with the idea that food is a basic human right—no one should have to think about where their next meal is coming from."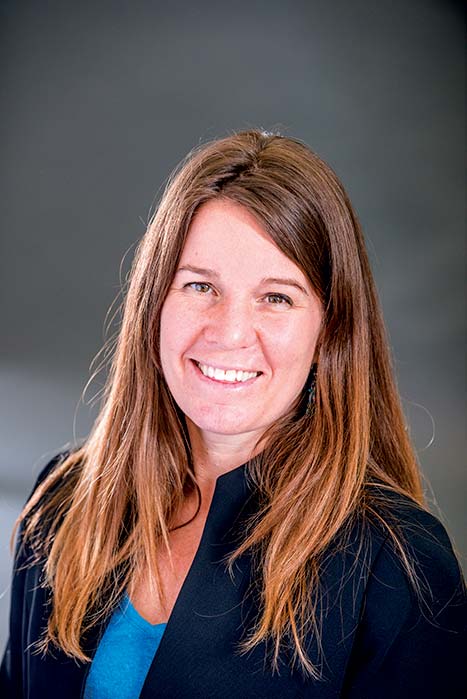 Social Work Professor Jen Maguire
On Meeting Basic Needs
When I was a Ph.D. student, I struggled to make ends meet. My husband was in school, we were both working part-time jobs while raising young children, and we had limited financial support from our families. We found ourselves applying for SNAP benefits, housing, and child care subsidies and, at the time, I thought my situation was unique. However, when I became a professor and started talking with students about their struggles, I realized I wasn't alone.
Accessing SNAP had been a shameful experience for me. I wanted to build a system that normalized accessing resources that made going to school easier. Food seemed like the obvious place to start.
At HSU, colleagues and I won a grant that supported CalFresh outreach on campus. We began working with the campus and local community to form a system of support—what is now known as HSU Oh SNAP! Student Food Programs.
Soon after Oh SNAP! launched, my research into the world of student basic needs began. The studies I conducted with Rashida Crutchfield of Cal State Long Beach demonstrated a direct link between hungry and homeless students and mental and physical health problems, lower grades, lower attendance, and less participation in recreation.
These students have suffered tremendous hardship that would stop many people in their tracks. To some extent, our call to action must paint a dark, grim story. But there's a lot of light in the resiliency of these students.
We need to continue to develop ways to support students that makes it easy to get basic needs met and be healthy, so that their effort can be focused on their educational goals.
---
Jen Maguire is a Social Work professor at Humboldt State and winner of a CSU Faculty Innovation and Leadership Award for her commitment to student success. She helped lead the statewide Basic Needs Initiative study of CSU students. That research is continuing with a close look at HSU and Cal State Long Beach food programs' successes, remaining need, and lessons that can be applied to other universities in the CSU and beyond.