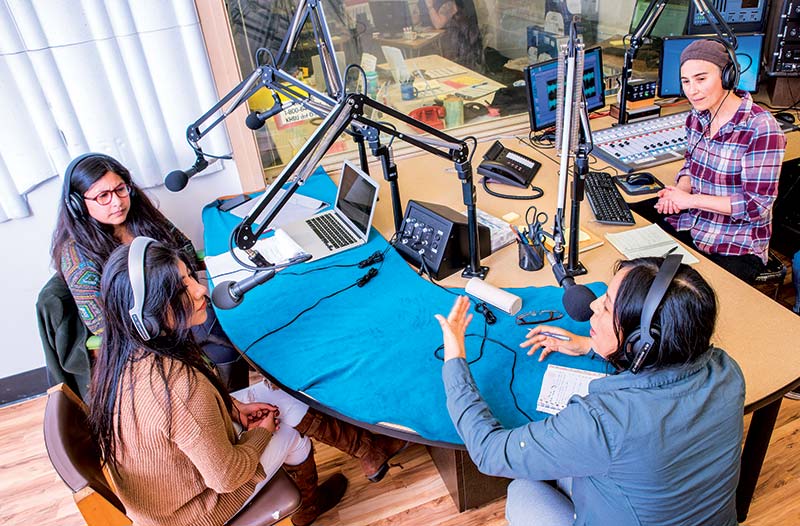 In 2008, when Fernando Paz was a recent graduate of Humboldt State, he was driving a group of people who had been swept up in a local immigration raid. They were heading south to San Francisco to take care of legal matters. Paz remembers the mood in the car was somber—until they heard Spanish-language programs on the radio.
"Everyone was filled with fear, and then around Laytonville, we heard Radio Bilingüe, which helped ease some of their anxiety," says Paz ('08, Ethnic Studies, History), now the coordinator of the Latinx Center for Academic Excellence at Humboldt State. "Around that time, my friends and I thought, 'Wouldn't it be nice if we had something like Radio Bilingüe.'"
Nearly a decade later, that dream is real and on the air.
Teaming up with KHSU, Radio Bilingüe national programs hit local airwaves in 2017. The station can be heard throughout most of the North Coast on 103.3 FM (KHSM), making a vital source of information more accessible to the growing local Latino community, including Humboldt State students.
The move was possible with support from the Humboldt Area Foundation, the California Endowment, the Smullin Foundation, the James Irvine Foundation, and St. Joseph Hospital Foundation, plus resources from Humboldt State University.
Founded in 1976, the Latino nonprofit radio network and content producer is based in Fresno, California, and reaches listeners across the United States, and parts of Mexico and Canada. Programming is free for affiliates.
In addition to cultural programs and music, Radio Bilingüe offers Spanish-language news and public affairs programs on timely and relevant topics such as the Deferred Action for Childhood Arrivals (DACA) program.
"I remember a lawyer on Radio Bilingüe was answering questions about immigration relief programs and dispelling some myths. This type of programming provides clarity," Paz says. "Without a doubt, Radio Bilingüe is going to increase the quality of life not only for residents but also for Latino students. They won't feel alone knowing they have a community."
KHSU Producer and Content Director Jessica Eden believes Radio Bilingüe empowers a community that many feel has been neglected.
Radio for Local Listeners
New community programs recently added to KHSU
"Along the River" highlights Native community stories and knowledge.
"Cannascape Humboldt" examines the socio-economic, political, and environmental facets of the cannabis industry on the North Coast and beyond.
"Charlando con la Raza" connects experiences, shares culture, and explores the importance of community.
"Cool Solutions" covers the communities and their grassroots effort to protect our climate, and possible solutions that work where we live.
"Diddie Wa Diddie" showcases country blues from the 1920s to the current day.
"Here's a Story" explores the personal narrative through vignettes, offering insight and connection.
"Immigrant Voices" reveals the hopes, dreams, struggles, and fears of undocumented immigrants—in their own words.
"Live Your Language" shares and celebrates Native languages of northwestern California.
"Naturaleza y Comunidad de La Pachamama" provides bilingual coverage of the environment and community. 
"Moveable Feast" plays the latest music, spanning genres from contemporary classical to alternative pop.
"Point of Focus" dives deep into news, politics, and views from California's North Coast to the southern coast of Oregon.
"Slice O'Ry" plays a medley of jazz with commentary on music, current events, and more.
"Everyone knew it was the right thing to do for the community; to give underrepresented residents a voice," says Eden, who, along with broadcast engineer Kevin Sanders, is among KHSU staff who helped bring Radio Bilingüe to Humboldt County. "Thanks to a grassroots effort, we can deliver news on issues like health care, the environment, and immigration—things that are important to Latino residents."
That grassroots effort began with students, who had been vocal about getting Radio Bilingüe on the North Coast for many years. But things really took off in 2015 when KHSU host Damián Campos, Spanish teacher Mike Clark, and Paz started gathering community support for Radio Bilingüe. The following year, KHSU helped a community coalition led by the Ink People Center for the Arts launch Radio Bilingüe on KIPE (89.7 FM), a low-powered radio station.
KHSU also began streaming Radio Bilingüe online and on digital radio. Within a few months, KHSU had the station and the FM frequency it needed to begin broadcasting Radio Bilingüe over the air. KHSM now carries national Radio Bilingüe programs in addition to two local public affairs programs: "Naturaleza y Comunidad de La Pachamama" and "Charlando con la Raza," among 12 local programs added to KHSU's lineup over the last few years. Hosts—who include HSU students and community members—and program guests speak English, Spanish, and other indigenous languages.
"Charlando Con La Raza" host and HSU student Xochitl Cabrera believes Radio Bilingüe can strengthen the Latino community's social and cultural presence in the county.
"Our program and Radio Bilingüe will help support Latinx communities, and as hosts we'll be able to talk about events that happen in the community and tie it back to HSU," she says.
The long-term plan includes incorporating more local programming by HSU's journalism students and other Spanish-speaking residents of the North Coast, and expanding program reach.
For Paz, hearing Radio Bilingüe on local airwaves is not only thrilling but also profoundly meaningful. "This is one way of saying thank you to the Latino community in Humboldt that has given my family and me so much."