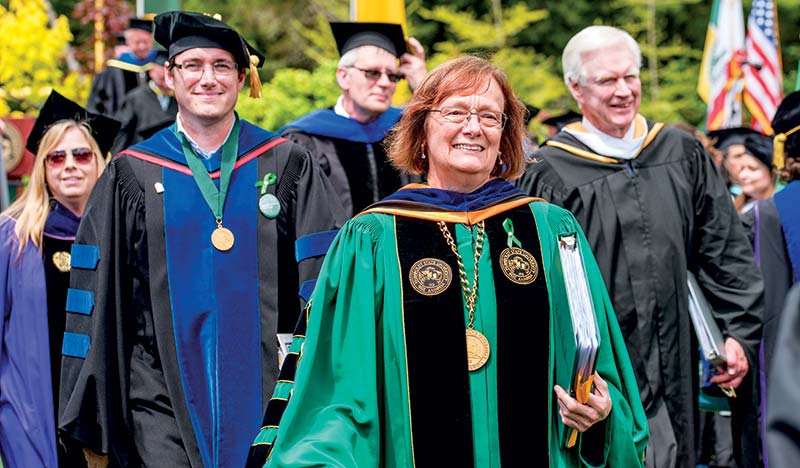 HSU President Lisa A. Rossbacher announced in early October that she will retire from the California State University system after the 2018-19 year. She will have served as president at HSU for five years.
President Rossbacher is HSU's seventh president. She previously served as president of Southern Polytechnic State University in Georgia for 16 years, and she has also been a faculty member and administrator at California State Polytechnic University, Pomona, Whittier College, and Dickinson College. She has authored books on geology, science, and the media, and was once a finalist in NASA's astronaut selection process.
President Rossbacher recently spoke with Humboldt magazine about her experience at HSU.
What have you enjoyed most about being President at HSU?
Three aspects of my time at Humboldt State stand out for me in particular. The mission of the University is incredibly important, and my time at HSU has reinforced for me the transformative power of public higher education. I became committed to this special mission during my first full-time faculty position, at Cal Poly Pomona, and my time at HSU has highlighted the individual and societal value of this education—and the great work that happens across the California State University system.
I have also enjoyed the opportunity to work with some remarkable students, faculty, and staff. They bring creativity, insight, and valuable perspectives to every situation, and I have learned so much from hearing about their backgrounds and experiences.
And who couldn't love the environment? This region is amazing in its natural beauty and varied landscapes. The mountains, the ocean, the beaches, the rivers, and the trees are just amazing. I love being able to see redwoods out the window. I even enjoy the fog, unless I am trying to fly in or out of the Arcata airport!
What still surprises you?
I never take this location for granted. Every time I drive north on 101 and get my first glimpse of the overlook at the mouth of the Mad River, the view takes my breath away. I always look forward to that view—and yet I am always surprised by it.
What are some successes of your administration that you're proud of?
I'm so glad that, as a University community, we were able to develop a strategic plan during my first year at Humboldt State; this plan has served us well. We have focused on pursuing the four major goals of that plan, and those initiatives continue to be important: supporting student success, strengthening the equity and inclusiveness of our community, building partnerships, and being good stewards of our resources. The strategic plan extends through 2020, so the next president will have the opportunity to lead a planning process that takes HSU into the future.
One of our successes has been to align HSU's expenditures with our resources, so that we are living within our means. If we achieve the expected remaining spending reductions during this coming year, we will start 2019-20 with a balanced budget. Reaching this goal has been very challenging, but we have been able to continue investing in our core initiatives in the process, including student support, more tenure-line faculty positions, and increasing the graduation rate.
We have also invested in a variety of initiatives to make the campus—and the broader community—a safer and more welcoming place. These activities range from improving lighting on campus to working with the City of Arcata and the local business community through Equity Arcata to help students feel more included and welcomed.
An important accomplishment that is on the horizon is a new nursing program, which is being developed in collaboration with College of the Redwoods and supported by the regional health care community. This will enable Registered Nurses to earn the Bachelor of Science in Nursing, filling a critical need in our area.
You ask members of the graduating class many questions at commencement ceremonies. What have you learned from their answers?
You're referring to the point at commencement when I ask the graduates a series of questions to help illustrate their dedication and the challenges they have grappled with as they have pursued their education. The questions include: Have you held a part-time job during your time at HSU? Have you had a full-time job? Have you helped raise a family? Are you in the first generation of your family to earn a college degree? Have you volunteered your time to help a nonprofit or social service agency? And are you an active or reserve member of this country's uniformed services? I am invariably impressed and humbled at what our graduates have accomplished while they have been students at HSU. I worked at multiple jobs and volunteered in areas of environmental and conservation education while I was a student—but most of HSU's graduates have accomplished far more than I did in these areas.
What three words describe HSU students?
You're limiting me to three words? Okay. I'll start with (1) talented, (2) passionate, and (3) creative. And if I could use three more words, I would add (4) adventurous, (5) inspiring, and (6) ecological. An example that illustrates a number of these descriptors is how focused HSU students are on reducing their impact on the environment. Water bottles, reusable utensils, OZZI containers, composting, recycling, the Campus Center for Appropriate Technology, and Power Down days are just a few of the examples of how students help drive the sustainability efforts on campus.
What do you tell future students and their families about HSU?
I always talk with prospective students and their families about our sense of place. Humboldt State is uniquely linked to our location and its culture, history, landscape, and ecology. This sense of place is integral to our academic programs—not just the natural sciences, but all the areas of study on campus: the humanities and social sciences, the fine and performing arts, education, and business. So many special characteristics of this region come together to make HSU unique: Native American traditions, climate, music, geology … all of these contribute to this sense of place. And these factors all contribute to make this a very special place for education.
What do you share about HSU with alumni?
I talk with alumni about current projects on campus, things that may have changed since they last visited, and updates from their academic departments. Alumni often ask about their favorite professors. And I always emphasize recognitions and awards the University has received and the value of their degree.
I also take the opportunity to ask alumni about what they are doing and their perspective on how HSU prepared them for their careers and their lives after graduation. Our alumni are an important source of feedback and a vital way in which we can continuously improve the education we offer.
HSU graduates have a strong history of demonstrating their commitment to changing the world and making it a better place for everyone. I assure alumni that current students are carrying on their tradition of changing the world.
What does the future hold for HSU?
Great things. With a balanced budget and a strategic plan to stabilize enrollment, HSU will continue to invest in our students and the future. This University offers an important option for students in California, providing the opportunity to learn, study, and live in a beautiful and unique environment with faculty and staff who are dedicated to their success. I look forward to seeing all the wonderful things that will happen here.
President Rossbacher discussed her plans with CSU Chancellor Timothy P. White during the summer. The CSU will soon launch a national search for her successor. Under university policy, the chairman of the CSU Trustees, Adam Day, and Chancellor White will select a committee made up of various campus stakeholders that will be publicly announced at a later date. Campus and community input will be sought in an open forum held on campus.