For 50 years, Humboldt State's Youth Educational Services (Y.E.S.) has made relationships with the local community through service learning, growing from a student-initiated youth tutoring program to 14 volunteer programs that give students an opportunity to learn while addressing community issues.
To celebrate and highlight the program's successes, Y.E.S. and the HSU Library have published a book this fall.
Y.E.S. got its start in 1968, when Humboldt State University students John Woolley (who would go on to become a Humboldt County supervisor) and others launched a program to help local youth with their studies. Today, that program is called "Study Buddies," and it's one of 14 programs that comprise Y.E.S., addressing a variety of community issues.
Students involved with Y.E.S. (the volunteers, program directors, and program consultants are all students) gain experience working with the youth and elderly, engaging with individuals experiencing homelessness, establishing relationships with youth in juvenile hall, connecting Spanish- and English- speaking communities, and more.
Y.E.S. coordinator Melea Smith says talking to Y.E.S. alumni, former staff, and community partners as part of the anniversary project has been inspiring.
"They shared how impactful experiential learning has been in their personal and professional lives," Smith says. "They remembered bonding with other students and staff during Y.E.S. retreats, workshops, and social gatherings.
"And they all mentioned the relationships they built with participants in the local community. For me, this was a wonderful reminder about the importance of supporting new student proposals and partnerships, while maintaining the long-standing Y.E.S. traditions that continue to mean so much."
Annie Bolick-Floss ('78, Interdisciplinary Studies, '95, M.A. Social Sciences) says Y.E.S. became a model as the CSU sought to expand service learning at all 23 campuses.
"HSU and Y.E.S. were seen as leaders, specifically around student leadership," Bolick-Floss says. Along with several other campuses that had student-initiated service learning programs, Y.E.S. was tapped as a template for other CSUs to launch similar efforts.
One of the biggest reasons for the success of Y.E.S., Bolick-Floss says, is that the programs are all started and led by students.
Dean Shearer ('18, Wildlife) got involved with Y.E.S. his freshman year after seeing a poster for Leadership Education Adventure Program (LEAP). The program engages youth from low-income backgrounds with the outdoors while building self-esteem and leadership skills.
In his second year he became LEAP's program director, overseeing the student volunteers and the activities. Now, as lead program consultant, he works to support the directors of all Y.E.S. programs.
"Students have an incredibly huge impact on what the organization does and looks like," he says. "Y.E.S. will likely be a reflection of the students and campus community in the next 50 years."
Oliver Winfield-Perez, Y.E.S. program consultant and a senior majoring in Critical Race, Gender & Sexuality Studies, also got his start with Y.E.S. during his freshman year when he met a group of students tabling for the Queer Mentoring and Advocacy Program (QMAP).
"As a new person to the school and a queer person I got really excited about it, I thought, 'Maybe this is my space,'" he says. "I went to meetings and felt at home right away."
One of the newest programs to Y.E.S., QMAP focuses on support, empowerment, advocacy, mentorship, and creating safe spaces for queer people in Humboldt County. The student volunteers work with high schools and teen centers around the community. Winfield-Perez says Y.E.S. has begun to look more critically at its role in the community in recent years, trying to approach its programs from less of a "savior mentality."
"We want to create a narrative where Y.E.S. is here to support needs in the community, but also here to learn and collaborate," he says. That means students recognizing their abilities to help, but also understanding their community.
"We know that we, as students, have less understanding about the experiences of someone who's lived here 50 years, or a student of color in a local elementary school," he says. "We all have really different experiences and need to be conscious of our own experiences and others' experiences. We have to listen and not push what we think they need."
Y.E.S. relies closely on community partnership with Potawot Community Food Garden, the Jefferson Community Center, elementary and high schools, and many more. Other campus organizations began as Y.E.S. projects, including the Campus Center for Appropriate Technology. Students who have worked with Y.E.S. have gone on to create and work in successful community organizations.
"Everything I've learned from Y.E.S. is always going to follow me wherever I go," says Winfield-Perez. "Y.E.S. grounded and supported me in who I am today. I'll always hold Y.E.S. close to my heart."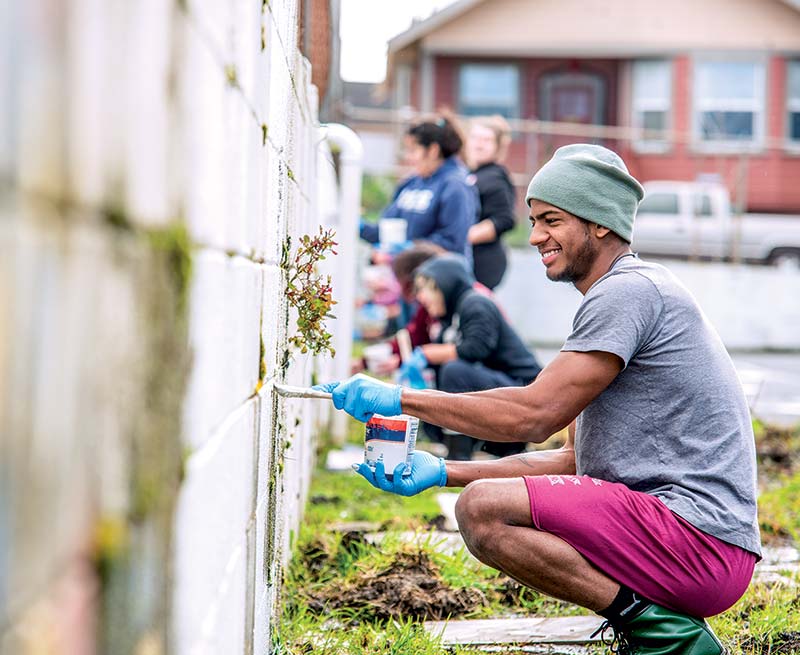 ---
Teaching Children While Learning From Them
At first glance, the Swetman Child Development Laboratory (CDL) looks like a typical preschool, with children playing with toys and creating art. But unlike a regular preschool, it's a hive of teaching and learning for children, staff, and Humboldt State University students and faculty.
The first and longest nationally accredited preschool program in Humboldt County, the CDL was founded in 1968 by HSU Home Economics Professor Emilla Tschanz.
In honor of Tschanz and her commitment to the CDL, her sister, Cara, made an endowment gift of more than $550,000 in 2013. Annual income from the endowment helps supplement tuition costs for some families today, and allows the CDL to support families from diverse socioeconomic backgrounds.
The CDL enrolls about 40 children each academic year and is staffed by two teachers who design the program for children, work with families, and give feedback to HSU students.
"The CDL focuses on relationship-building and understanding the social and emotional aspect of development," says Child Development Professor Hyun-Kyung You. "If children are nurtured to learn the value of relationships and respecting others—while being treated with respect by peers and adults—they can hopefully become more socially conscious adults."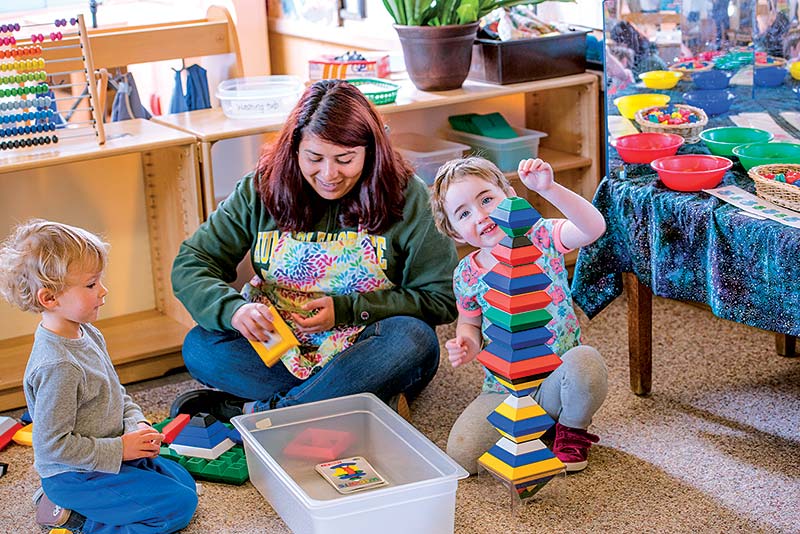 ---
Controlled Chaos and Free Spirit. It's the Marching Lumberjacks!
The Marching Lumberjacks are celebrating their 50th year of hijinks and music this fall.
The Marching Lumberjacks formed in 1968 after the music department ended its formal marching band. It was reborn as a scatter band—eschewing formal marching formations for haphazard scrambling all over the field. This organized chaos and the rebellious spirit that cultivates it have carried the band into its fifth decade.
Some things haven't changed. Aside from the logo that adorns the yellow t-shirts, the band uniforms (hard hat, green Ben Davis pants, red suspenders, and boots) remain the same. So do the fight song and the cadence.
The band's notoriety has stood strong, as well. John Gullam ('88, Social Science, '93, M.A. Education), the director of donor resources for the Northern California Community Blood Bank, recalls that he had already heard of the band before he attended HSU in 1983. The incident he had heard about was the band's formation of a cannon during the "1812 Overture" that was misconstrued (or was it?) anatomically.
Gullam says the band's spirit has sometimes tested the patience of University departments, but that it's as tight-knit a family experience as he can remember.
Emily Navarro, a Criminology & Justice Studies major, plays cymbals, tambourines, and other percussion—"anything that makes noise," she says with a laugh.
When her family's house burned down in the 2017 Santa Rosa fires, she launched a GoFundMe campaign to help cover their costs. She was surprised when Marching Lumberjacks alumni, many of whom she had never met, contributed to the fund. "A lot of people will say MLJ is like a family," Navarro says. "I saw that firsthand."
About the Anniversary:
The Marching Lumberjacks Alumni Association is planning the 50th anniversary celebration. Events for Lumberjack alumni begin Oct. 31. Visit kissouraxe.com for information and to register.
---
ITEPP Supports Students, Honors Traditions
For half a century, the Indian Tribal & Educational Personnel Program (ITEPP) has supported Native American Indian students in a wide array of disciplines.
Local tribal members and HSU faculty founded the Indian Teacher Education Project in 1969 (it will celebrate its 50th anniversary in April) to support 18 American Indian students preparing to become teachers. It has since enhanced and extended services to all majors.
In 2012 it was renamed the Indian Tribal & Educational Personnel Program to reflect the inclusion of students from a broad array of majors.
ITEPP staff members work closely with students to provide advising and culturally relevant mentorship, and to connect them with leadership and work opportunities.
The program also hosts major events such as the annual California Indian Big Time & Social Gathering, a public event that honors California Native traditions and the traditional Wiyot Tribe land, on which the campus is located. Last year, ITEPP coordinated Indigenous Peoples Week and a Native American Professionals Speaker Series.
ITEPP also works with Housing & Residence Life to offer the Native Living Suite, an on-campus living community for students interested in the issues, culture, and values of Native American tribes.
"The goals of the original visionaries continue to be manifested in the academic advising, programming, and educational planning," says ITEPP Coordinator Adrienne Colegrove-Raymond. "The program reflects the commitment of the founding advisory board who set the precedent of honoring an education ingrained with cultural values. Turning 50 confirms ITEPP's commitment to community."
"A large network of ITEPP alumni continue to guide the direction of the program," she says.
About the Anniversary:
ITEPP will celebrate its 50th anniversary with an invite-only gala on April 5, a speaker series featuring ITEPP alumni starting in October 2019, and other events. For more information, contact Adrienne Colegrove-Raymond at abc1@humboldt.edu.