News in Brief
---
$10M for Healthcare Education Hub
SENATE MAJORITY LEADER Mike McGuire, along with Cal Poly Humboldt President Tom Jackson, Jr., College of the Redwoods President Keith Flamer, and local healthcare and elected leaders, announced in November 2022 a $10 million investment in the creation of a Healthcare Education Hub that will become the epicenter of healthcare career training on the North Coast.
McGuire secured the $10 million in last year's state budget. The funding will transform a 30,000-square-foot warehouse in Arcata into a state-of-the-art learning lab focused on the development of a healthcare workforce in Northern California. This historic investment will help grow healthcare career programs at both Cal Poly Humboldt and College of the Redwoods.
"We've made so much progress over the last four years thanks to this innovative partnership with the College of the Redwoods and Cal Poly Humboldt. We restarted Cal Poly Humboldt's Bachelor of Science in Nursing program, we expanded the College of the Redwoods nursing program, and now we're launching the Healthcare Education Hub, which will become the epicenter of healthcare career training for our region," McGuire says. "This $10 million will help build out the most modern healthcare learning lab between the Golden Gate Bridge and the Oregon border and will train thousands of healthcare professionals, from multiple career tracks, in the years to come."
The Health Care Education Hub will be used to train health professionals such as nurses, psychiatric technicians, EMTs, scrub technicians, respiratory therapists, radiology technicians, and more.
"We are very aware that our future depends on a strong partnership between College of the Redwoods, Cal Poly Humboldt, Senator McGuire, and our community partners," Flamer says. "We clearly understand that we can better help all students on the North Coast by working together rather than separately. This Healthcare Education Hub is another example of what we can do if we dream and work together."
"We're grateful to Senator McGuire for his commitment to deliver on the healthcare needs of the North Coast," Jackson says. "We're looking forward to collaborating with College of the Redwoods to transform this building into a center where the next generation of health care professionals will be educated. This investment in CR is also an investment in our region—one that will help our entire healthcare system become more resilient while providing new opportunities for students and professionals."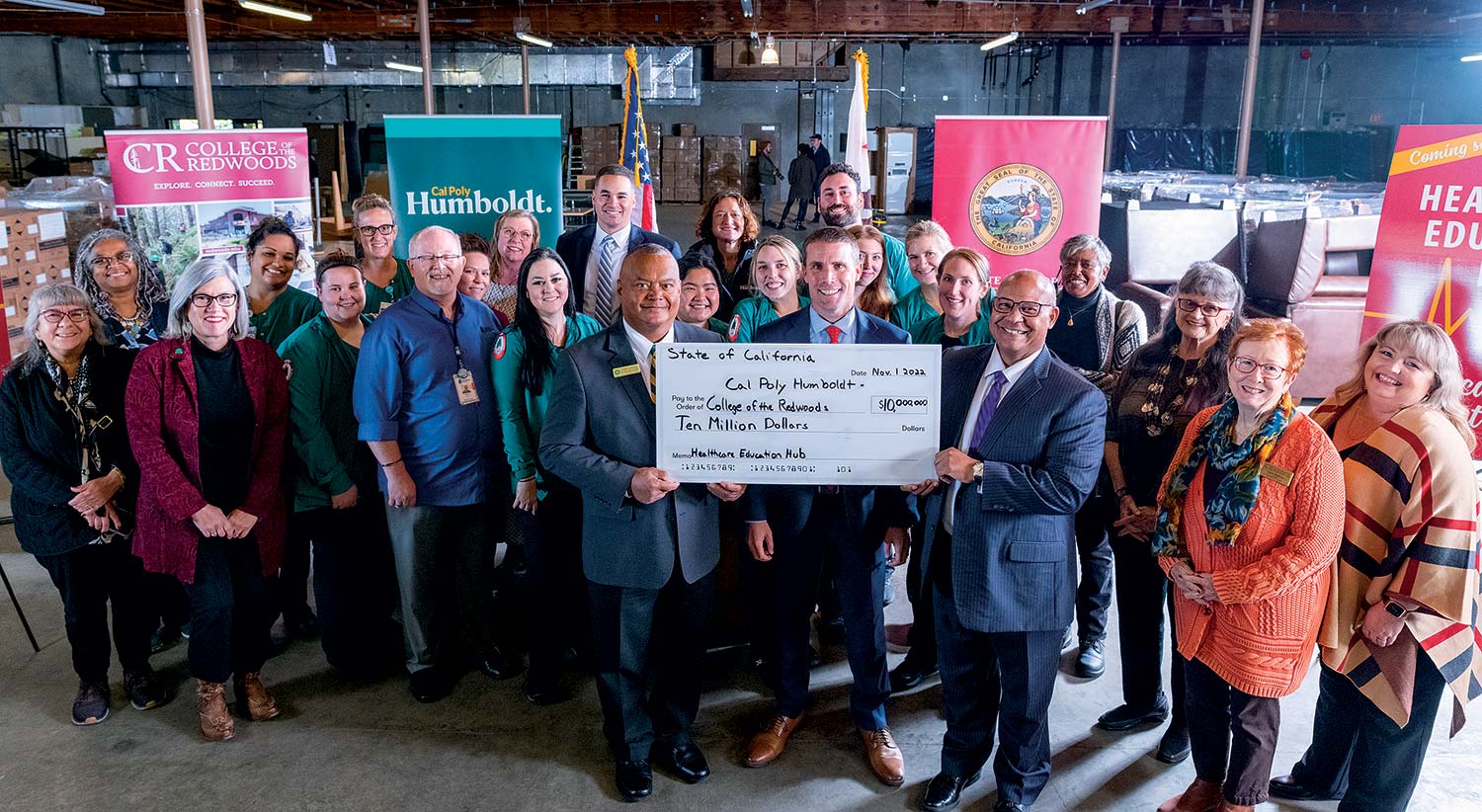 10 Years of Award-Winning Coverage of Communities of Color
THIS SPRING, EL LEÑADOR, the student-run Spanish-English paper at Cal Poly Humboldt, celebrated a decade of award-winning coverage.
Students launched the inaugural issue in May 2013 as an insert in The Lumberjack newspaper, funded in part by grants from the College of Arts, Humanities & Social Sciences and alumni donations to the Humboldt Loyalty Fund. Since then, it has grown into a monthly publication and is a critical news source for the regional Latinx community.
Its inception was an effort between the Journalism & Mass Communication and the World Languages & Cultures departments to serve the increasingly diverse student body. In 2013, Humboldt became a Hispanic Serving Institution, a designation for universities whose undergraduate student body is at least 25% Hispanic, according to the U.S. Department of Education. Today, El Leñador not only serves the University's Spanish-speaking community—nearly one-third of the student body—but the region, as it is the only Spanish-English newspaper in the county.
"El Leñador is special among college newspapers in California," says Journalism Instructor and El Leñador Advisor Andrea Juarez. "It stands out not just because it is a bilingual newspaper, but also because the staff tell stories about people of color in a vast way."
"El Leñador is crucial to Humboldt County as it gives a voice to the marginalized. It represents the core values of empowerment through journalism," says Shareen McFall ('14, Journalism), cofounder and its first editor-in-chief.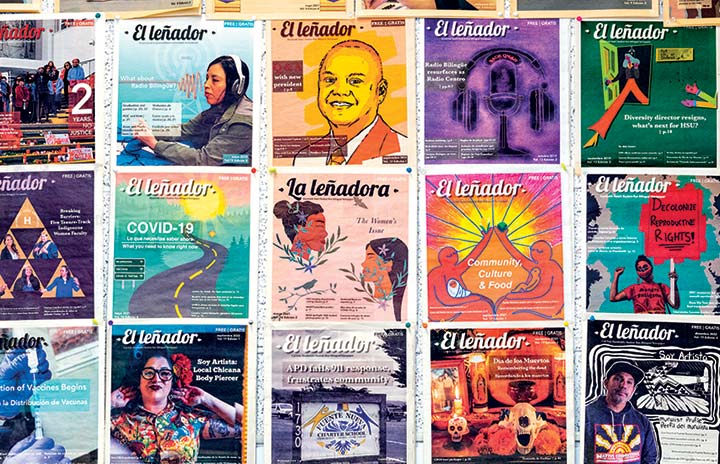 While foundational for the local community, El Leñador is a beacon for university media in California, where 40% of undergraduate students in the California State University system are Hispanic.
So far, the publication has earned more than 70 awards.
Its staff are integral to the paper's success, explains Karina Ramos Villalobos ('23, Journalism), former editor-in-chief, reporter, and designer. "El Leñador's 10-year anniversary is a representation of generations of powerful and dedicated journalists that planted the seed, saw it grow, and are continuously working to expand the stories needed to be told off and on campus."
Fat-Burning Boost with Blueberries
NEW RESEARCH FROM CAL POLY HUMBOLDT found that wild blueberries help burn fat during exercise. The study was the first to examine wild blueberries' fat-burning effects during exercise in non-elite athletes. Results suggest the fruit accelerates fat oxidation—the process of burning fats for energy.
The study included 11 males who consumed wild blueberries daily for two weeks. Participants exercised on a bike for 40 minutes at Cal Poly Humboldt's Human Performance Lab. Researchers then collected urine and blood samples before, during, and after workouts.
Results showed participants burned notably more fat during moderate-intensity exercise after consuming wild blueberries. For example, fat oxidation rates rose by 19.7%, 43.2%, and 31.1% at 20, 30, and 40 minutes.
Blueberries seemingly accelerate fat burning while decreasing the use of carbohydrates. That is significant for athletes, explains Cal Poly Humboldt Kinesiology Professor Taylor Bloedon, the study's lead researcher.
"Increasing the use of fat can help performance, particularly in endurance activities as we have more fat stores to keep us going longer than we do carb stores," says Bloedon. "Saving stored carbs also helps when we need to increase our intensity, often towards the end of the race, or when challenged by an opponent."
"Typically, when people want to increase fat oxidation, they drastically decrease carb intake, forcing our body to adapt to use fat," Bloedon explains. But, as the research shows, cutting carbs may have negative health and performance outcomes.
Anthocyanins, which give fruits and vegetables their colors, may be responsible. Anthocyanin-containing foods also include blackberries and raspberries.
Research was conducted at Cal Poly Humboldt with Dave Baston, former director of Cal Poly Humboldt's Core Lab; Kari Pilolla at Cal Poly San Luis Obispo; and Boe Burrus at Gonzaga University. Graduate students from both Humboldt and San Luis Obispo—Jessie Armendariz, Tommy Morgan, and Karli McCarthy—also participated in the study.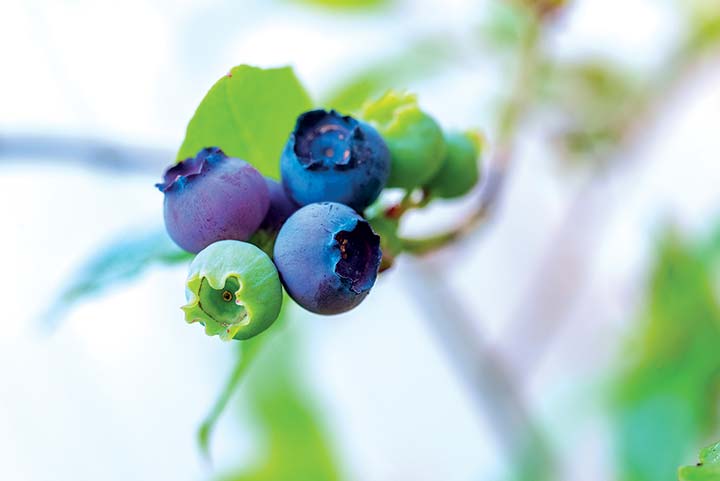 Campus Exhibition Showcases Art From
the Prison Arts Collective's Humboldt Chapter
THE MILKY WAY PEEKED OUT from redwood canopies, a mermaid swam with schools of fish through a reef bustling with life, and the Northern Lights danced over a family of polar bears.
These serene depictions were all part of the "More Than A Number" exhibition by the Prison Arts Collective (PAC) Humboldt Chapter. The exhibit, displayed at Cal Poly Humboldt's Reese Bullen Gallery this Spring, featured paintings, papercraft, crochet, beadwork, drawings, and carvings by artists from Pelican Bay State Prison.
The gallery also hosted large prints of the murals inside the yard at the prison. Audiences had a chance to participate in artist talks with past and present members of the PAC Humboldt Chapter.
Since Spring of 2021, Department of Art + Film faculty and staff have developed and maintained the PAC Humboldt Chapter to offer arts instruction and material support for artmaking at the prison.
PAC is a statewide pairing of California State University art departments and state prisons, which began in 2013. It operates through a belief that art is an inalienable human right. The institutional partnerships are designed to foster creative self expression in the California Department of Corrections and Rehabilitation, providing those who are experiencing incarceration access to the transformative power of making and exhibiting art.
In a note that accompanies his acrylic painting, titled "Lady Bug a Balance of Life," artist Derron McLead thanks audiences and the PAC for the opportunity to share his art. "I spent years in Level IV prison yards which hardened my outlook on life," McLead says. "But in 2018 the Arts and Beautification Program started. The art program and art has had a major impact in my life, it has allowed me to shed [parts of myself to be one of the team of] men of art, who have one goal in mind, that is to turn these notorious walls of darkness and pain here at Pelican Bay into art of beauty and brightness."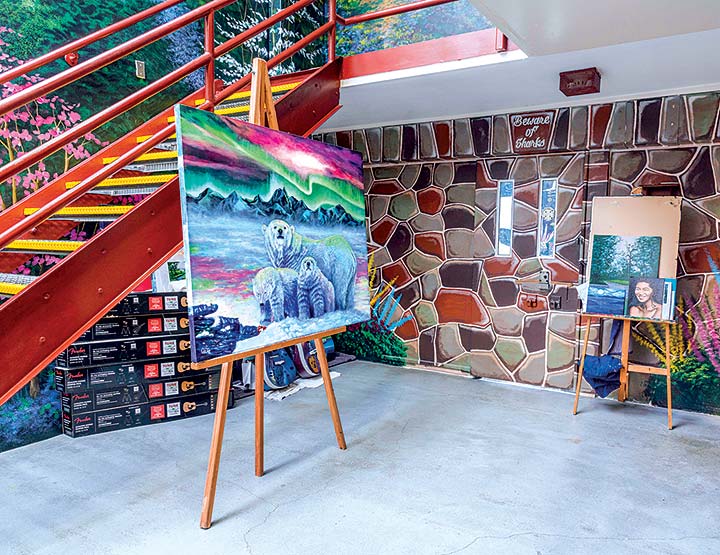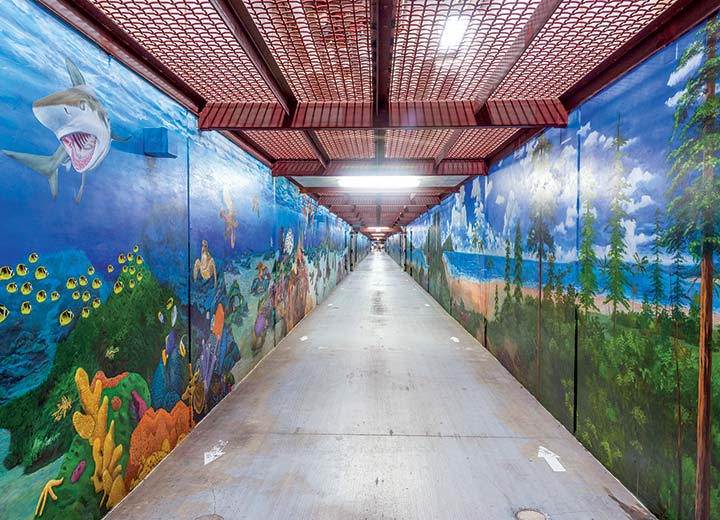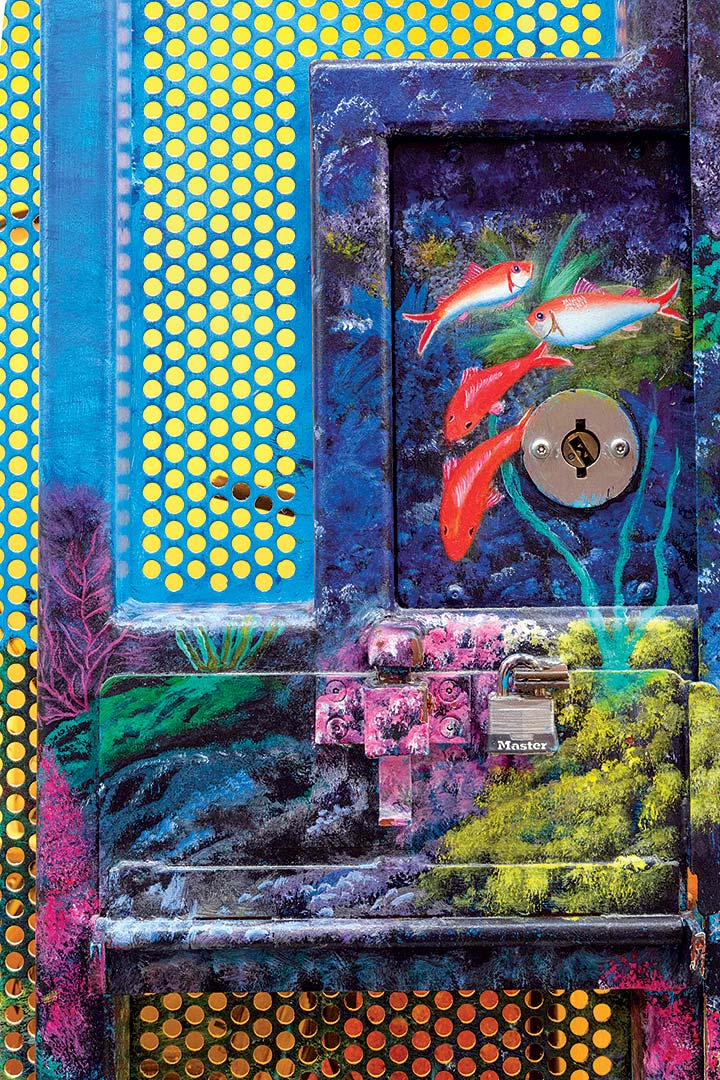 Researchers Investigate Potential Tick-Borne Pathogens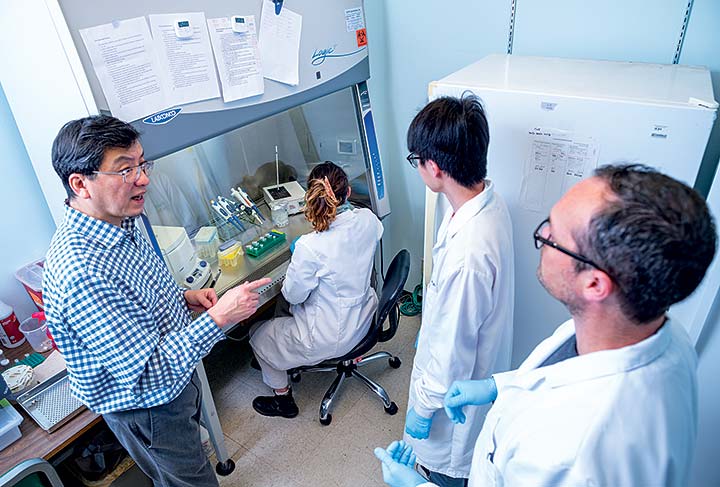 AS TICK-BORNE ILLNESSES continue to rise, Cal Poly Humboldt researchers are at the forefront of studying potential arachnid-transferred diseases.
Biology Professor Jianmin Zhong is working alongside graduate and undergraduate students in his research lab to learn more about a novel bacterium found in western black-legged ticks. "Our research aims to understand the bacteria so we can eventually help diagnose, treat, and prevent those tick-borne pathogens," Zhong explains.
The National Institutes of Health awarded Zhong's lab a grant for $590,000 for the study. The team is collaborating with the California Department of Public Health and the Centers for Disease Control and Prevention.
Ticks carry thousands of potential pathogens that are not fully understood, second only to mosquitos as vectors of human disease.
The lab's research is much needed and will benefit our communities from a public health perspective, explains Oh Kwon, Biological Sciences graduate student and researcher in the lab.
A Humboldt County local, Kwon is all too familiar with the arachnids' potential to cause illness, sometimes fatally. "My family frequently visited the redwoods and brought our dogs to walk through the natural foliage, but we always had to check for ticks," says Kwon.
Diagnoses of tick-borne diseases have increased by 60% in rural areas since 2016, according to FAIR Health, a nonprofit that tracks these illnesses.
Fellow Biological Sciences graduate student and lab researcher Nicholas Woronchuk says this research is important for rural communities. "Due to their proximity to tick habitats, these communities are more susceptible to tick-borne illness. They tend to lack widespread healthcare, which can result in undiagnosed tick-borne illness."
Ticks affect our daily life, says Zhong, who's studied ticks for more than 20 years. "It's so amazing that a small body can carry so many pathogens and parasites."
Here's to Thousands of Ideas!
WHAT BEGAN 10 YEARS AGO as a small idea turned into ideaFest, Cal Poly Humboldt's annual extravaganza, which showcases hundreds of research and creative projects by students, staff, and faculty from the past year.
"Learning is a powerfully transformative process, and the way our community celebrates ideaFest and shares the culmination of work inspires us to see great breadth and depth across disciplines and creativity," says Cyril Oberlander, University Library dean.
ideaFest originated from the University's 2013 centennial celebration, which included presentations of about 40 posters. The point? To showcase work across disciplines from all the three colleges—College of Arts, Humanities & Social Sciences, College of Natural Resources & Sciences, and College of Professional Studies.
ideaFest grew from those posters. The following year, the event was moved to the Library and incorporated not only research but also creative projects, live music, dance, and theater performances from students.
As the space for the event expanded, so did the number of presentations.
Topics included burnout among nurses, understanding critical race theory, and acculturation in sports nutrition. Art and performances included a guided sculpture walk, film screenings, dance, music, writing and more.
In addition to the event, University students, staff, and faculty are encouraged to submit to the annual, peer-reviewed ideaFest Journal, an outgrowth of the day-long event.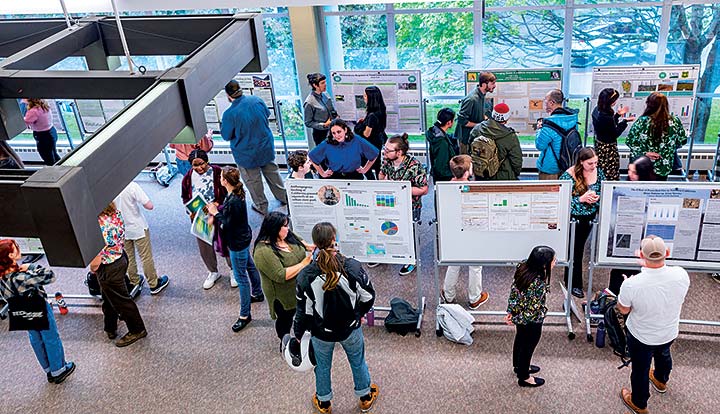 The Gift of Practical Plant Experience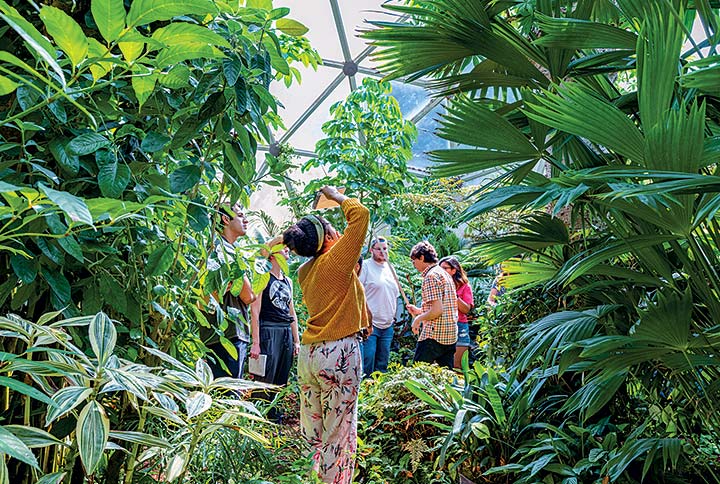 CAL POLY HUMBOLDT'S Dennis K. Walker Greenhouse boasts one of California's largest teaching collections of living plants. Thanks to a generous gift from the facility's namesake, Botany Professor Emeritus Dennis K. Walker ('60, Botany), the iconic campus facility received an injection of TLC and hired a permanent assistant manager last year.
With Walker's $1.5 million gift, the position is funded in perpetuity, backed by a permanent endowment, supporting Cal Poly Humboldt's continuing efforts to provide students year-round access to a comprehensive and unique collection of plant specimens.
"Instructors and students can access various vegetation types native to many habitats, such as deserts and tropical jungles. The greenhouse provides diverse growing conditions that make it possible to keep a teaching collection of plants available throughout the year to supplement the local vegetation," says Walker.
Day to day, the humidity and fertile greenhouse conditions are carefully cultivated by Manager Brianne Lee ('16, Environmental Science) and Andy Goldman ('07, Forestry), its newest assistant manager. Together, they care for more than 1,000 species representing 187 plant families.
Botany students use the greenhouse's collection to study plant anatomy, evolution, taxonomy, physiology, entomology, genetics, microbiology, and mycology. Goldman helps keep the greenhouse open regularly, supports students with their experiments, and improves students' understanding of plants and plant communication.
Connecting Humboldt students with the plant world is nothing new to Walker—it was his mission over the 40 years he taught in Humboldt's Department of Biological Sciences.
Walker's courses were famous for their detail and rigor. He insisted on showing students living samples and driving 250 miles to the Bay Area to acquire ginkgo trees for class the next day. His teaching collection of ferns and conifers lives on in the greenhouse.
Following his retirement from the University in 2005, Walker started to generously fund student assistant positions in the greenhouse and teaching labs. He also established the Walker Award, which recognizes the most promising Botany graduate every year.