Meet Humboldt
Victor Diaz ('24,ComputerScience)
---
VICTOR DIAZ'S PASSION for helping small businesses and underserved communities is what drew him to the field of computer science. Before enrolling at Cal Poly Humboldt, he built websites and applications for small farms and family restaurants. His skills brought these businesses more employees and customers, and helped generate more revenue. His work also ignited a passion to help small businesses and others who can't keep up with the tech world. Now, Diaz, a first-generation college student and Cal Poly Humboldt hackathon champion who is also part of the University's first McNair Scholars Program cohort—which prepares students for doctoral studies—is on his way to earning his Ph.D. In the meantime, he's in the process of publishing two research papers on artificial intelligence, and participating in the National Science Foundation's summer Research Experience Program for Undergraduates at The University of Texas at Dallas.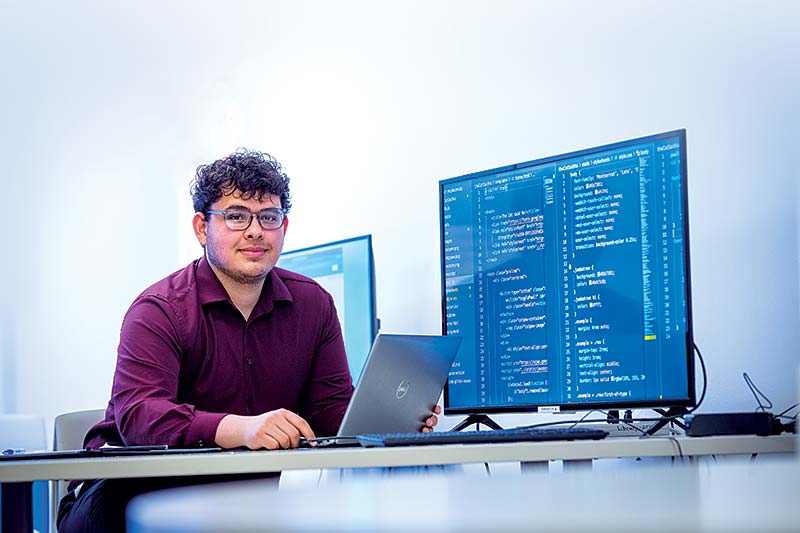 If you Build it, They Will Come
"The first website I built was for a farm in my little town in Mexicali, Baja California. The business had no employees, so I built a website to put it on the map. After I built the website, the owners received over 150 applications for work in one weekend. That's when I decided to pursue Computer Science. I'm studying software engineering to be able to build something that can help people and small businesses thrive."
Helping 'the Little Guy'
"When people think about computer science, they think about big tech companies. I want to help everybody else; I hope to build people up. And at Cal Poly Humboldt, I've found friends who just love building stuff. The community I've built just loves to take on any project that we can and support each other."
Learning the Ropes
"I think I'm a very normal guy. If I can do it, anyone can do it. You just have to sit down and do it. Instead of looking up to people, I always try to see them as my equal and ask myself, 'how do I get there?'
Currently, in the REU program, I'm sitting down with doctors and having great talks with them about their experiences. When people think about college, they often focus solely on finishing a bachelor's degree. However, being in the REU and Cal Poly Humboldt programs has shown me that I have a lot to learn. These programs have given me this perspective, but they also provide the resources to pursue this career."
Small Classes, Big Impact
"Here, you have professors who know you. Because I'm able to talk to my professors and ask them questions, I've grown so much. There's no other way I think I would have achieved everything I have so far."
Building Software and Community
"The most impactful part of my educational experience at Humboldt is working in teams. I've coded alone for a long time; even though it took me hours, I figured it out. But here, I have a group of friends where everyone has their own specialization in computer science so I don't have to do things alone. Having this support network encourages me to succeed, and fuels my passion. 
I've entered into a space where I can talk to and learn from like-minded people. It's rewarding to be part of a community where if you tell someone 'I'm going to build a game in 24 hours for the hackathon,' instead of saying 'That's crazy,' they say 'How can we help?'"