Student Life Snapshot
By Nora Mounce
---
While the University offers a network of resources to foster academic success for virtual and remote learning, fellow students have been an invaluable asset in navigating uncertain times. In the third semester of pandemic-era college life, student clubs and teams continue to find safe and creative ways to stay connected, give back to the community, and cheer each other on.
"Clubs and activities are central to the life of a university. They are often where students find their support group, their campus home, their trusted advisor, their best friends, an adventure, a place to spend their time outside of class, and maybe even meet their life's partner."
HSU President Tom Jackson, Jr.
YES
FOR THE PAST three semesters, Youth Educational Services (YES), has kept the spirit of volunteerism alive in the HSU community. Many of the organizations supported by YES, established in 1968, are elementary schools and senior centers. With school-aged children learning at home and elderly residents unable to visit their families, both populations have been particularly vulnerable to the loneliness of the pandemic. So YES volunteers have committed to staying connected through old-fashioned letter writing.
"It was hard to imagine pulling off virtual volunteering last March," explains Melea Smith, YES coordinator. "But with flexibility, creativity, and the support of campus and community partners, we've made great progress."
In a collaboration with the Humboldt County Office of Education, HSU's Center for Community Based Learning, and Early Outreach Admissions, YES kickstarted the ConnectED Pen Pal Program last fall. This semester, the project has connected 57 HSU volunteers with 66 elementary students from fourth to sixth grade at Pacific Union School, Cutten Elementary, and Scotia Elementary. Together, they are combating the social isolation of the pandemic.
"The virtual requirements of this year have forced us to come up with creative new ways to connect with youth in our community," says Andy Padilla, HSU senior and YES program director. He explains that some teachers print out the letters for each student to take home, while others use digital tools like Google Classroom.
"Despite the age difference between a fifth grader and a college student, there's so much we can learn from each other," says YES volunteer Ada Middelstadt, who graduated last semester.
Similarly, under the YES Golden Years letter exchange project, HSU students have partnered with 12 seniors living at Silvercrest Residence in Eureka. "It's a great way to bridge the age gap and provide companionship to seniors," says Smith.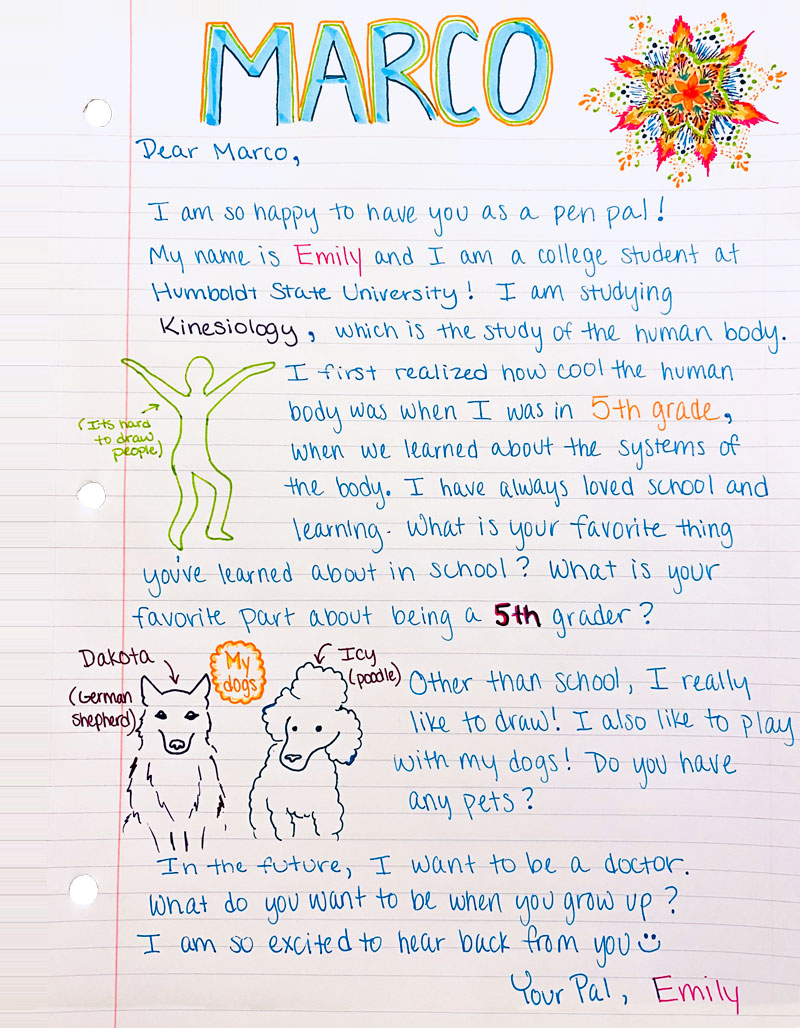 CCAT
WITH HEALTH AT the top of everyone's mind, a renewed interest in gardening and sustainability has been a silver lining of the pandemic. The Campus Center for Appropriate Technology (CCAT), a student-run demonstration home for appropriate technology, continues to be a valuable resource for sustainable living in the HSU community.
Co-director Klara Hernandez says more HSU students are talking about growing their own food. "People are at home more and need a new activity for self care," says Hernandez, a senior in Environmental Studies.
To educate the HSU community, CCAT has stayed active on Facebook, Instagram, and YouTube, offering virtual tours of the CCAT garden, collecting community compost, and growing food for the Humboldt Mutual Aid free farm stand. This semester, CCAT is focused on initiating events with a social justice component and transforming their campus food forest into an art gallery.
"We will be welcoming students to bring their art to install and setting up upcycled flat surfaces where students can paint small murals in the garden," says Hernandez. "It's a great socially distanced outdoor activity."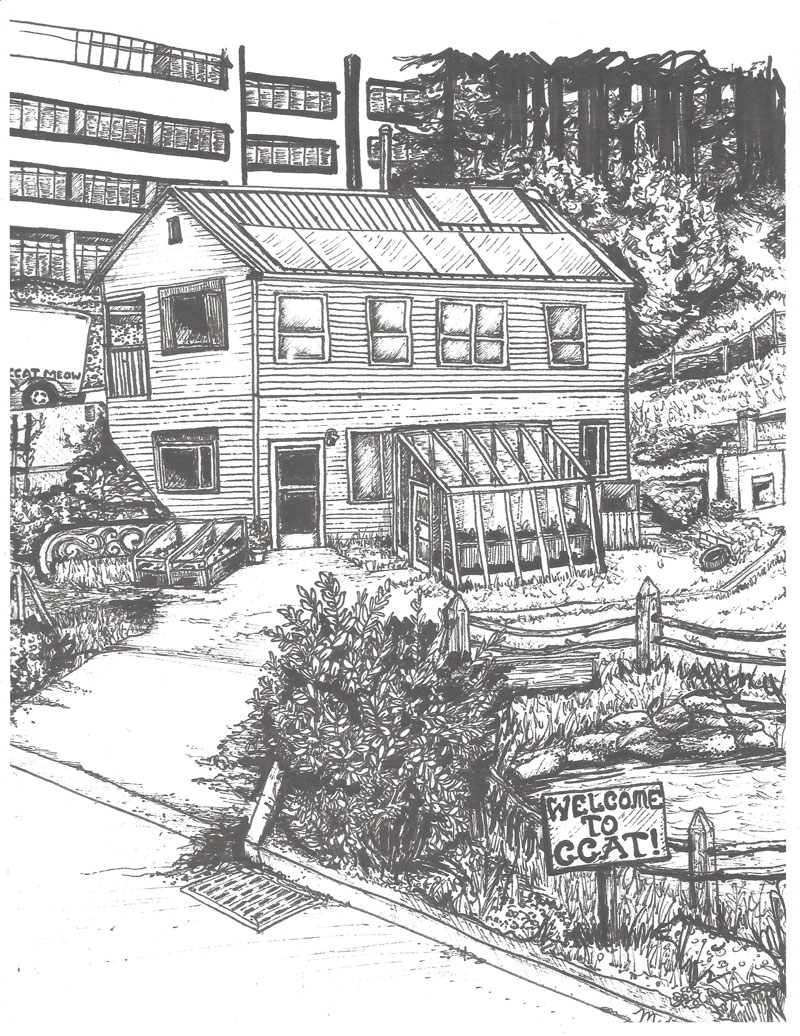 Intercollegiate Athletics & Recreational Sports
RESEARCH HAS SHOWN that college students are reporting higher levels of mental exhaustion, anxiety, and feelings of depression during the pandemic. Student athletes are no exception. A recent NCAA survey found that higher rates of distress have been reported among female, LGBTQ, and POC athletes.
To rally Lumberjacks' spirits, HSU athletes have stayed connected on social media with solidarity campaigns like #maskmonday and training together via Zoom. Last fall, Intercollegiate Athletics & Recreational Sports began an intensive return-to-participation process, which continues this semester under strict health and safety guidelines from the NCAA, Humboldt County Public Health, and the University.
"A return to sports activities has had a positive impact already," says Jane Teixeira, HSU's director of Intercollegiate Athletics & Recreational Sports. "You see it when you watch these young people participate, you see it in their academic performance."
This Spring, HSU's athletic teams joined "pods," so that games and matches limit interactions between athletes from different schools. Additional safety protocols that have allowed student-athletes to successfully return to play include testing teams in competition three times a week, wearing face coverings, and travel-related quarantine. Though spectators are still not permitted to attend, games are available to stream online (fees may apply) and Intercollegiate Athletics & Recreational Sports will share information about the games on its website and social media throughout the year.