One-stop Shop for Business Owners in Crisis
---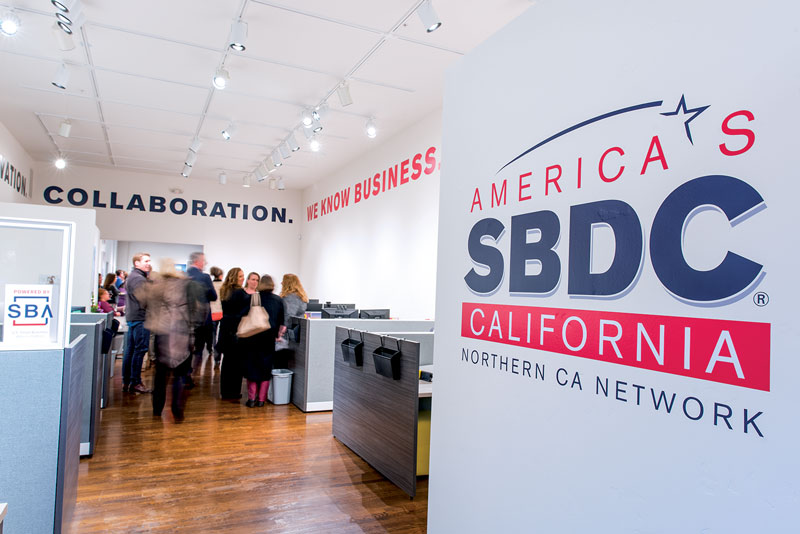 (Staying) Open for Business
Since March 9, 2020, when the U.S. Small Business Administration declared an economic crisis for small businesses, HSU's NorCal SBDC has been busy:
75,900
Counseling sessions with businesses
56,200
People have attended group training sessions
68,000+
Unique individuals served
117,000+
Calls and emails answered about loan activity
Small businesses that need assistance can call the NorCal SBDC at 833-ASK-SBDC. For more information, visit asksbdc.com, norcalsbdc.org or @NorthCoastSBDC on Facebook.
AS SMALL BUSINESSES SCRAMBLE to keep their doors open and stay financially viable during the pandemic, Humboldt State University's Northern California Small Business Development Center (NorCal SBDC) has remained a critical resource for regional businesses that desperately need access to grant and loan programs to survive.
"It's heart-wrenching to hear each business owner's story," says Kristin Johnson, director of the NorCal SBDC, the fifth largest SBDC network in the country "People have put their entire lives into their companies. No one could have expected the economic devastation that this pandemic is causing. When we can assist an entrepreneur with securing a loan or help them maintain their workforce, it is very rewarding."
Established in 2006, NorCal SBDC serves 36 Northern California counties, supporting nearly 45,000 small businesses from Aptos, near Santa Cruz, to Crescent City. In addition to offering one-on-one business consulting, the nonprofit is a resource for accurate and timely information about local, state, and federal programs.
Those programs include the Coronavirus Aid, Relief, and Economic Security (CARES) Act, the law meant to help individuals and businesses cover emergency expenses related to COVID-19. NorCal SBDC put the $7 million in CARES funds it received to good use, expanding current services and adding new ones to handle the surge in client demand.
Since March 2020, NorCal SBDC has supported thousands of people, answering calls and emails about loan activity and providing counseling and group training sessions. NorCal SBDC also launched a COVID-19 hotline and website and a call center, where businesses can receive immediate financial assistance from qualified consultants.
The center has also made supporting historically underrepresented populations, which have struggled disproportionately in the past year, a priority. It launched outreach campaigns for business communities whose second language is English. Additional in-language consulting and training are being offered to Vietnamese, Chinese, and Hispanic communities—the main focus has been on California's Hispanic population.
Another new important initiative, The Inclusivity Project, aims to secure $100 million for 1,000 Black-owned businesses.
"One hundred million dollars is a lofty goal, but the SBDC is committed to economic diversity as it breeds economic vitality, and I think we are up for the task," says Chris Horton, a NorCal SBDC finance expert. "It's my hope that this opportunity will bring needed attention to Black and minority-owned businesses and demonstrate that the SBDC serves all people and builds pathways for minority-owned businesses to financial platforms."