News in Brief
---
The Jacks Give Back
HUMBOLDT STATE UNIVERSITY student-athletes came together for their community during the 2019-20 season. Overall, the Jacks finished 21st in the nation for community service honors among NCAA Division II teams. 4,536 HOURS Athletes spent on community service projects in the 2019-20 season The women's soccer team finished first among all women's sports teams, the men's soccer team finished second, volleyball third, softball fifth, and rowing came in sixth in their sport. In total, HSU athletes spent 4,536 hours on community service projects.
"Our student-athletes do an incredible job of giving back to the community. As a department, we strive to be service leaders, and that starts at home, here, giving back to the Humboldt community, which supports us throughout the season," says Jane Teixeira, HSU director of Intercollegiate Athletics & Recreational Sports. "This community is such a big part of what makes our University and Athletic department thrive, and it is vital that we give back in any way possible."
Congrats 'Cap'!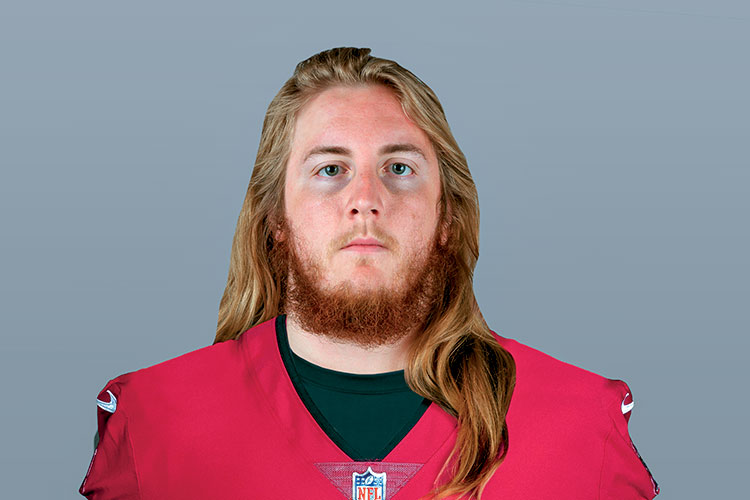 DISTINGUISHING HIMSELF as one of the Lumberjacks' all-time greats, NFL offensive lineman Alex Cappa ('17, Kinesiology) was drafted by Tampa Bay in 2018. Last season, he started all 17 regular season games, helping to protect quarterback legend Tom Brady before being sidelined with a leg injury in the wildcard game. Tampa Bay went on to defeat Kansas City in the Super Bowl.
Cappa was the first HSU Jack to be drafted by the NFL since 1992. Brady called him a "tough, hard-nosed football player" and credited "Cap" for his role in Tampa Bay's Super Bowl win.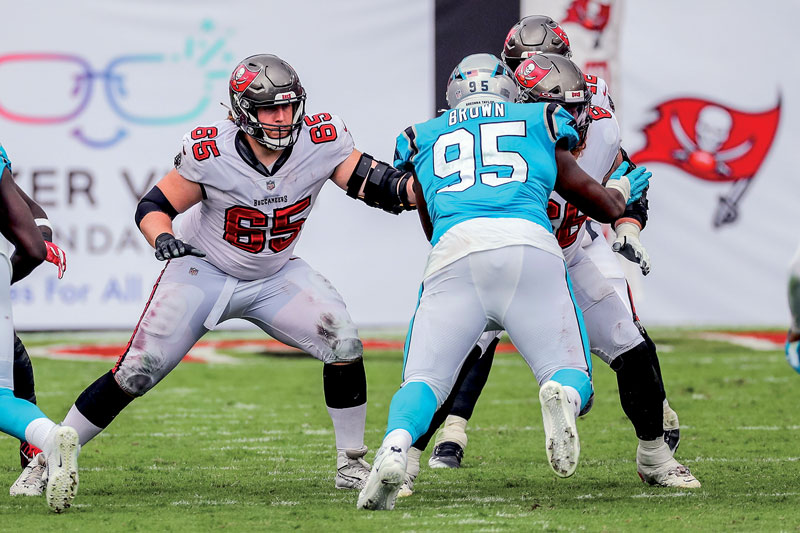 Healthy Movement and Ergonomics at Home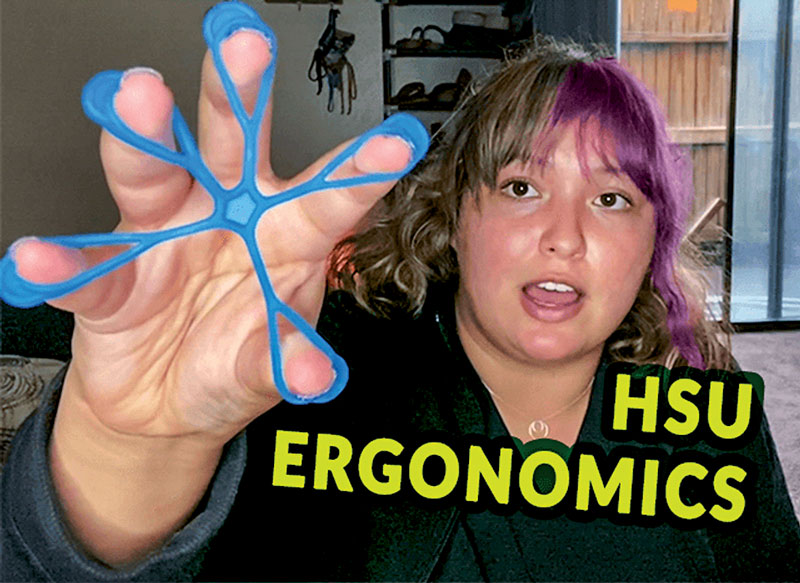 WHEN HUMBOLDT STATE shifted to online instruction last spring, Kinesiology Professor Whitney Ogle found herself working from her kitchen and sitting on a hard wooden dining chair. As the co-director of HSU's Biomechanics Lab, Ogle quickly realized she needed to make ergonomic improvements on her makeshift office.
Knowing that millions of Americans were in a similar scenario, Ogle and her graduate students created a series of videos that share best practices for optimal working and learning at home.
"Healthy movement is all about variety throughout the lifespan," says Ogle.
One year into working from home, she has added two more workstations, including a saddle seat, a style of chair often used in medical offices. She stresses that just like any chair, it's not optimal for eight hours a day.
"People should figure out what works for them," says Ogle. She explains that there's no one size fits all for ergonomics and that repeatedly using the same muscles can lead to cumulative stress in wrists, hips, and shoulders.
In their videos, Ogle's students also emphasize the fundamentals of ergonomics, such as having the computer screen at eye level and utilizing tools like wireless keyboards for proper head alignment and bluetooth headphones, so you can get up and move around while listening to a lecture. She emphasizes that getting outside for a walk around the block or just a stretch in the yard is fundamental to both physical and mental health. Even taking breaks with your eyes to look away from your screen–ideally, outside at nature–is important for our brains.
"If you live in Humboldt, there are so many beautiful things to look at and ways to stay active," she says.
BLM Artwork Shines in National Spotlight
LAST OCTOBER, Humboldt State University senior Melanie Zhao was named a winner in Zumiez's "Stand Up Campaign," a nationwide contest for activism in the arts. Zumiez, a major apparel brand with more than 700 stores worldwide, partnered with Amplifier Art to rally artists to create art for social change. Zhao's artwork, inspired by the Black Lives Matter (BLM) movement, has been projected on buildings across major cities from New York to Seattle.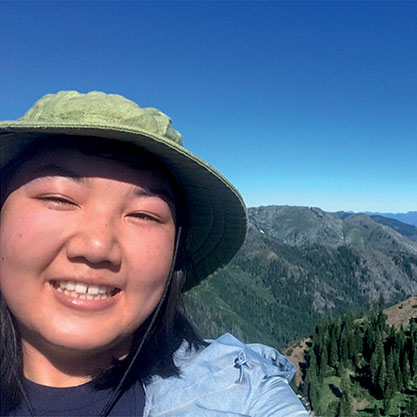 "Art is a powerful platform for social change because it creatively expresses our emotions and thoughts," says Zhao. "This piece is my way to process what is happening, what has been happening, and what continues to happen toward Black, Indigenous, and people of color." She created the design, which features animal heads symbolizing diverse cultural identities, last July and was notified by Zumiez that she was named a winner last October.
A Biology major, Zhao is also a talented graphic designer who enjoys blending her passion for art and science. Her interests include pollinators, scientific communication, and creating illustrations that reflect her values.
Outside of class, Zhao is the graphic design coordinator for CheckIT, an HSU student-led group that focuses on promoting consent-centered culture and preventing sexual violence.
The Zumiez/Amplifier campaign asked artists across the country what they are willing to stand up for. As both an artist and a student activist, Zhao says that she believes in "listening, speaking out, and fighting for change in any way that you can, however big or small."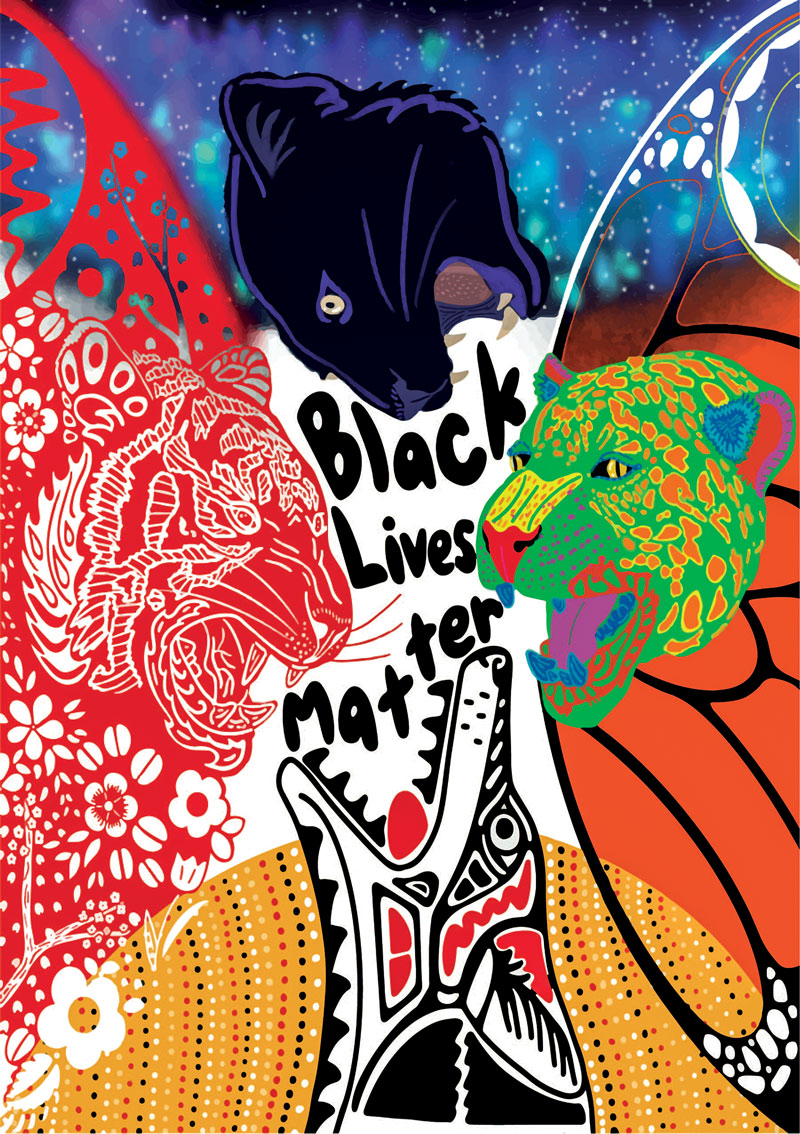 Barn Owls: A Natural Way to Protect Vineyards from Pests?
BARN OWLS and their human-made nest boxes are a common sight in California wine country these days, with boxes installed all over the Napa Valley to attract owls in the hopes of reducing pest damage to vineyards.
Humboldt State Wildlife Professor Matthew Johnson, who has long studied the interactions between wild birds and agricultural settings, first noticed these boxes while driving past vineyards. Investigating further, Johnson found little actual research into the efficacy of owls for pest management.
For the last several years, Johnson and HSU graduate and undergraduate students have studied how barn owls' behavior affects these valuable and highly managed landscapes.
The latest research shows that owls prefer to hunt in the uncultivated areas adjacent to vineyards rather than on the growing grounds themselves. A study conducted by Xerónimo A. Castañeda, Allison E. Huysman, and Johnson, published in "Ornithological Applications" in January, found that barn owls spent two-thirds of their hunting time in uncultivated habitats, even when vineyards comprised half of the area around their boxes.
When the ratio of uncultivated land decreased, owls were more likely to hunt in vineyards. But they were also more likely to occupy human-made boxes when there was more uncultivated habitat nearby.
These findings are an important step to fully understanding the impacts of inviting owls to vineyards. Previous studies estimated that a family of barn owls killed 3,466 rodents in a year. Further research will try to determine the right amount of uncultivated land to attract owls and whether owls hunting those lands have a positive effect, mitigating the rodents that infiltrate vineyards.
Follow the researchers on Instagram @hsubarnowls.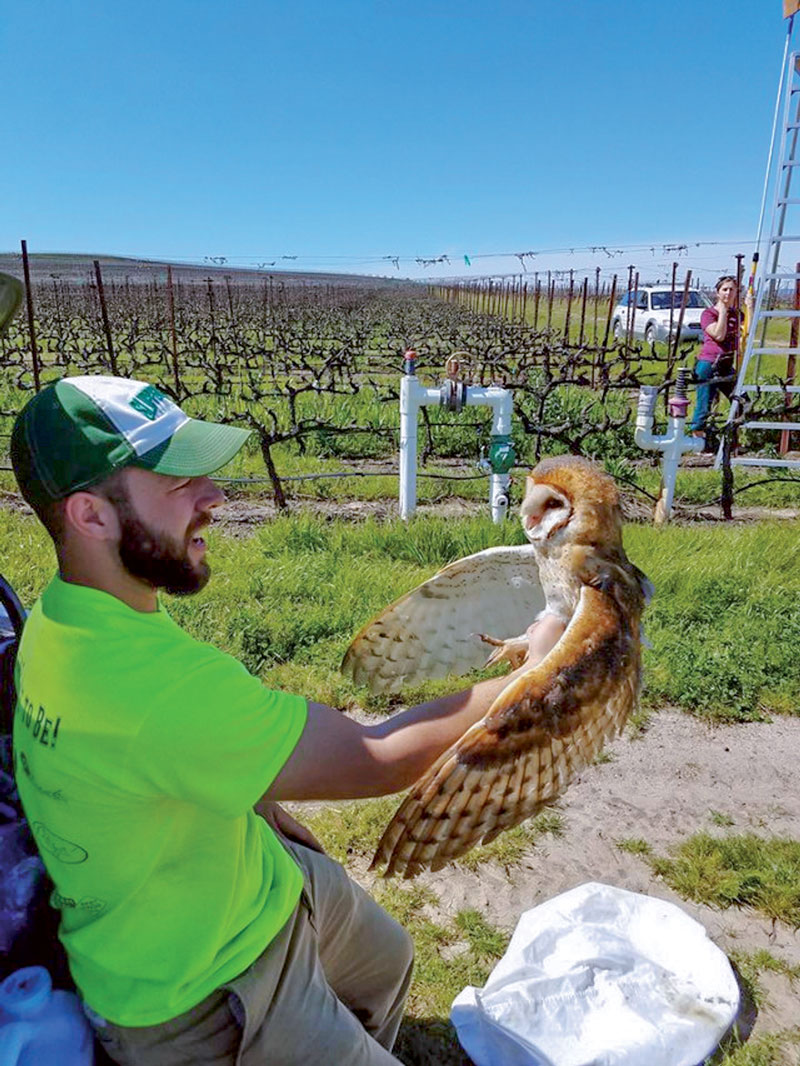 'Science for All' with Spanish-Language Education in STEM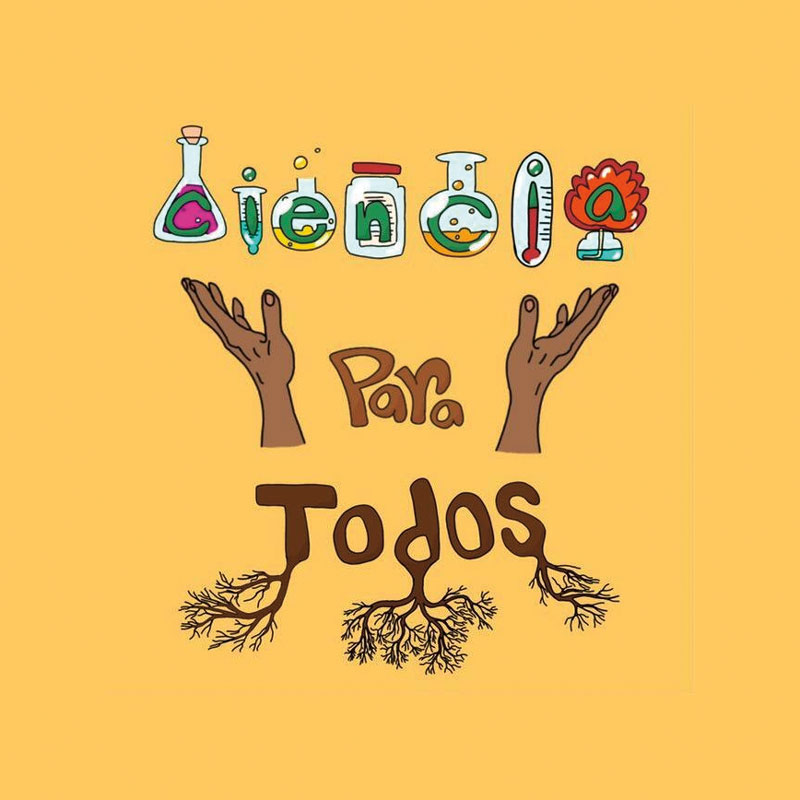 AS AN ENVIRONMENTAL SCIENCE & Management major, senior Christian Trujillo noticed he was one of the few Latinx students in his classes. Today, he is the program director of the innovative new campus organization, Ciencia Para Todos, which promotes "science for all" through bilingual education.
"The lack of representation in science has created an absence of opportunities, especially for those with diverse perspectives and knowledge in other languages," explains Trujillo.
To inspire elementary school students to consider science majors in higher education, Ciencia Para Todos developed hands-on science activities, taught in Spanish. Partnering with Fuente Nueva Charter School in Arcata, Trujillo and his team lead activities like El Increible Viaje del Agua, where students learn about the cycle of water through dance.
"We want to bring awareness to the way science is being taught in our communities," explains Trujillo. "It's important to create welcoming and safe spaces for Spanish-speaking students in STEM."
Cycling Keeps You Young!
A STUDY BY RESEARCHERS at Humboldt State is shedding light on an unexpected benefit of bicycling for exercise in older adults.
The research, published in the "Journal of Aging and Physical Activity" last year, was co-authored by Daniel Aslan ('15, Kinesiology, '16, M.S., Kinesiology), Joshua Collette ('17, Kinesiology), and HSU Kinesiology Professor Justus Ortega, who got significant press a few years ago for a similar study about the effects of running on the aging process.
The study looked at adults over the age of 65—some of whom walk for exercise and some who bicycle for exercise. The researchers discovered that those who ride a bicycle for at least 30 minutes, three times a week, were less likely to experience age-related physical decline in walking efficiency than those who simply walked for the same period of time. The study also found that the older cyclists were 9% to 17% more efficient at walking than those who didn't ride a bicycle.
"What we found is that older adults who regularly participate in high-aerobic activities—bicycling, in particular—have what we call a lower metabolic cost of walking than older adults who walk for exercise," says Ortega, who is also the director of HSU's Biomechanics Lab. "In fact, their metabolic cost of walking is similar to young adults in their 20s."
Metabolic cost is the amount of energy needed to move, and it naturally increases as we age. High metabolic cost contributes to making walking more difficult and tiring. Decline in walking ability is a key predictor of morbidity in older adults.
Researchers aren't yet sure what makes cyclists more efficient than walkers, but they believe it may have something to do with the mitochondria found in cells. Evidence suggests that people who exercise vigorously have healthier mitochondria in their muscles.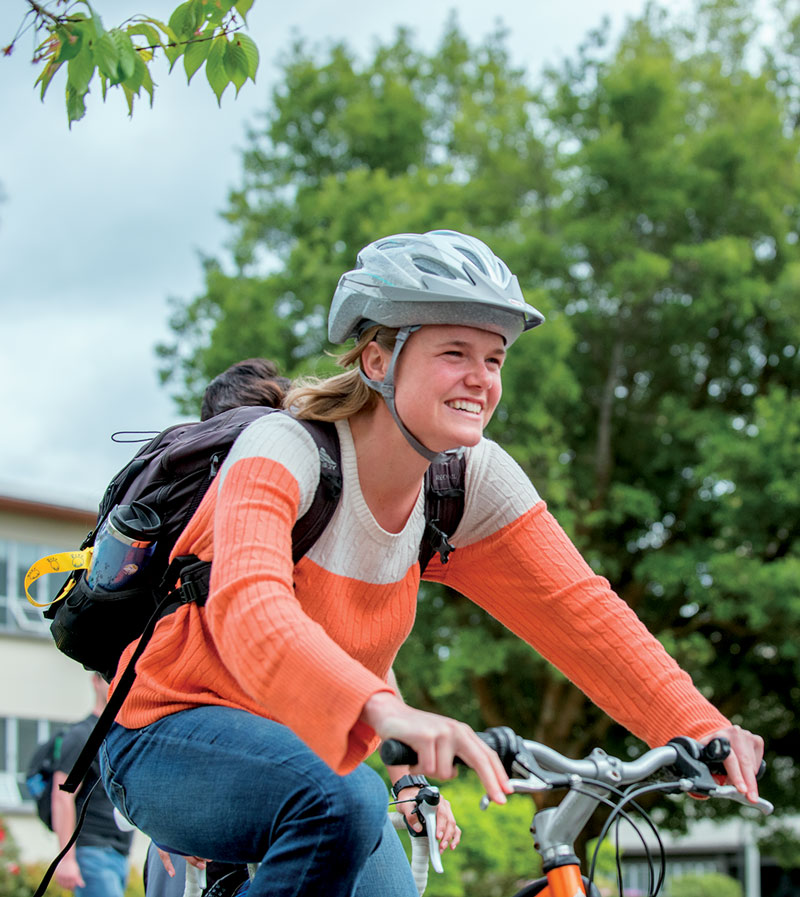 Read the study on cycling at hsu.link/CyclingStudy.
Communication and Community:

New University Police Chief Anthony Morgan

ANTHONY MORGAN is Humboldt State University's new chief of police and the first African-American to hold the position in the University's history. Arriving in Humboldt with a long career in law enforcement, Morgan is excited about living in the redwoods and working hand-in-hand with the HSU community.

Q. Why is Humboldt State a good fit for you and your family?

HSU is an institution that is part of the larger conversation about how we can improve the relationship between law enforcement and the communities we serve. The University and officers are committed to ensuring that law enforcement practices on campus are equitable. As I did my research on the University and the region, it felt like a great fit for my family. There are a number of outdoor activities to engage in, and the community has been very welcoming to my family.

Q. What is your favorite activity to do with your kids?

Anything we can do as a family. My job requires some long hours, so any time I get to spend with my kids doing what they enjoy is a blessing.

Q. What inspired your career in law enforcement?

A DARE (Drug Abuse Resistance Education) officer in my elementary school had a huge influence on me. The officer was extremely approachable, which is important in leadership, and that always stuck with me. It was impactful for me to see someone who looked like me wearing a uniform as well. Initially when I went to college, I considered working in the private sector, but it never felt right. I knew that I wanted to serve my community, so I changed my major to Criminal Justice.

Q. How will you make sure that HSU students have a voice?

Communication is key. We're accountable to meeting students' expectations. I'll be inclusive and transparent in all the department's actions and ensure that HSU students have a direct line to voice concerns. I have started the process of meeting with student groups. That has had a ripple effect that has led to introductions with stakeholders. The key for me in this virtual world is to ensure I follow up and stay accessible. In the near future, it will be important for students to see my talking points turn into action.

Q. How will the University Police Department keep students and the community safe while addressing racial equity?

It starts with communication and a review of our internal processes. It also means reinforcing a culture where everyone is treated with respect and dignity. Internally, we have to model equitable treatment of each other. We are committed to policing in a procedural and just manner. That starts with holding myself to the University's high standard of conduct and behavior. We have put in place a new reporting method to capture the work of the officers proactively engaging with students and staff in a positive manner. We want to increase our visibility on campus, so everyone on campus feels safe. Finally, we will continue to report out incidents to the campus community.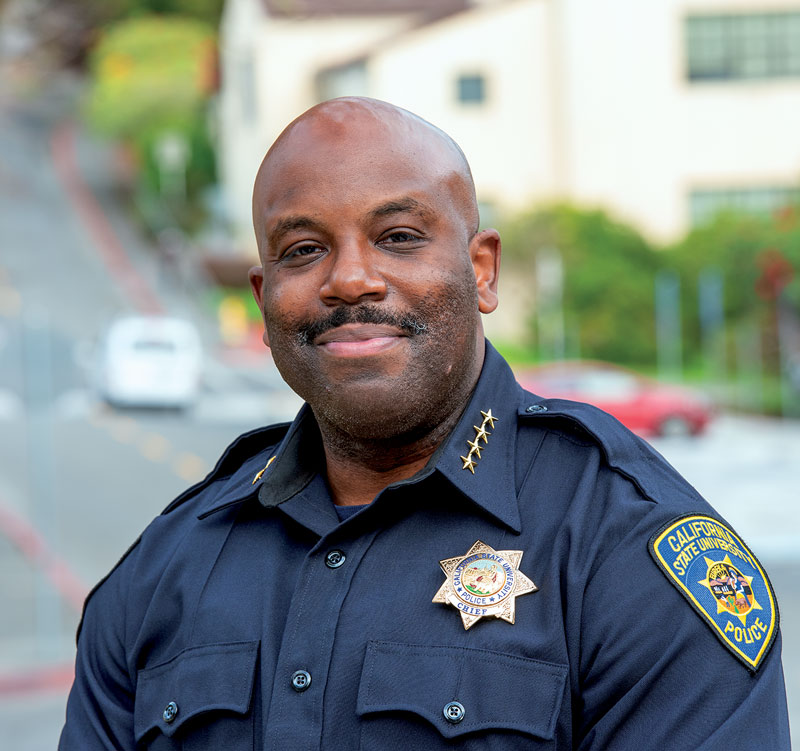 A Bold Vision for HSU
HUMBOLDT STATE UNIVERSITY has a bold new vision in its "Future Forward: 2021-2026 Strategic Plan," which outlines the University's purpose, values, and goals for the next five years.
The plan articulates the University's vision "to be a campus for those who seek, above all else, to improve the global human condition and our relationship with the environment."
"The HSU strategic plan provides a roadmap to ensure a positive, meaningful educational experience for our students," says HSU President Tom Jackson, Jr. "It encourages us to be bold and innovative in all that we do while celebrating our diverse institution and the work of our staff and faculty."
To support HSU's vision, the University has established six key themes:
ACADEMIC ROADMAP:

Providing recommendations for advancing academic excellence and access. The HSU Academic Roadmap promotes distinctive, innovative academic programs and ways of instruction centered on the curricular needs for well-prepared students, including our support and development of programs that assist HSU in achieving the polytechnic designation.

COMMUNITY COLLABORATION & SHARED SUCCESS:

Working together, sharing resources, communicating openly, and creating an inclusive and welcoming environment.

EMPLOYEE ENGAGEMENT & SUCCESS:

Ensuring all HSU employees have what they need to be involved in, enthusiastic about, and committed to their work and to HSU.

FUTURE PROOFING HSU:

Creating the type of university that can adapt and thrive in the future and respond effectively to internal and external challenges and opportunities.

RESOURCES STEWARDSHIP & SUSTAINABILITY:

Promoting goals that appropriately generate, manage, and invest resources toward the purpose of the University and its adopted guiding plans through the common lens of "student first," equity, inclusivity, and sustainability.

STUDENT EXPERIENCE & SUCCESS:

Identifying and building strategies that promote positive and meaningful student engagement experiences and success.
Collaboration played a significant role in the creation of the strategic plan—a process that involved hundreds of students, faculty, staff, alumni, and community members who served on the steering committee and working groups or shared their ideas through virtual forums and feedback surveys.
The final draft marks the end of the first of three phases of creating and implementing the strategic plan. The campus has begun Phase 2 to develop institutional and divisional operational plans that include specific outcomes, prioritized initiatives, and measures of impact.
For more details, go to strategicplan.humboldt.edu.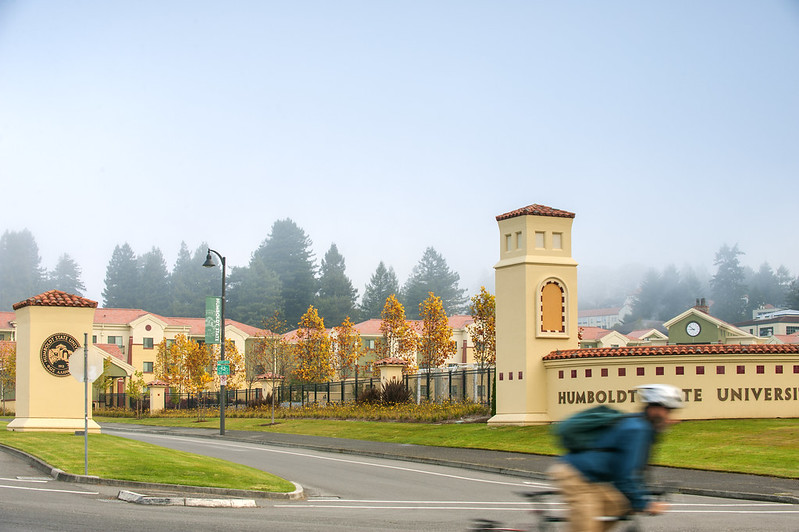 Tenant-Landlord Program Builds Community
IN COLLABORATION with Humboldt State University and community partners, the Humboldt Tenant-Landlord Collaboration (HTLC) is a new educational program designed to promote best practices for tenants and landlords.
Led by Chant'e Catt, HSU's off-campus housing coordinator, the program will help students, renters, and property owners build positive relationships. Individuals who complete the program earn HTLC's "Good Neighbor" certificate, showing their commitment to improving community relations around housing across Humboldt County.
"We created the HTLC to pinpoint solutions, not problems," says Catt. "Our hope is to relieve pressure on a complex issue that intersects with racial inequity, poverty, and other social challenges."
While the housing crisis is widespread across California, and intensified by the pandemic, Catt and her team are focused on reducing the housing barriers that students face in Humboldt County.
The program will educate prospective tenants and landlords about the entire process, from screening tenants to paying utility bills to implicit bias.
The program consists of 32 informational videos and 10 learning modules, accessible and available in Spanish, all designed to foster understanding and good will between tenants and landlords.
"We want to humanize housing for everyone," says Catt. "Education is the key."
Read more about the Humboldt Tenant-Landlord Collaboration at housing.humboldt.edu/htlc.