News in Brief
---
As Sea Levels Rise, So Does Research to Address It
CAL POLY HUMBOLDT has been at the forefront of research to address the challenge of sea-level rise in the California North Coast region. Due to geologic factors, Humboldt Bay, or Wigi, its Wiyot name, is facing the fastest rate of relative sea-level rise on the U.S. West Coast. Sea level in Humboldt Bay is projected to rise as much as three feet by 2060, which could lead to severe social, cultural, economic, and environmental consequences without an effective adaptive response.
In 2018, a group of faculty, students, and staff formed a partnership with tribes, governments, and members of the broader community to study and seek to address this local challenge.
This group was recently approved to become a formal institute. The Cal Poly Humboldt Sea Level Rise Institute (SLRI) "envisions a diverse network of collaborators working together across disciplines, sectors, and ways of knowing to develop sea-level rise research and planning that informs equitable, sustainable, and community-centered local climate action."
The institute has been engaged in numerous research and planning projects related to sea-level rise in the local region. Prominently, in 2021, members of the SLRI joined a coastal resiliency research hub led by Oregon State University and the University of Washington focused on the impact of earthquakes, coastal erosion, and climate change on coastal communities in the Pacific Northwest.
With a total of $18.9 million in funding from the National Science Foundation, the Cascadia Coastlines and Peoples Hazards Research Hub, or Cascadia CoPes Hub, coordinates research in Pacific Northwest coastal communities between numerous academic and government organizations to inform and enable integrated hazard assessment, mitigation, and adaptation. Jennifer Marlow and Laurie Richmond, faculty from the department of Environmental Science & Management, are leading Humboldt's connection to Cascadia CoPes Hub.
Nearly 40% of the U.S population lives within a coastal county. The Pacific Northwest coastline is at significant risk of earthquakes from the Cascadia Subduction Zone, which stretches nearly 700 miles along the coast from Cape Mendocino in California to Oregon, Washington, and Vancouver Island, Canada. In addition to this acute threat, the region also faces chronic risks such as coastal erosion, regional flooding, and sea level rise due to climate change.
"The Hub is a great tool for funding student researchers, and providing them with an opportunity to connect with a network of some of the best scientists in their field," Richmond says.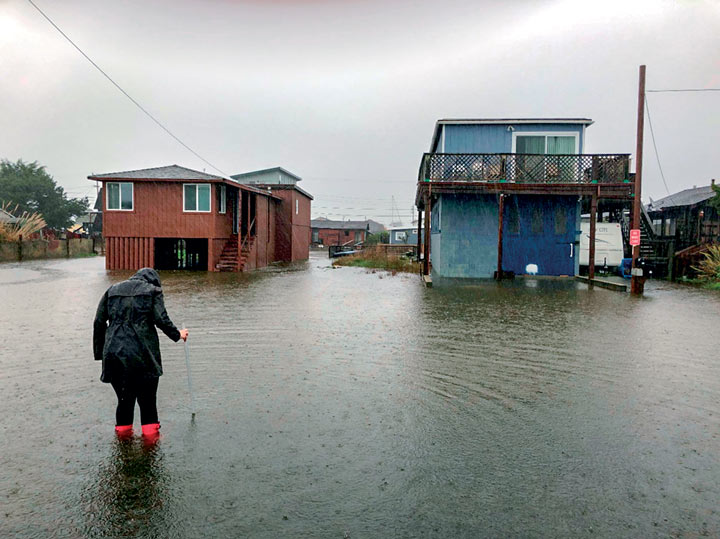 The collaboration is also an important tool for sharing and layering research, and the respective projects by each institution will inform each other and lead to a broader understanding of threats facing the West Coast.
Cal Poly Humboldt will receive $450,000 from the National Science Foundation to support student and faculty research into coastal resilience and hazards in California's North Coast region.
One graduate student, Kristen Orth-Gordiner, recently completed a thesis in which she implemented a survey of North Coast professionals and organizations to determine how best to design a collaborative governance system on sea-level rise with an equity focus. She won the Patricia O. McConkey Outstanding Graduate Student Award for this work.
Marlow's ongoing research for the institute explores the Humboldt Bay Nuclear Power Plant's spent nuclear fuel storage vulnerability to sea-level rise.
---
Go to humboldtslri.org for details about the Sea Level Rise Institute.
Institute Fights Fire with Brainpower
STOKED BY DROUGHT, fire-suppression policies, and climate change, wildfires are becoming larger and burning hotter and more frequently—a perfect storm that threatens thousands of communities and ecosystems.
Meeting that challenge head on is Cal Poly Humboldt's Fire Resilience Institute. Founded in 2021, the Institute sits at the nexus of research, training, education, and outreach to fight fire on multiple fronts. The institute draws on the expertise of university researchers and professionals while preparing a new generation of fire professionals to solve a growing crisis.
"Wildfires in California have always been daunting, but over the last five years, they've reached a much faster pace of impact. While that's not unexpected, the rate at which it's changing is alarming," says Jeff Kane, a professor of Forestry and director of the institute. "This circumstance was a major impetus to formalize the Fire Resilience Institute."
The multidimensional model reflects the complexities of fire-related issues that the institute hopes to address from many angles and disciplines. The institute also centers on the notion of partnerships—with everyone from landowners and local tribes to fire professionals—while providing Cal Poly Humboldt students practical experience in fire science and management.
For example, Kane, Forestry Professor Erin Kelly, and Psychology Professor Ben Graham, in addition to graduate students, will assess the ecological, social, and psychological impacts of recent wildfires on communities in Northern California and southern Oregon. This project involves several regional community groups—such as the MidKlamath Watershed Center, Slater Fire Recovery group, Watershed Center, and Remake Talent—that are working to recover and promote community resilience to future wildfires.
---
Read more about the Fire Resilience Institute at fireinstitute.humboldt.edu.
"Wildfires in California have always been daunting, but over the last five years, they've reached a much faster pace of impact. While that's not unexpected, the rate at which it's changing is alarming. This circumstance was a major impetus to formalize the Fire Resilience Institute."

Jeff Kane, professor of Forestry and director of the Fire Resilience Institute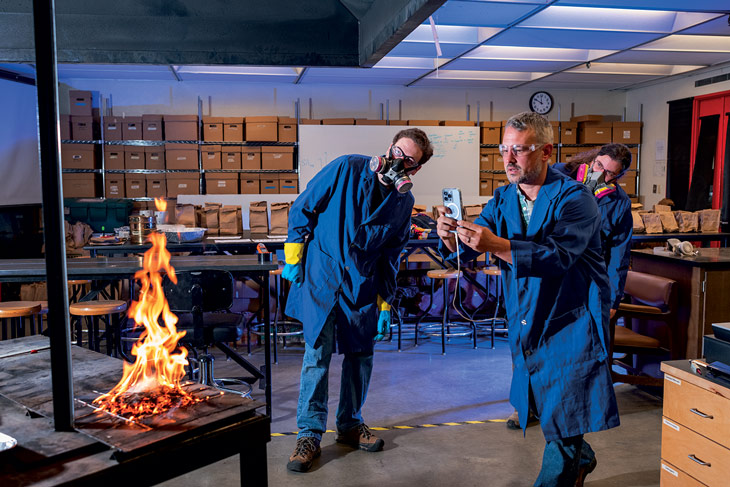 Run, Bike, and Swim:
Women's Triathlon Becomes 12th Varsity Sport
CAL POLY HUMBOLDT will field a Women's Triathlon team starting in the 2022-23 fall season. The addition of Cal Poly Humboldt to the division is a major triumph for both the University and for the sport's national governing body, USA Triathlon.
The commitment by Humboldt to become the 40th school is an important milestone in triathlon's journey to becoming an NCAA Championship sport. Deemed a National Collegiate Athletic Association (NCAA) Emerging Sport for Women in 2014, USA Triathlon had a 10-year window to demonstrate sustainability and success before the run, bike, and swim event could become fully managed by the NCAA as a championship event. One of the benchmarks included recruiting 40 schools to offer the sport on a varsity level. On February 16, Cal Poly Humboldt became that 40th school, proving that coming in last can be just as historic as coming in first.
"Getting to this point has been a 13-year process with contributions from so many," Tim Yount, USA Triathlon chief sport development officer, says. "Throughout this process, Cal Poly Humboldt has shown their dedication to not only supporting a triathlon program but also investing in its continued success."
Humboldt is the 17th Division II institution in the country to add Women's Triathlon as a varsity sport and the second in California, joining the University of San Francisco. The addition of Women's Triathlon was made possible through a grant from the USA Triathlon Foundation as well as a donation from the IRONMAN Foundation.
"Cal Poly Humboldt is excited to welcome Triathlon to our campus as the 12th NCAA varsity sport," Cooper Jones, executive director of Intercollegiate Athletics & Campus Recreation, says. "I look forward to growing the sport both regionally and nationally."
The USA Triathlon Foundation Women's Emerging Sport Grant is distributed to select NCAA membership institutions to develop, implement, and sustain Women's Triathlon programs at the varsity level.
Women's Triathlon is a Fall sport, and the varsity season includes national qualifiers followed by the Women's Collegiate Triathlon National Championships. Races are sprint distance, featuring an open-water 750-meter swim, Draft Legal 20-kilometer cycling, and a 5K run.
"This is a monumental moment for not only Cal Poly Humboldt and the sport of triathlon, but also for women's sports," USA Triathlon CEO Rocky Harris says. "It's fitting we've hit this milestone on the 50th anniversary of Title IX as this sends a resounding message across the country that women's sports are thriving."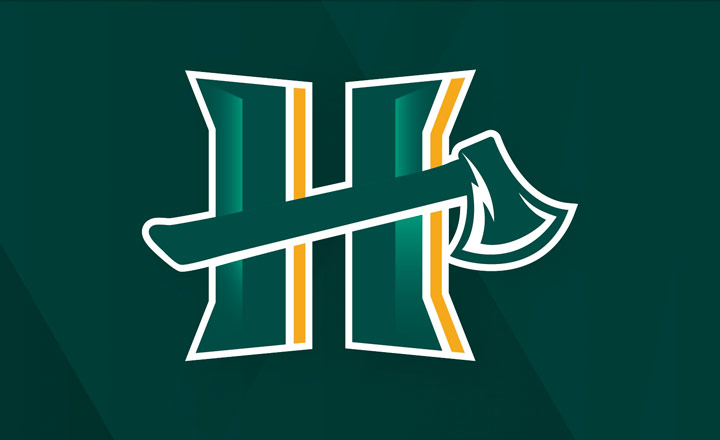 Renowned Stem Cell Research Program Secures $3.6 Million for Student Internships
CAL POLY HUMBOLDT'S distinguished CIRM Bridges Program has once again been awarded with grant funding from the California Institute for Regenerative Medicine (CIRM). Led by Biology Professor Amy Sprowles, the program supports students from diverse backgrounds committed to improving human health through stem cell research and gene therapy.
Cal Poly Humboldt is one of 15 California universities to secure funding from the 2021 CIRM Bridges 3.0 Program. The more than $3.6 million award will fund a diverse cohort of 10 undergraduate and graduate CIRM scholars each year over the next five years. Each paid student internship is sponsored by one of the program's collaborating host institutions: Cedars-Sinai Board of Governors Regenerative Medicine Institute, The Stanford University Institute for Stem Cell Biology and Regenerative Medicine, The University of California Davis Stem Cell Program, The Gladstone Institute, and Takeda California.
The program kicks off each summer with CIRM Immersion, a Cal Poly Humboldt course that introduces student interns to the fields of stem cell biology and regenerative medicine. They also receive hands-on training in Humboldt's teaching labs and participate in a workshop in bioinformatics and computational biology co-led by Biological Sciences professors Catalina Cuellar-Gempeler and Oscar Vargas and faculty from Stanford University.
Over the 12-month internship, students relocate to work in-person at their sponsoring institution's lab while being mentored in hybrid courses by Humboldt faculty.
"Our interns receive advanced training in the research methods and manufacturing practices required to develop cellular-based therapies for emerging and unmet medical needs," Sprowles explains. "They also receive personalized career mentoring so they are poised to enter graduate programs, medical school, or begin careers as laboratory scientists."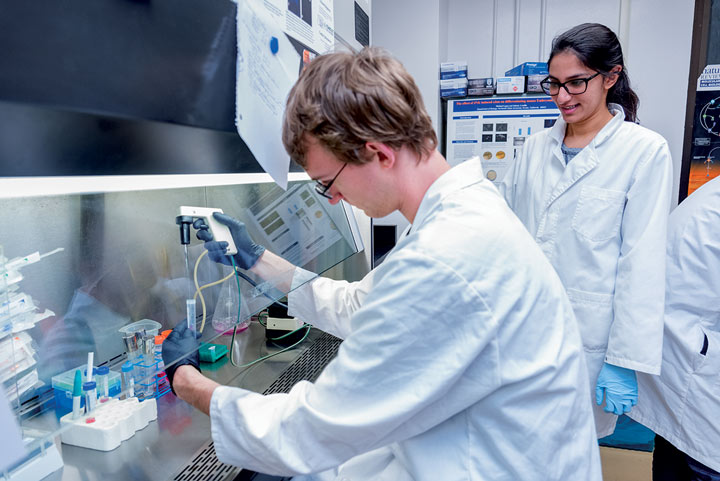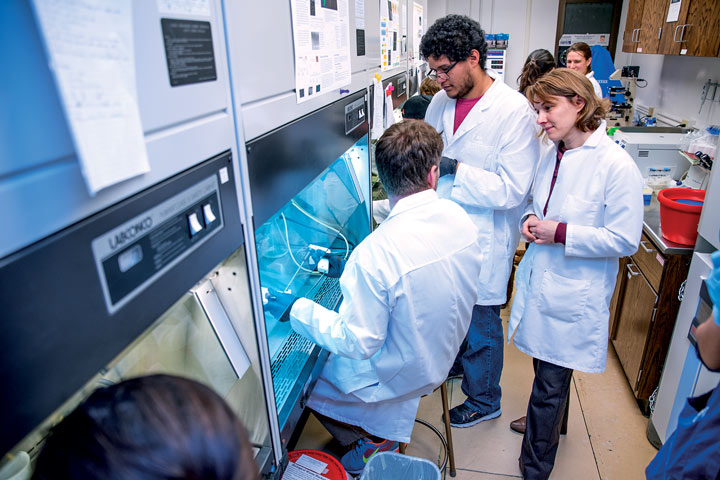 Since receiving CIRM awards in 2009 and 2016, Humboldt's program has trained more than 100 students. To date:
39%

are first-generation college students

---

43%

are from low-income families

---

89%

are pursuing careers in the biomedical sciences

---

11

have completed Ph.D.s

---

5

have completed M.D. or D.O. degrees

---

18

are currently working on doctoral degrees

---

8

are currently enrolled in M.D. or D.O. programs
In the third iteration of the program, inclusivity is a top priority and supported through a partnership with Cal Poly Humboldt's Indian Natural Resources Science & Engineering Program. CIRM scholars also make an impact on the North Coast, where gaps in the rural healthcare system disproportionately affect tribal members and underrepresented minorities.
"In collaboration with the Humboldt Medical Society and Pre-Medical Task Force, CIRM scholars return from their internships to help educate our campus and rural, medically underserved community about regenerative medicine, all while gaining awareness of socio-economic issues and disparities around health care and access," Sprowles says.
New Food Sovereignty Lab will Promote Research, Indigenous Representation, Tribal Collaboration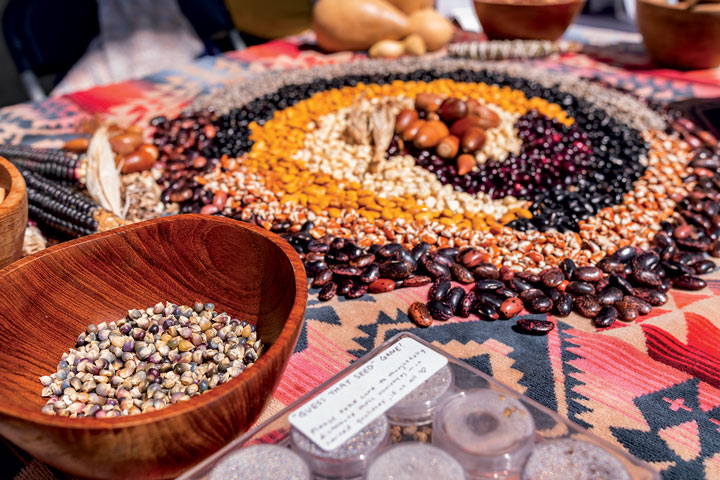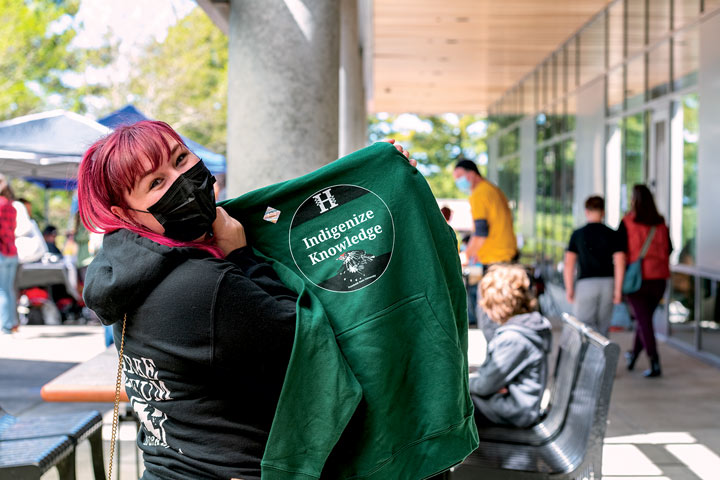 The Humboldt community learned more about these food systems at the Indigenous Foods Festival in April.
A GROUNDBREAKING FACILITY at Cal Poly Humboldt is in the works to explore healthy, traditional Indigenous food systems and highlight Indigenous representation at the University.
The Food Sovereignty Lab & Cultural Workspace, adjacent to the Native American Forum, Goudi'ni Gallery, and Behavioral & Social Sciences building, will operate as a commercial kitchen, with a plant-drying station and salmon pit for working with and preparing food, baskets, and regalia. It will serve as a study and research space and will host University and community events.
When the facility is complete this fall, Cal Poly Humboldt will become the first university in California with a space dedicated to uplifting tribal sovereignty through the research, practice, and preservation of food sovereignty.
The Declaration of Nyéléni—an international coalition that explores Indigenous food sovereignty—defines food sovereignty as "the right of peoples to healthy and culturally appropriate food produced through ecologically sound and sustainable methods and their right to define their own food and agriculture systems."
Food is a complex subject, and its study is one of the most interdisciplinary fields imaginable. Agriculture is biology, geology, geography, and more. Food systems are economics and social sciences. Food is art and culture—a basic human need that suffers from social inequities and has significant ecological impacts.
Studying food—and all of its multidisciplinary implications—is a natural fit for the Department of Native American Studies (NAS), which itself encompasses the studies of natural sciences, social sciences, arts, and humanities. NAS also incorporates knowledge sources from tribes around the country, many of which must be resurrected from the destructive practices of Western colonization of the United States.
Food has been uniquely impacted for Native communities, with the loss of traditional knowledge, damage to food ecosystems, and social and economic inequities that cause a lack of food resources for many tribes. For many people, food and subsistence practices are one of the few ways to maintain tribal traditions after hundreds of years of cultural erasure.
Now Open for Business: Campus Stores
CAL POLY HUMBOLDT now has two campus stores to serve the community, visitors, and students of all ages.
The Campus Store in Arcata is on the southeast corner of 8th and G streets on the Plaza. The Campus Store in Eureka is located at 218 F Street in the Ritz Building.
The stores sell apparel and gear from Humboldt; College of the Redwoods; McKinleyville; and St. Bernard's Academy; and Arcata and Eureka high schools, in addition to locally made gift items that locals, tourists, and students and families will enjoy.
The Campus Stores came out of a desire to have a University presence downtown and have the Uuniversity represented at events like Arts Alive and farmers markets. The stores will help the University be more connected with the community and visitors and give students a destination to visit in Eureka.
On campus, the College Creek Marketplace will continue to sell University apparel and merchandise. School supplies—including scantrons, textbook pickup and returns, etc.—will be available in The Campus Store Textbook Warehouse at the former bookstore location on the third floor of the Gutswurrak Student Activities Center.
Black to the Land Nurtures Growth and Connection
WORKING AS AN INTERN at a local farm in Humboldt County gave Douglas Smith ('13, International Studies) the sense of belonging he had struggled to find when he transferred to Cal Poly Humboldt from Los Angeles.
Now an Applied English Studies graduate student and coordinator of the Umoja Center for Pan African Student Excellence, Smith is helping students find similar kinship with the land and the community through the Black to the Land Farm Project, which trains and supports Black students to be the next generation of farmers.
"Farming and community-supported agriculture is a large part of the culture here on the North Coast. It offers a special platform to learn while doing and to build bridges with the local community," Smith says.
Smith launched the program to encourage Black students to engage with farming in 2019, soon after he became the Umoja Center coordinator. Since then, he has brought students to Bayside Park Farm in Arcata to grow kale and collard greens. They will soon be raising chickens, too.
The students' expressions when they see the farm for the first time is all the validation Smith needs of the program's value.
"It's so rewarding to see students take in their surroundings and get excited about the opportunities to settle into a space here in the local community while engaging in multiple forms of learning," Smith says.
Gloria Thompson, a Child Development major, says working the land is fun and reminds her of family. "I enjoy going to the farm because I do well growing things, and it helps me feel connected to my grandpa, who was a farmer."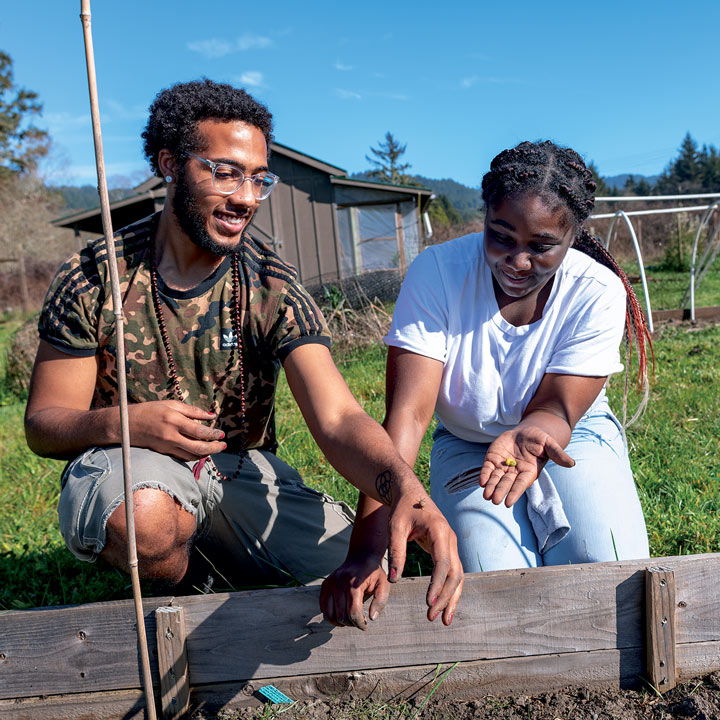 Calling out Aversive Racism in Academic Medicine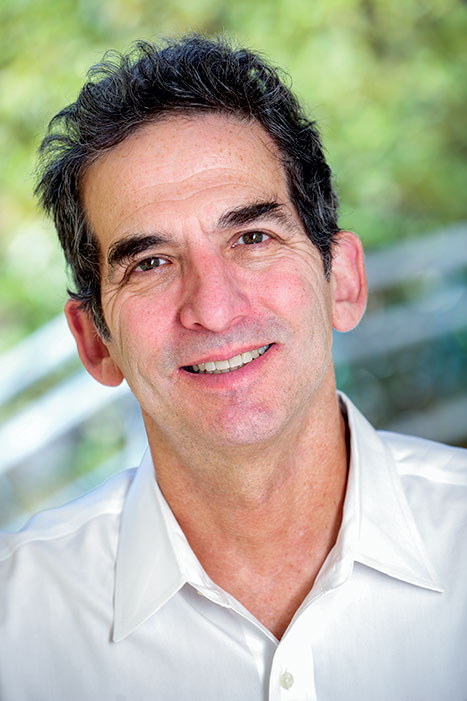 A STUDY IN the New England Journal of Medicine by Cal Poly Humboldt Psychology Professor Gregg Gold and physicians at UCLA and UC San Francisco examined how unconscious racist tendencies—despite the endorsement of egalitarian values—remain prevalent in academic medicine.
"There is a disproportionate lack of people from traditionally underrepresented groups in academic medicine," Gold says. "Research shows that patients respond better and receive better care when doctors and caregivers look like them. So aversive racism, which individuals in the dominant group often internalize, has real and harmful outcomes in the healthcare system."
The study, "Calling Out Aversive Racism in Academic Medicine," found that diverse applicants to competitive residency programs and clinical clerkships were routinely evaluated less favorably than their white peers, even by those who considered themselves to be informed and unbiased regarding race.
The article is making an impact as essential reading for leaders at University of California medical schools. The authors are also putting their principles to work this summer. For the first time, Cal Poly Humboldt students are participating in a prestigious and highly competitive one-month premedical program at David Geffen School of Medicine (DGSOM) at UCLA. Gold's colleague and the study's co-author, Dr. Jennifer Lucero, a physician and DGSOM's associate dean of Admissions, worked with others to create 10 spots reserved exclusively for Humboldt students every year. Intended to provide opportunities to more diverse and first-generation students, the program will be funded through a $2.5 million federal grant for the next five years.
"Using scholarship and research to make positive social change is what Cal Poly Humboldt is all about," Gold says. "Our shared values of inclusion and equity empower our students to make the world a more just place."
---
Read the research in the New England Journal of Medicine at link.humboldt.edu/NEJM
Virtual Reality Helps Nurses
See Different Perspectives, Build Compassion in Care
Cal Poly Humboldt's RN to BSN Nursing program prepares nurses to become community leaders as they face a changing healthcare landscape and the complex needs of the North Coast's rural population. The program is working with Embodied Labs, an immersive training platform, to add an element of virtual reality—or more aptly, someone else's reality—to students' education.
A pillar of the Nursing program is its holistic approach to patient-centered care, which prioritizes empathy and cultural humility in every interaction. It's a value that cannot be easily taught, Cal Poly Humboldt Nursing Director Kimberly Perris says. This is where virtual reality (VR) technology can deliver an outsized impact.
With the goal of helping nurses understand the lived experience of their patients and co-workers, Embodied Labs created simulations in which students, donning a VR headset, virtually "embody" a patient or caregiver facing several socio-emotional and medical challenges. Perris says the simulations provide students the necessary emotional space to absorb and then debrief about the experiences.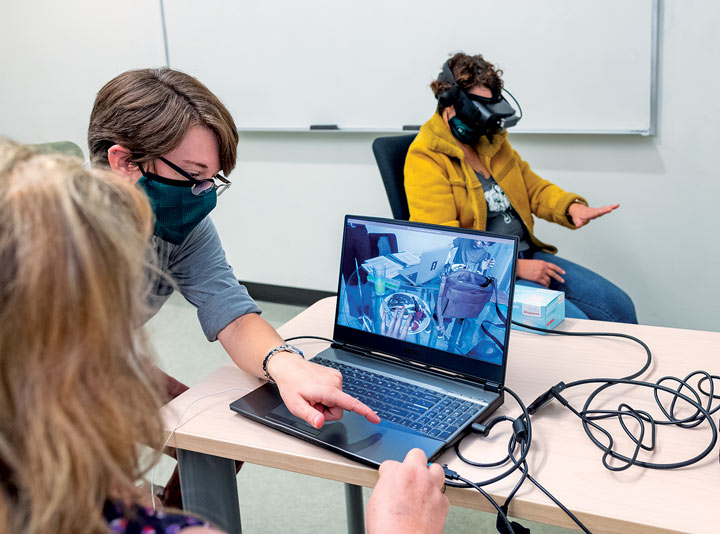 In one immersive simulation, the user embodies Hazel, a 75-year-old woman living in a senior community. Hazel has mobility issues and uses a wheelchair. As student users navigate Hazel's everyday life, they experience the frustration and anxiety of relying on others for activities of daily living. With each scenario serving a specific learning outcome, the program helps nurses find ways to preserve patients' dignity through patient-centered, collaborative problem solving.
People assume that nurses are naturally empathetic, Perris says, but no one can understand how someone else feels until they're in their shoes: "VR is not only helping our graduates gain a more well-rounded perspective of patient-centered care but helping to build the values of compassion and inclusion throughout our community."
The Heart of Campus Life Reimagined
A SPACE FOR STUDENTS, designed by students. This was the guiding principle behind the revamped Gutswurrak Student Activities Center, formerly known as the Student Activities Center. The three-story building was updated in August 2021 with new food options and new student-centered design.
In April, it was officially renamed Gutswurrak (pronounced "guts-wuh-dock"), which means "gathering place" in Wiyot. The new moniker was suggested by members of the Wiyot Tribe. Cal Poly Humboldt is located on the traditional land of the Wiyot people, and students and members of the SAC Advisory Committee felt it was important to have a name that celebrates the tribe's home and culture.
The transformation of the space began in December 2020. The University established an advisory council that included direct input from students on their vision for a campus space that fostered wellbeing, a sense of community, and fun.
The result is a dynamic facility with a summer camp vibe being used to its full potential. Along with milkshakes, craft beer, and kombucha on tap, the building also boasts two new eateries: Bigfoot Burgers and Hey Juan Burritos. Fun, free activities include board games; table games such as pool tables, ping pong and air hockey; and vintage arcade games, no quarters required. A gaming lounge offers the opportunity to play Xbox and Switch with friends.
"It's a really lively space with lots going on," GSAC Director Wendy Sotomayor says. "It's wonderful to see students hanging out, connecting, and having fun."
The former Kate Buchanan Room has been renovated into a multi-purpose student space that includes a movie lounge. The center also hosts events like Friday night movies, open mic night, and student comedy shows.
At the Commuter Student Lounge, students can relax between classes, charge their phones, and heat up food in a small kitchen. The Student Health & Wellness vending machine on the first floor offers supplies like Ibuprofen and contraceptives. The second-floor Student Life & Event Services counter is a hub for information about student clubs, planning campus events, CenterArts and Athletics tickets, and more.
"A lot of hard work came to fruition to make this a reality," says Eboni Ford Turnbow, interim vice president for Enrollment Management & Student Success. "We appreciate all the creativity and collaboration between students and staff that have made student life a top priority on campus."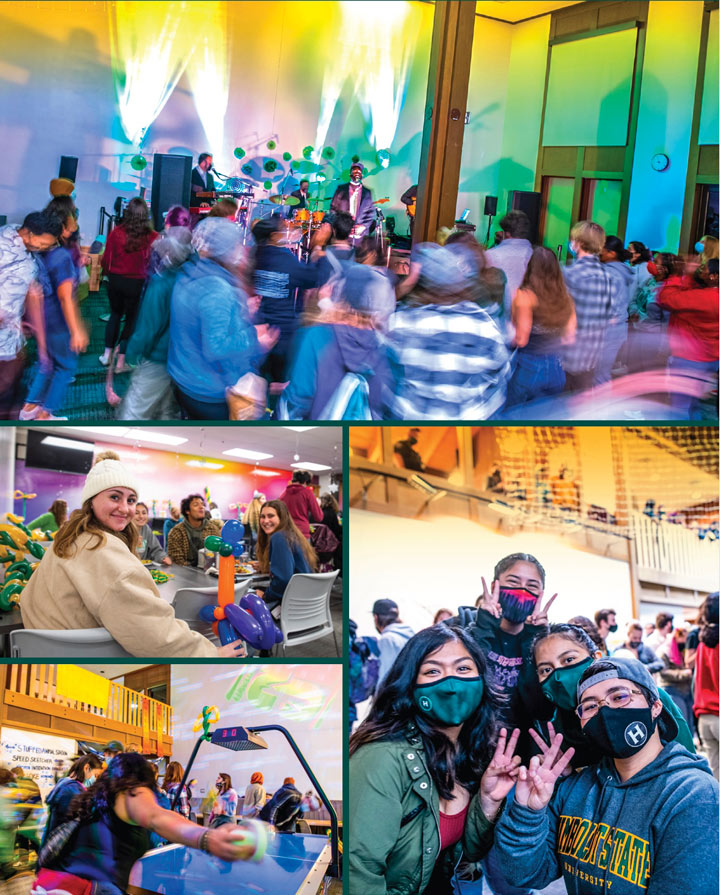 "A lot of hard work came to fruition to make this a reality. We appreciate all the creativity and collaboration between students and staff that have made student life a top priority on campus."

Eboni Ford Turnbow, Interim Vice President for Enrollment Management & Student Success
$18 Million for Cradle-to-Career Collaborative on the North Coast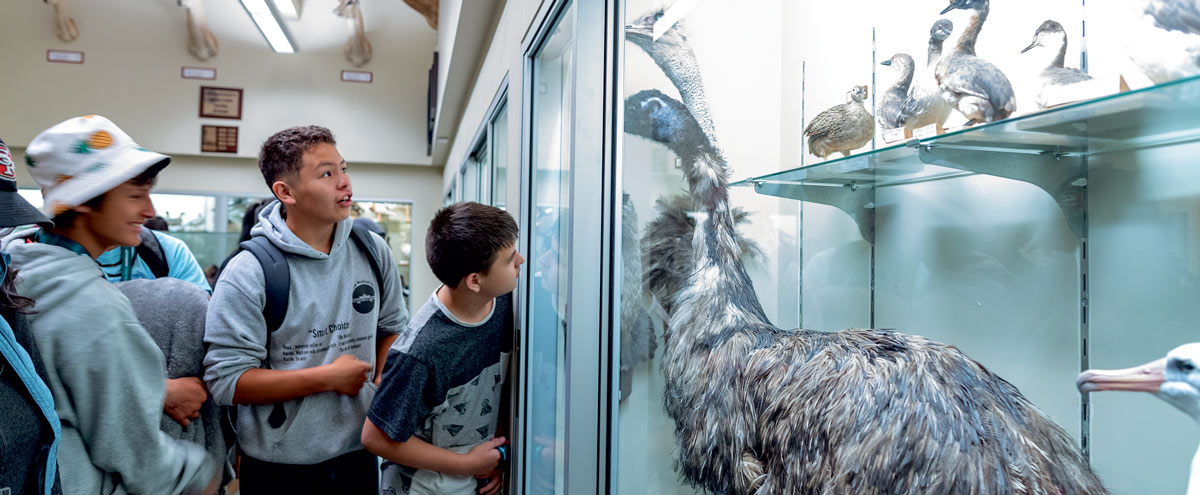 CAL POLY HUMBOLDT and its partners have been awarded $18 million from the state to launch the Redwood Coast K-16 Education Collaborative. The partners include Sonoma State University, UC Davis, College of the Redwoods, Mendocino College, ProjectAttain!, and the Offices of Education in four counties.
The initiative is a unified effort to increase higher education access for underrepresented students in Del Norte, Humboldt, Mendocino, and Lake counties and to prepare a new generation for careers in health care and education. The goal is to ensure young people take advantage of regional educational opportunities that lead to living wage jobs in the community.
The collaborative—one of five recently created and funded by the state—is part of California's ground-breaking K-16 Education Collaboratives Grant Program, which will build pathways to career opportunities for students in their local communities while addressing long-standing equity challenges in higher education and workforce participation.
Led by Cal Poly Humboldt's Mary Gonzalez in the Office of Initiatives, and Carmen Bustos-Works, associate vice president of Academic Programs, the collaborative is an inspiring effort to remove barriers to a college degree and career opportunities. The award will provide four years of funding for initiatives and resources including:
Dual enrollment program, which allows high school students to take college courses and earn college credit
Career-counseling support
Additional professional development and certification programs for K-12 teachers
Additional staff and educators to support programming, advising, and courses
Improve tracking of students' progress from grade school through college
Addressing specific needs of communities throughout the region is another important aspect of the collaborative. The health care pathway, for instance, creates opportunities for professional and aspiring health care practitioners to pursue a specialized degree or certification programs that will include stipends, apprenticeships, and job shadowing.
Telling the Story of Humboldt
IF YOU COME ACROSS the R/V Coral Sea, you'll notice Cal Poly Humboldt's ocean-going research vessel is sporting a new logo, along with a fresh coat of paint. This makeover is the direct result of a comprehensive initiative to energize and elevate the Humboldt brand.
In creating the new brand the University worked with higher education marketing experts SimpsonScarborough. The work included gathering extensive input from thousands of students, faculty, staff, alumni, University supporters, families, and prospective students.
From that feedback, SimpsonScarborough identified Humboldt's distinctive characteristics: providing hands-on learning experiences, a commitment to sustainability, embracing perspectives that have been historically disenfranchised, and opening pathways for higher learning.
These characteristics help inform our brand story—who we are and how we talk about ourselves.
The rebranding includes every aspect of the University's visual presence: websites, graphics, banners, advertisements, and more. The most prominent representation is the Humboldt logo and the "H." logomark. Both use a period, elevating a word and letter into a confident, definitive statement: There is no other "Cal Poly Humboldt." The H stands for more than the name. It reinforces everything the Humboldt experience is, does, and impacts.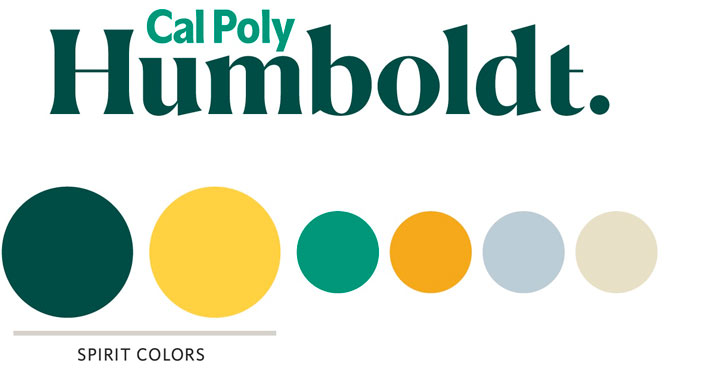 There's also a fresh new color palette that embraces Humboldt's traditional green and gold spirit colors. The palette's supporting colors reference the natural landscape that surrounds us, including the sand and ocean.
The Coral Sea makeover is only the beginning. Over the Fall semester and into next year, the University will roll out guidelines on how to use the new visual identity, launch a refreshed web and digital presence, and implement a comprehensive long-term advertising strategy and media campaign. All will capture the spirit of what makes Humboldt a special place to live, learn, and work.

Donors Step Up to Support Humboldt
WHETHER IT'S SUPPORTING the University Library, conservation, or Athletics, or removing barriers to a college degree, donors have one thing in common: belief in the transformational power of a Cal Poly Humboldt education.
Jerry and Gisela Rohde made a gift of more than $2 million through a planned bequest to the Library and its Osher Lifelong Learning Institute (OLLI). The Jerry and Gisela Rohde Estate will create three endowed charitable funds to support staff positions for the Library's Special Collections & Archives, The Press at Cal Poly Humboldt, and OLLI.
"We're excited to support our beloved Library and OLLI during this pivotal time in the University's history," Jerry Rohde says.
Marguerite Hogan's contribution is fostering student success as well. In memory of her late brother, she established The Braden Hogan Memorial Wildlife Internship Endowment with a gift of $230,000. The endowment, which expands a scholarship program that her family had created in 2007 to honor her brother, directly supports paid internships for Wildlife students.
"I imagine that, had Braden been alive, he would have made strides in a career related to the things he was passionate about: environmental education and preservation, wildlife, and nature," she says.
To ensure students benefit from organized sports and wellness programs at the University, Robin Smith ('78, Nursing), a former member of Humboldt's swim team, donated $200,000 to support Athletics. Half of the funds will help upgrade facilities and buy new equipment for training, conditioning, and rehabilitation. The other half will support all club sports, which are primarily run by students and partially funded through the University and Associated Students. As a result, students often rely on fundraisers to pay for gear and travel.
"Having to balance athletics with academics teaches students how to stay organized and prioritize tasks," says Smith, who also created an endowment for nursing student scholarships in the University's RN to BSN Nursing program. "As the pandemic has shown, being active improves fitness and is important to mental health. Competing also teaches students how to communicate effectively and develops leadership skills."
Focused on opening doors to as many local students as possible, Dan Phillips ('91, Business and Computer Information Systems) committed $1 million in scholarships, including a $100,000 challenge for matching gifts for local high school students who attend Humboldt.
His goal, he says, is to inspire more students from his hometown in Humboldt County's rural Eel River Valley to go to college. Phillips hopes that his $100,000 matching fund challenge also inspires other donors to create similar scholarships to support students from Arcata, Eureka, and McKinleyville schools.
"My hope is that this contribution is just the start in making a difference in the lives of young people across Humboldt County," Phillips says.
---
Your gift will make a big and immediate impact at Cal Poly Humboldt. To learn about more ways to give, go to giving.humboldt.edu or call (707) 826-5200.