This is Our Moment
For the first time in nearly 85 years, California has a new polytechnic. It's a long time in the making, but for Humboldt, it's a natural fit.
By Aileen Yoo
---
"Today's action is an investment in California's future that will help us meet the workforce needs of the 21st century and drive our economic growth for decades to come. As the CSU's third polytechnic university and the first in Northern California, Cal Poly Humboldt is a point of pride that will expand in-demand STEM opportunities for students across the state and help revitalize North Coast communities.

"

Governor Gavin Newsom
said, the day of Humboldt's new polytechnic designation.
DABID GARCIA AND HIS COLLEAGUES are hiking up a steep slope of the Jenner Headlands, a sprawling prairie in coastal Marin County. It's a cool February morning, and along the way they pass purple needlegrass (the official grass of California) and irises (which are blooming a little too early if you ask Garcia). The smell of the sea is in the air. So is the manure of belted Galloway cows idly grazing nearby.
Garcia is a seasonal field technician for Point Blue Conservation Science who, with other biologists, is preparing to take samples of rangeland soil for analysis of carbon content and other properties that measure the health of the land.
The son of farm laborers—Indigenous Purépecha immigrants from Mexico—Garcia is the first in his family to get a college degree. After graduating from Humboldt in 2020 with a degree in Rangeland Resource Science, he was hired by Point Blue, a conservation and research nonprofit. Among its initiatives is working with California landowners to study the impact of grazing on soil and help implement agricultural practices that better sustain the ecosystem and, in turn, their businesses.
"Plants are the beginning of all ecosystems. I'm applying what I learned from Humboldt, and using my knowledge as an Indigenous person to care for the earth," he says.
Garcia embodies what has long been the raison d'etre of Humboldt State University and a clear focus as it became Cal Poly Humboldt: providing diverse students a unique experiential education that prepares them to solve the complex challenges of our time.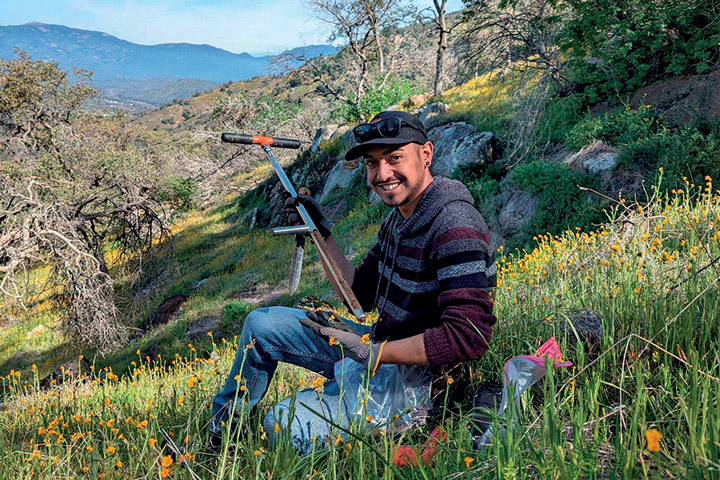 The First Polytechnic University in California in 84 Years
IT'S NOT EVERY DAY a polytechnic comes along in California. To put things into perspective, the first polytechnic college in the California State University system—Cal Poly in San Luis Obispo—was established in 1901, followed by Cal Poly Pomona in 1938.
As these campuses evolved, so did Humboldt and its name, from 1913 until January 2022, when it took on its new moniker—California State Polytechnic University, Humboldt—the first polytechnic in Northern California and only the third in the state.
"This is truly a historic moment for our institution, this region, and the state. Please take a moment to let this sink in," Cal Poly Humboldt President Tom Jackson, Jr., remarked when the California State University Board of Trustees approved the new designation and new name in January. "It's important to reflect on everything that the Lumberjack community has accomplished to help us arrive at this transformational opportunity."
New Role for the 21st Century
SO WHAT EXACTLY is a polytechnic university? In the classic sense, a polytechnic university typically emphasizes applied and natural sciences, technology, and engineering. Polytechnics typically focus on experiential learning and preparing students for meaningful careers. In other words, all the hallmarks of a Humboldt education.
These characteristics weren't lost on Timothy White, then chancellor of the California State University system, who in 2020 invited the University to launch a self-study to explore the possibility of becoming a polytechnic.
The unparalleled examination of the University—compiled by hundreds of University staff, faculty, alumni, and local community members—highlights Humboldt's strengths and challenges. The study also articulates a vision for the future. One that doubles down on an educational experience rooted in environmental and social responsibility. And one directly aimed at solving the state's key issues such as climate resiliency and wildfire management.
That vision is now reinforced by an investment of nearly a half-billion dollars from the state.
Proposed by Governor Gavin Newsom, $458 million for the polytechnic transformation was approved by lawmakers. The unprecedented financial infusion fastracks a process that could have taken two decades or more. Of that money, $433 million in one-time funding was allocated to infrastructure improvements and new facilities. The other $25 million is ongoing funding, which is supporting the immediate buildout of 12 new academic programs for Fall 2023. The ongoing funds will also support hiring additional faculty, expanding student resources and programming, recruitment, classroom renovations, marketing and outreach, and more.
"We're incredibly excited and humbled by the opportunity to become a polytechnic university," says Jenn Capps, provost and vice president for Academic Affairs. "In many ways we're already a polytechnic, and this is a great time for us to expand and improve California's expertise on the global stage. We are grateful for the State and CSU's confidence in our ability to do this."
"My degree in mechanical engineering not only taught me the value of investing in STEM education for our students, but the benefits these programs have on our communities as well. By establishing itself as a polytechnic institution, Cal Poly Humboldt will help develop a new class of leaders and a highly educated workforce in the North Coast. I'm proud to support higher funding for Hispanic-serving institutions like Humboldt that are doing the day-to-day work of investing in the next generation and putting the future of our students first."

Alex Padilla
U.S. Senator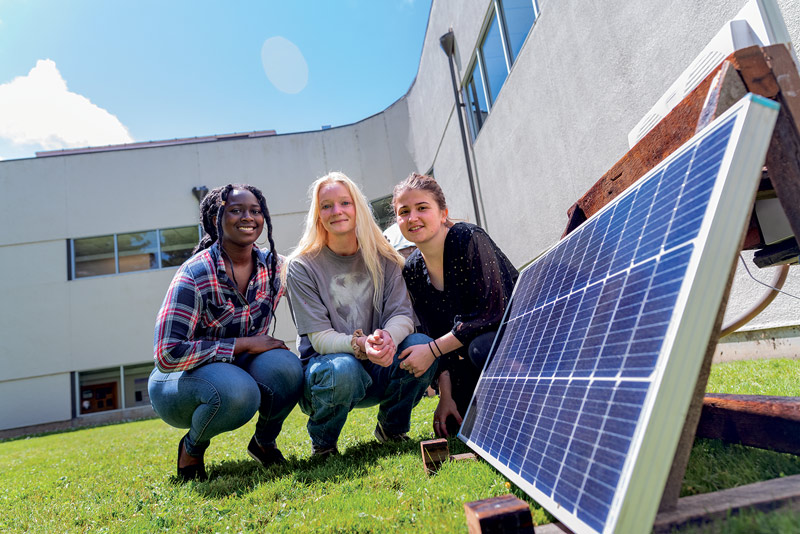 More Diverse, Equitable STEM
OVER MORE THAN A CENTURY, Cal Poly Humboldt has developed highly regarded programs. Now, among 660 master's level institutions nationwide, Humboldt ranks eighth for the rate of STEM students who go on to earn Ph.D.s, and first out of California State University's 23 campuses. In the CSU, Humboldt also has the third-highest percentage of STEM majors overall and the highest percentage of science and natural resource majors.
Adding to the statistical mix are the demographics of an increasingly socioeconomically diverse student body: 51% of recent graduates were the first in their families to earn a college degree; 41% of current students are from underrepresented populations; and within Humboldt's STEM programs, 59% are women.
What the data points to are the University's ongoing role in diversifying the STEM workforce at a time when it's needed more than ever. According to a 2021 study by the Pew Research Center, "Black and Hispanic workers remain underrepresented in the science, technology, engineering, and math (STEM) workforce compared with their share of all workers, including in computing jobs, which have seen considerable growth in recent years."
Fisheries Biology graduate student Juhi LaFuente is acutely aware of the importance of representation and believes Cal Poly Humboldt can now do even more to change the face of STEM.
"It's empowering to see someone in your field who looks like you, and as a woman of color in STEM, I want to be a role model for other underrepresented students who are interested in marine science," LaFuente says. "With the polytechnic designation, Cal Poly Humboldt has the chance to set an example for diversity in STEM."
Capps points out that diversifying the ranks of academia in all fields is a University imperative. Of the new faculty hired in 2021-22 academic year, 55% are faculty of color.
With STEM in particular, the diversity gap is all the more reason for creating another polytechnic. "We can meet California's need for not only more STEM professionals but also professionals who reflect the demographics of the state," says Provost Jenn Capps. "We are defining ourselves by who we include and not who we exclude."
The CSU, for instance, has seen demand for certain STEM degree programs exceed the number of available spaces at other campuses. With several new STEM programs being created, Humboldt will have the capacity to serve hundreds or thousands of additional students in high-demand programs.
Access to Humboldt means access to a "sandbox" where students like Dabid Garcia apply their learning through experiences that are distinctively Humboldt.
Passionate about conservation since childhood, Garcia says studying plants and being hired as a student technician at the Dennis K. Walker Greenhouse brought out the plant nerd in him. The facility with the iconic geodesic dome has one of the largest teaching collections of living plants in California with more than 1,000 species representing 187 plant families.
"It's one thing to look at plant morphology on a computer. It's another to see leaf shapes and structures of different species for yourself," Garcia says.
He became steeped in the world of plant identification thanks to the greenhouse, plus visits to the Vascular Plant Herbarium (largest among the CSUs), field trips to local rangelands, and competing in a prestigious annual plant identification contest in which Humboldt students regularly participate. It paid off.
Garcia's supervisor at Point Blue, Working Lands Director Libby Porzig, says the organization has hired several Humboldt alumni like Garcia, who are well-prepared to hit the rangeland running by the time they graduate. "Because of the programs and education, graduates from Cal Poly Humboldt have excellent training in natural resources management."
"This is your moment—congratulations on your transition to Cal Poly Humboldt! That has such a wonderful ring to it! You have worked so hard to prepare for this change by expanding your already high-quality educational programs to include new polytechnic programs that can fill unique and unmet workforce needs. The expansion of STEM fields that can support our climate goals, wildfire management, and other new applied science degree programs are issues close to my heart and ones that I fight for every day. The state has had full confidence in you, and this expansion enhances your standing in higher education and will have a major and positive impact on the North Coast's economy, potentially revitalizing it for decades to come. Well done, and well deserved!"

Jim Wood
Assemblymember
Putting Student Learning to Work
THE GREENHOUSE IS ONE of more than 180 specialized campus facilities that support practical experience and research in many disciplines. At the Biomechanics Lab, students study movement and the mechanics of the human body, using cutting-edge motion-capture equipment and software. The Child Development Lab doubles as a teaching facility to observe child behavior and a preschool for local families. The Ceramics Lab is an 8,500-square-foot studio with several kilns and areas for glazing, molding, mixing, and throwing.
However, the largest "lab" around is the North Coast itself, where the Pacific ocean, mountains, rivers, and world-famous redwoods meet.
Along that dramatic stretch is the Telonicher Marine Lab. Perched on a bluff in Trinidad overlooking the ocean, the Marine Lab pumps, filters, and recirculates seawater from the Pacific into tanks to keep marine organisms alive.
Here, Juhi LaFuente works directly with Fisheries Biology professor and NOAA scientist Eric Bjorkstedt to examine the impact of climate change and other stressors on North Pacific krill. The study, supported by NOAA, is part of the agency's ocean acidification program. Gathering krill is an adventure in itself. LaFuente occasionally heads out to sea aboard the University's ocean-going research vessel (and workhorse of the marine science programs), the R/V Coral Sea, to collect these crustaceans, bringing them back to the lab for analysis.
"The fact that I can conduct this research in such a beautiful place is pretty incredible," LaFuente says. "Being fully immersed in something allows me to put my skills and knowledge into practice."
"Congratulations to Humboldt State University on its tremendous transformation to Cal Poly Humboldt, with all the incredible resources and opportunities that will bring to the students and communities of the North Coast. This massive investment addresses many of the challenges Cal Poly Humboldt has faced in the current climate of education and brings with it significant benefits to the state and our local economy."

Jared Huffman
Congressman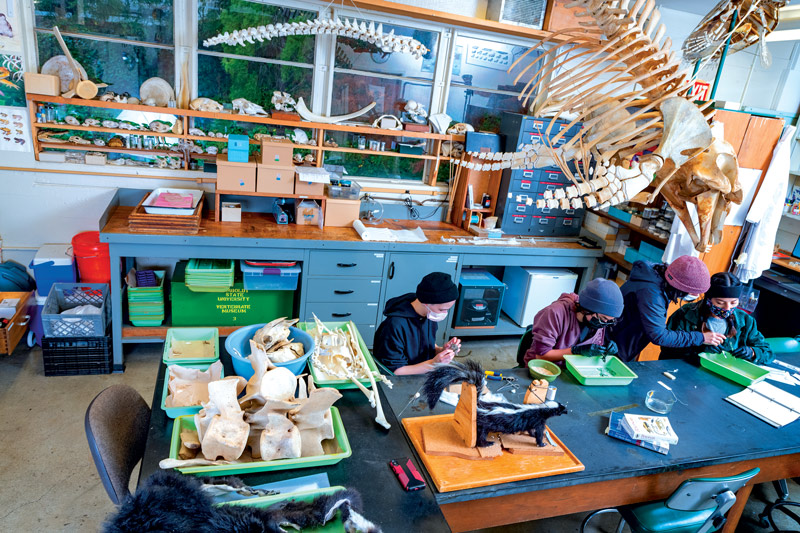 The people, culture, and history of the North Coast play a significant role in the learning experience.
This past summer, Anthropology students had the rare opportunity to conduct archaeological excavations on the territory of the Bear River Band of the Rohnerville Rancheria in southern Humboldt. The program, called the Bear River Applied Anthropology Field School, was initiated by the Bear River Band of the Rohnerville Rancheria and coordinated with the Anthropology department and Cultural Resources Facility at Cal Poly Humboldt. The facility consists of a team of faculty from the Anthropology department, researchers, and staff who provide cultural resource management services to local, state, and federal agencies and nonprofits.
The purpose of the field school, to decolonize archaeology by ensuring work on Native ancestral lands, is driven by Native peoples. As part of that effort, students learned archaeology techniques and cultural feature identification onsite. A classroom component included history and culture of Native Tribes by Tribal members and faculty. Members of the Bear River Band of the Rohnerville Rancheria also received training as Tribal monitors to oversee excavations and to identify and protect culturally sensitive items.
"We are pleased to see the curriculum of the field school as one that is inclusive of Tribal cultural knowledge, history, and ethnography," said Josefina Frank, chairperson of the Bear River Band of the Rohnerville Rancheria, and Melanie McCavour, cultural director of the Tribal Historic Preservation Office, in a joint statement. "This school is a welcome shift away from curricula focused solely on the archaeology of Tribal cultural resources, and we look forward to collaboration with Cal Poly Humboldt on future projects, off and on our ancestral territory."
The field school is a reminder that collaboration beyond consultation with Indigenous peoples provides a perspective that is invaluable to our understanding of the world. Now, Cal Poly Humboldt, which is located on the ancestral homelands and unceded territory of the Wiyot people, is working toward building a polytechnic curriculum more centered around Indigenous knowledge systems. (See page 33 for more on Traditional Ecological Knowledge.)
The field school also challenges a long-held assumption that the arts, humanities, and social sciences are separate from the sciences. That siloed notion is not only antiquated, says Provost Jenn Capps, but also counterintuitive to a contemporary education—polytechnic or otherwise.
"Science and liberal arts and humanities cannot exist without each other," Capps says. "The new high-demand polytechnic programs will draw from many disciplines—all of which develop critical thinking skills that build a nuanced understanding of urgent issues that need our attention."
Art Professor Stephen Nachtigall, for example, integrates socioeconomic, political, and historical issues of climate justice into his course on radical graphics. Students explore the history and efficacy of protest posters and activism in contemporary arts.
"Contemporary arts give students the tools to interrogate their own mediums and approaches to the ways that they work," says Nachtigall, who is helping to build the Digital Arts & Media program, one of 27 new programs that will be developed by 2029. "Artists are dreamers. We have a picture of what's possible. We think about things that are both idealistic and concrete, and come up with new ideas." (See a full description of new academic programs for Fall 2023 on page 36.)
North Coast's Bold Future
AN IMPORTANT ASPECT of the polytechnic conversation continues to be the economic symbiosis between the University and the North Coast. The largest employer in the county and poised for major growth, Cal Poly Humboldt supports more than $533 million in statewide industry activity.
Humboldt's polytechnic designation is expected to stimulate the North Coast economy by growing student enrollment and expanding the labor force with career-ready graduates. It's also expected to inspire strategic investments in infrastructure such as a research facility in Eureka, which will support offshore wind and related research led by Schatz Energy Research Center and academic departments. (See page 34 for a map of Cal Poly Humboldt's infrastructure plans.)
Some say that in the context of the local economic ecosystem, you can't talk about the polytechnic transformation now underway without also talking about three other major projects that are taking shape—at the same time, no less. Together, they're poised to bring prosperity to the region and pave the way for partnerships, collaboration, and research opportunities.
"Whether it's improving access and assuring equitable solutions are implemented in broadband, food, energy and climate-resiliency spaces, this region is the perfect place to train students to be leaders, whether they choose to stay here, as I did, or wherever they choose to work around the globe," says Executive Director of Initiatives Connie Stewart ('88, Speech Communication).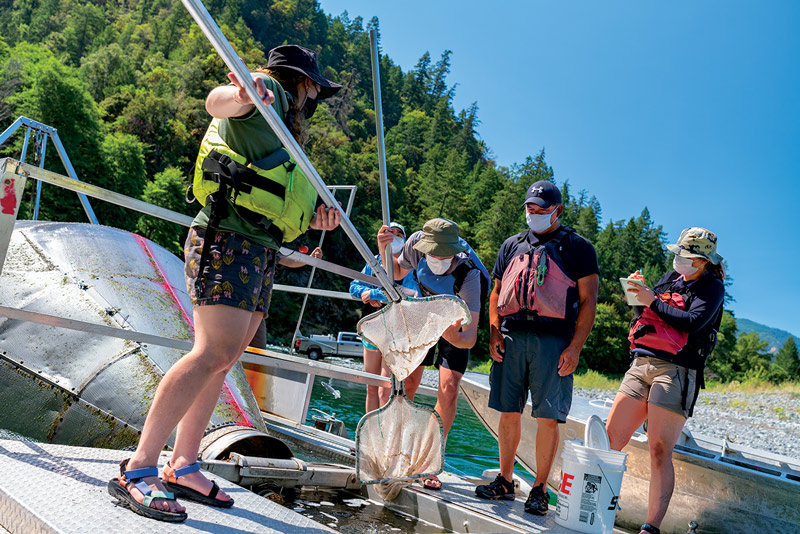 They include a proposed project by Nordic Aquafarms, a Norwegian aquaculture company, to clean up a superfund site on the Samoa Peninsula and build a $500 million fish farm facility that would generate approximately 150 full-time jobs. There is also a subsea fiber-optic cable, connecting Singapore to the United States through Eureka, in the works. Finally, the federal government plans to sell offshore wind leases this fall 20 miles off the coast of Humboldt Bay, opening future opportunities to expand the existing port and locate parts of the wind energy supply chain locally.
This is a game changer for this amazing campus community, our regional economy, and the greater North Coast. This name change is just the first step in a transition that will bring more family-sustaining jobs, resources, and investment into Northern California. Big congrats to the hard-working Cal Poly Humboldt students and dedicated staff—the future is bright for Humboldt County.

Mike McGuire
State Senator and Senate Majority Leader
Like Stewart, several alumni have been a driving force behind the planning and implementation of the University's polytechnic transition: Eileen Cashman ('84, Environmental Resources Engineering), professor of Environmental Resources Engineering; Mike Fisher ('08, Psychology and '09, M.B.A.), associate vice president for Facilities Management; Bethany Rizzardi, chief information officer for Information Technology Services ('03, Computer Information Systems and '04, M.B.A.); and Stephanie Lane, director of Alumni Relations ('04, Recreation Administration and '16, M.A. Sociology).
Stewart emphasizes that alumni bring with them history and heart. "If you went to school here, you already know this place never leaves your soul. Including alumni in the polytechnic planning and implementation process serves the past, present, and future of Humboldt."
Visit humboldt.edu/polytechnic for a detailed overview of the implementation process, academic programs, infrastructure plans, announcements, and more.