Exploring Renewable Wind Energy
by Linda Stansberry
A remote location. Blustery weather. A wild and forbidding sea. Not everyone would see these attributes as assets, but then again, not everyone is lucky enough to live in Humboldt County, California, where using grit and innovation to solve major challenges isn't just a necessity, it's tradition. And there is perhaps no greater current challenge than climate change.
---
AT THE FOREFRONT of the race to heal our changing planet are the scientists and engineers at Cal Poly Humboldt's Schatz Energy Research Center, which was established in 1989. Schatz Center is leading the charge through groundbreaking research on an issue that has made national news—offshore wind energy.
The winds that blow off the coast of northern California and southern Oregon are the strongest in the country. Power generated by wind is considered a clean source of energy, free from carbon emissions or other toxic byproducts that plague conventional energy systems. Twenty miles offshore from Humboldt County may be an ideal location for a wind farm, and Cal Poly Humboldt researchers, who include students, professional staff, and faculty, are applying rigorous scientific and policy research to explore this possibility.
"Offshore wind on California's North Coast has great potential to contribute to regional, state, and national climate and clean energy goals, while also contributing to economic development in our region," says Arne Jacobson, director of the Schatz Center.
In 2021, the White House announced that Humboldt County was a prospective location for the Pacific Coast's first commercial-scale offshore clean energy project. The Biden administration hopes to have offshore wind farms producing 30 gigawatts of energy by 2030, enough to power more than 10 million homes.
Humboldt County could play a major part in reaching that goal, a win-win for the local economy, the state, and the planet. If the full federal Wind Energy Area were developed, wind farms off Humboldt Bay could provide about 4%four percent of California's current energy needs.
To understand the feasibility of offshore wind for Northern California, state and federal agencies have turned to the Schatz Center. Over the last four years, the Schatz Center and its partners have produced 30 different studies on the risks, rewards, benefits, and constraints of offshore wind energy and what it might mean for our region. Those studies have focused on key areas such as wind energy generation potential, transmission and port infrastructure, economic viability, environmental impact, geologic hazards, and community benefits and concerns.
In 2020, working in partnership with researchers from H. T. Harvey & Associates, the Schatz Center embarked on a two−year study on the potential impacts of wind energy on seabirds. This study will help identify which species could be at risk from the wind turbines, based on their spatial distribution and flight behavior, and will inform wind farm siting and design.
Transporting and installing these behemoths present their own set of challenges, as the floating turbines would stand up to 900 feet tall. Heavy commercial traffic and bridge infrastructure make turbine construction difficult, if not impossible, for most California ports. For example, the turbines are simply too large to fit underneath the Golden Gate Bridge. Humboldt Bay has comparatively little vessel traffic and has no aerial obstructions between the anticipated turbine construction sites and the open ocean.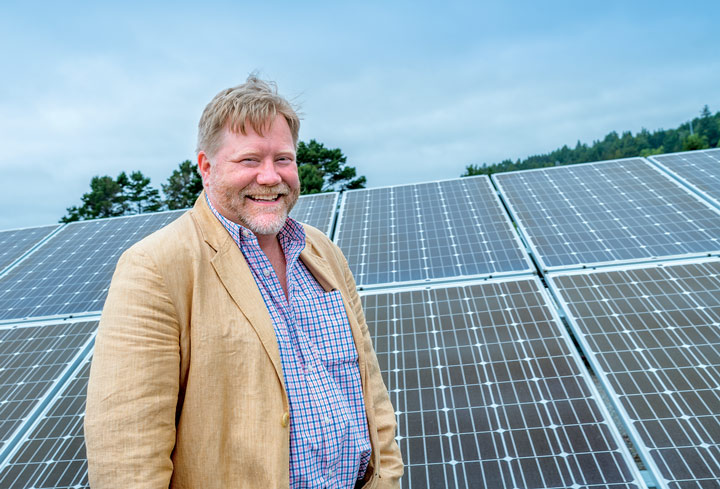 "As part of the polytechnic transition, the university is developing a multi-disciplinary offshore wind marine research facility on Humboldt Bay that will allow for an expansion of research and additional opportunities for student involvement. This will help us continue to carry out rigorous research aimed at understanding how offshore wind can best contribute to efforts to address climate change while also benefiting communities in our region."

Arne Jacobson
Director of the Schatz Energy Research Center
Earlier this year, the California Energy Commission approved a $10.5 million grant that will fund engineering and design work to renovate Humboldt Bay's port to accommodate offshore wind development. The Schatz Center is analyzing the potential to create an all−electric port that relies primarily on renewable energy.
As part of its polytechnic plans, the University is developing an offshore wind marine research facility on Humboldt Bay. The facility will support new and ongoing research on how offshore wind energy can ease the impact of climate change while also minimizing regional environmental impacts, and benefiting communities in the region.
"This facility will bring together wind-related research from multiple disciplines under one roof—and that's exciting," says Jacobson.
"Through our partnership with Schatz, Cal Poly Humboldt, and the Redwood Coast Energy Authority (RCEA), we can ensure that gateway remains accessible during energy emergencies in our region with a clean and renewable source of power. We hope this project can serve as a model to other airports, and communities, across the State of California (and the greater United States) on sustainable energy generation and critical infrastructure resiliency."

Cody Roggatz
Director of Aviation for the County of Humboldt
The Schatz Center's team has plenty of experience in thinking outside the grid, having designed and developed the first 100% renewable, multi-customer microgrid in California. The Schatz Center also worked closely with PG&E to write a technical guide for communities that want to replicate this ground-breaking project.
The Redwood Coast Airport Microgrid (RCAM) powered on last year and features solar arrays that can generate enough electricity each year to power the equivalent of 500 households on the North Coast. During power outages, RCAM will typically be able to island and run independently for at least two weeks. RCAM was made possible by an extraordinary interagency collaboration between the Redwood Coast Energy Authority and PG&E, as well as the county's regional airport.
"Our California Redwood Coast-Humboldt County Airport serves as a gateway for connecting the Redwood Coast region to the world and the world to the Redwood Coast," says Cody Roggatz, director of aviation for the County of Humboldt. "Through our partnership with the Schatz Center, Cal Poly Humboldt, and the Redwood Coast Energy Authority, we can ensure that the gateway remains accessible during energy emergencies in our region, using a clean and renewable source of power."
Two microgrids designed and developed by the Schatz Center for the Blue Lake Rancheria Tribe were put to the test in 2019 during a statewide power outage, with outstanding results. These solar-based microgrids helped keep food safe, phones charged, and medical devices for vulnerable county residents running during the blackout. The Schatz Center is currently working with multiple local tribes to support their clean energy and resiliency goals.
The collaborative approach to these projects is as much a part of the student learning experience as the field work. Reimagining the energy infrastructure of Humboldt County means working with multiple stakeholders and engaging community support and feedback to produce an equitable outcome, with Cal Poly Humboldt students involved in the process from its design all the way to implementation.
"Conducting a resource assessment and load compatibility study for offshore wind in Humboldt County with the Schatz Center helped me realize that this is something I want to do for the rest of my life," says Tina Ortega ('20, Environmental Resources Engineering), a former student researcher for The Schatz Center. "Working with this team helped me land a position at the National Renewable Energy Laboratory, get accepted for my current master's program in Advanced Energy Systems, and one day will hopefully help me bring renewable energies to the places I love most."
This is Humboldt: Remote. Windy. Wild. Ready.
---
Read more about Schatz Energy Research Center at
SchatzCenter.org.