Humboldt State University's Schatz Energy Research Center, Blue Lake Rancheria, a federally recognized Native American tribe, and other major partners broke ground on Aug. 24 for a low-carbon community energy microgrid.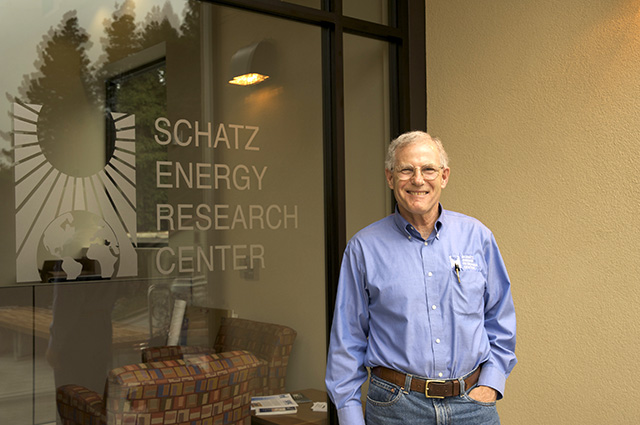 The Blue Lake microgrid will be funded through a $5 million Electric Program Investment Charge (EPIC) grant from the California Energy Commission. Its development and construction will be led by Schatz Lab engineers and the Rancheria. Partners include Pacific Gas & Electric Co., international technology giant Siemens, Idaho National Laboratory, and REC Solar.
"We're pleased to be working with the California Energy Commission, the Blue Lake Rancheria, and our other project partners on this groundbreaking project," said Peter Lehman, Founding Director of the Schatz Center. "This continues our efforts to increase renewable energy use in Humboldt County and help our state meet its ambitious greenhouse gas reduction goals."
The Monday ceremony at the Blue Lake Rancheria included speeches by Rep. Jared Huffman (D-Calif.), Humboldt State University President Lisa Rossbacher, California Energy Commissioner Karen Douglas, and Director of the Office of Indian Energy Policy and Programs Chris Deschene.
A community microgrid is a small, standalone energy grid that relies on local resources to produce energy without tapping into the main power grid. In addition to lowering costs and reducing carbon emissions, microgrids provide communities with energy independence and security.
The grid will consist of a 0.5 MW photovoltaic array, a 1 MWh battery storage system, a 175kW biomass/fuel cell power system, and several diesel generators. The Rancheria is a nationally recognized Red Cross emergency shelter and in case of an emergency, the microgrid will be able to provide long-term emergency power to the community.
"Layering multiple renewable power sources into a community-scale microgrid of this complexity is a new challenge," said Jana Ganion, Energy Director for the Rancheria. "We are fortunate to have global-leading technology partners on this project, such as Siemens, and an established, positive working relationship with Pacific Gas and Electric, our regional utility."
Once the project is in operation (estimated for fall 2016), about 50 percent of the power needed for the tribe's government office and economic enterprises (casino, hotel, and event center) will come from renewable resources, exceeding California's Renewable Portfolio Standard. The state mandate requires that 33 percent of California's energy comes from renewable resources by 2020.