Despite growing up in a dense urban area, Nurit Katz remembers having a keen interest in the outdoors and environmental science as a child. Now, as sustainability coordinator for the University of California, Los Angeles, Katz is able to pursue her passions and help the campus become more ecologically friendly by applying what she learned at Humboldt State.
Image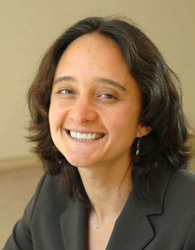 "I grew up in Los Angeles so I wanted to get away a little bit when I went to college. Although it's still California up in Humboldt, it's a very different atmosphere," says Katz, a 2002 HSU alum. "And because I sort of wanted to live out of the city, when I was at HSU I lived in a little cottage in Freshwater [between Eureka and Arcata, Calif.]. It was a really wonderful experience."
Katz designed her own major in Environmental Education, earning a Liberal Studies degree. She served as co-director of the Environmental Education program sponsored by Youth Educational Services at HSU and worked with the Humboldt Watershed Council.
"At the Watershed Council we were taking a look at what happened with the timber industry with excessive logging," Katz says. "You have damage not just to the environment, but also to people's homes with the flooding and to the fisheries because the salmon population was impacted, and timber workers were losing their jobs as mills closed. So, it was impacting all of these different areas and there was no clearer example for me of how important it is to consider social, environmental and economic factors—to really look at the triple bottom line."
Katz is helping UCLA incorporate the triple bottom line philosophy across campus. After finishing her M.B.A. and Masters of Public Policy at UCLA in spring 2008, she was hired as the campus's sustainability coordinator in November.
"We're doing a lot as a campus when it comes to sustainability," Katz says of UCLA. "We've had a very successful variety of transportation demand management programs like van pools, ride share, and subsidized transit passes. And, in combination, those efforts have led to a drive-alone rate of just around 55 percent for campus where Los Angeles as a whole is 75 percent."
While an M.B.A. student at UCLA, Katz started the Sustainable Resource Center on campus, which facilitates the provision of resources, information and education to the graduate student body, campus and community. In addition, the UC Sustainability Policy set a target of reducing greenhouse gas emissions to 1990 levels by the year 2020 and, as sustainability coordinator, Katz helped the university develop a Climate Action Plan. Thanks to her efforts, the campus will be able to meet the goal by 2012—eight years early.
Her new goal is to complete a campus-wide sustainability assessment using the Sustainability Tracking, Assessment & Rating System developed by the Association for the Advancement of Sustainability in Higher Education. Such an assessment would show Katz where UCLA is excelling and where it might need improvement regarding sustainability.
"Other than the campus-wide assessment, I'm really looking into our water conservation efforts," she says. "We've done a lot for water conservation on campus, but I think there's a lot more we can do and water is always a particularly important topic for California, so that's where my focus is right now."