In the foggy Maya Mountains of western Belize there is a salmon colored mushroom growing on the sides of fallen logs. While the mushroom has an interesting appearance, it's notable for another reason: it represents a new genus of polypore, a group of mushrooms bearing significant medical potential. Dr. Timothy Baroni, a mycology professor at "State University of New York, Cortland":http://www.cortland.edu/ and a Humboldt State alum, discovered the new genus during a recent research expedition to Belize.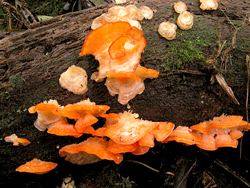 "We found lots of new species, but finding a new genus is almost unbelievable," Baroni says.
At over 3,500 feet in elevation, Doyle's Delight is the tallest peak in Belize and is often cloaked by a thick bank of fog and clouds. The spot is far from any villages or cities, essentially existing as an immaculate piece of nature untouched by humans and containing immense biodiversity. Baroni and his team of fellow biologists were flown by British Army helicopter to the site in 2007 as part of a research expedition funded by the National Geographic Society. He had visited the Central American nation earlier via a National Science Foundation grant and was urged to return by local zoo officials interested in further exploring biodiversity at Doyle's Delight.
"We had nine days of finding new things and we had really high collection rates," says Baroni. "There was lots of rain when we were there and Hurricane Dean was close, we were something like 180 miles from the eye of the storm, so we had a lot to work with."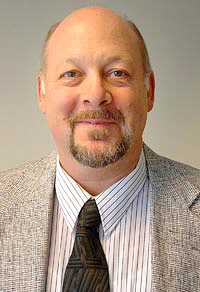 And what exactly are the benefits of discoveries like the new polypore Baroni found?
"There's a potential for fantastic medicines to help cancers and other illnesses," he explains. "When it comes to bio-prospecting, there aren't usually a lot of hits, but when you get one it really pays off."
Approximately 25 percent of all medicines originate in fungi or molds, including penicillin, despite the fact that only five to 10 percent of all mushroom species have been identified. That low rate of identification is due to two primary factors. First, biologists outnumber mycologists by a rate of 100 to one, Baroni says, meaning that there simply aren't enough mycologists to study the thousands of unidentified species. Second, Baroni says he can collect 10 to 15 samples on a good day where a plant biologist might collect 100 to 200 specimens a day. Thus, mycologists like Baroni who hunt for rare mushrooms are indeed a rare and unique breed.
"I'm just like some kind of Indiana Jones when I go out in a new area looking for a new genus," Baroni says. "I grab a couple cigars—I like to smoke while I work—a machete and my snake guards and say, 'let's go find some fungi.'"