For some high school students, nothing is quite as terrifying as cracking open an algebra book to find a dizzying array of numbers, letters and peculiar Greek symbols peering back at them.
Susan Lovato, a math teacher at Arcata High School and a Humboldt State alum, works tirelessly to ease the fears of math phobic students and her efforts have not gone unnoticed.
Image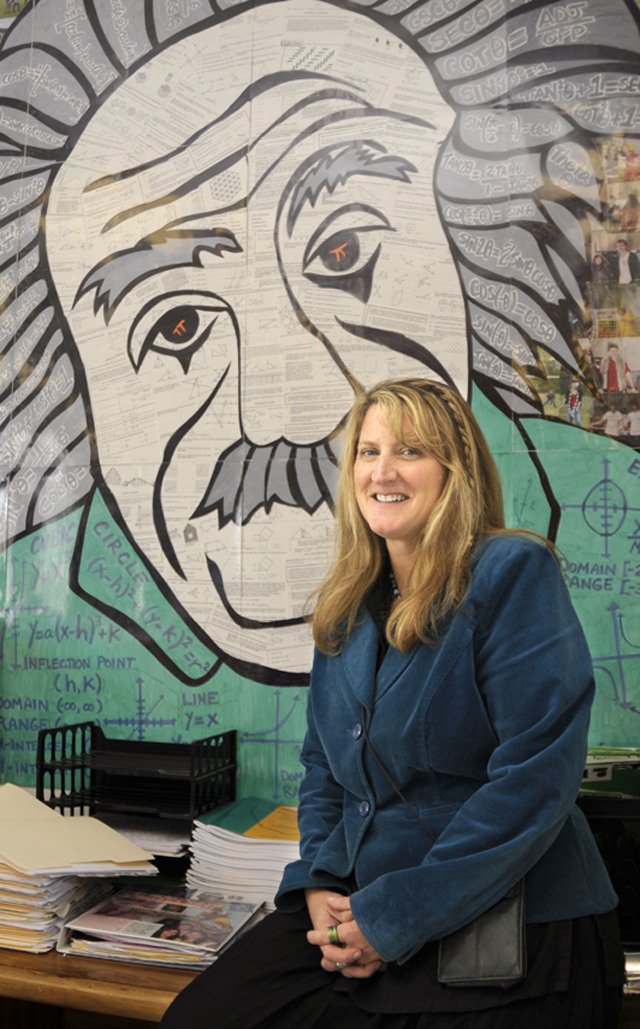 Lovato, who has taught at AHS for 15 years, was recently named the county's Teacher of the Year by the Humboldt County Office of Education. While the award was an honor for Lovato, she measures her success by how well her students learn and grow while in her class.
"I do it for the students," Lovato says. "I like to be in the classroom teaching my students, that's what it's all about for me."
Teaching math was about the last thing on Lovato's mind when she started taking classes at College of the Redwoods in Eureka. She began at CR as an art major and had her sights set on a career free of equations and formulas. All that changed, however, when Lovato took a class from Dr. William Shapeero at CR and confronted her math phobia. The low-pressure environment of the class and its focus on learning and comprehension enabled Lovato to excel.
"I hated math in high school," she says. "I took a placement exam at CR and bombed it so they put me in the lowest class they had. Dr. Shapeero's class got rid of the fear of doing math and then it just came easy."
Lovato switched her major and transferred to Humboldt State where she finished her Bachelor of Arts and Master of Arts in Mathematics. While at HSU, Dr. Dale Oliver, chair of the Mathematics Department, was especially influential for Lovato.
"He had a lot of helpful hints about being a teacher. He's the one who introduced me to math songs."
Math songs are a perfect example of the innovative learning methods Lovato brings to the classroom. Students are tasked with creating a song to be performed either live or as a video that expresses an understanding of a specific math concept, like solving a quadratic equation. Since students have all year to work on the project it engrains a specific concept in their minds and allows them to engage with the material in a more intimate manner. Another of Lovato's techniques involves ditching traditional blackboard lectures from the instructor and instead having students come to the board to work out problems themselves. The approach means that students are active participants in the learning experience and Lovato can adjust her instruction as necessary depending on whether or not students understand the material.
Her teaching style, developed over two decades, is based on a collection of ideas and techniques she has adjusted and tweaked to make relevant for her classes. The result is "Lovato Learning," a teaching manual she developed for her master's degree detailing everything from how to teach difficult math concepts to setting a tone at the beginning of the school year to collecting students' contact information. Her goal was to develop a thorough manual teachers could use to help increase organization and improve the learning experience.
Lovato, who was born in Japan, was a military brat whose father served in the United States Air Force. She moved frequently as a child and attended high school in Germany. She was able to return to Japan in 2001 when she earned a prestigious Fulbright Scholarship. Her three weeks in the country gave her a glimpse of the Japanese education system and highlighted cultural differences in attitudes toward education between Japan and the United States. Japanese classrooms operated with a more traditional student-teacher dynamic, but Lovato says she prefers forming close relationships with her students.
"I was just voted grand marshal for the homecoming parade by the students and that means a lot to me," she says. "I just try to be patient and have fun; it makes the job a lot easier."