Paul Gamache literally took his paddling to new heights when the HSU alum ('07 Business, Recreation Administration) set the record for a descent in a kayak in the Cascade Falls on British Columbia's Kettle River.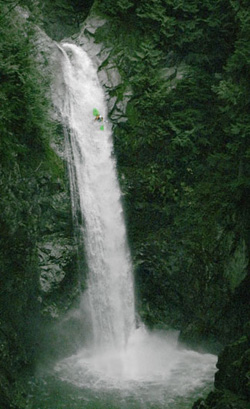 Plummeting more than 108 feet, Gamache broke the existing record while somehow managing not to break his collarbone (or anything else for that matter).
"We didn't know how tall it was. It looked like a waterfall that was runnable. We calculated the risks and decided that it added up," said Gamache, who says he wasn't expecting to set any records on his weekend excursion with his buddies.
After belaying in to a small undercut cave directly above the waterfall, Gamache got the OK from his team, who were positioned safely around the waterfall. "I paddled off the waterfall and managed to stay in control as I gained speed. Upon impact at the bottom, my paddle broke but I managed to roll up with half the paddle still intact," he said.
It was only after this harrowing drop that Gamache and his team measured the fall and realized he had broken the previous record of 107 feet set by Tyler Bradt on Alexandria Falls, also in Canada.
At HSU, Gamache was able to combine his love for kayaking with his educational pursuits.
"All the professors were really encouraging. As long as you're passionate about something, the professors will find a way to make it work with your education. I was able to focus my marketing on the kayaking field, which was a great way to mix my school with my outside life."