Arcata Stay's pride of ownership energizes HSU's local entrepreneurial family
Christy Laird ('77), entrepreneur of Rose Court Cottage and Arcata Stay, "The Lodging Network of Exceptional Accommodations," describes her alumni colleagues this way: "Entrepreneurial people with a multitude of different skills who share the HSU connection and a love affair with Arcata."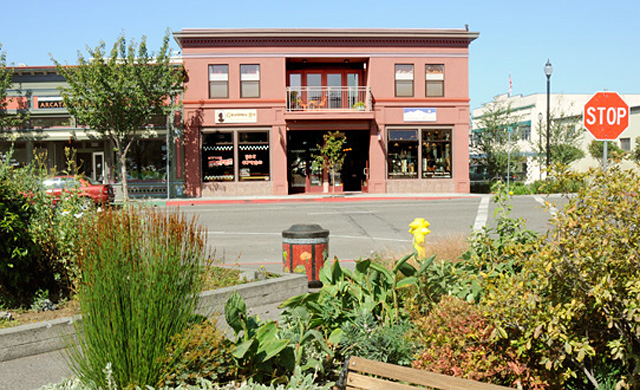 Arcata Stay's unique partnership boasts 10 Humboldt State alums whose graduation years span 1958 to 1989. Seven other colleagues have links with the campus of one kind or another, as instructors, guest lecturers, staffers or Athletics boosters.
 
The upscale short-term lodging network has a thriving partnership with HSU. From the moment Christy opened Rose Court Cottage in January, 2004, she has fostered relationships with staff in numerous departments and advertises regularly in the Lumberjack. She stays in touch with Stacie Lyans ('02, '05) in the Admissions Office and Kay Libolt in the Office of Student Life. "They have been instrumental in providing visiting HSU parents with Arcata Stay informational materials and recommendations," Christy says.
 
Listed with the HSU Parents' Page, Christy has built a steady clientele of parents. They receive a discount on the nightly rate, above and beyond Arcata Stay's sliding scale discount for multiple nights.
 
"The parents communicate and network with each other, both online and in person when they're attending special parent events on campus," she says. "If somebody's raving about where they stayed, then someone else wants to know where to stay during their next visit. If they book our accommodations for their first visit, they are very likely to return because they enjoyed their lodging experience."  
 
Christy has a growing number of repeat customers who visit periodically throughout the academic year, as campus events and activities warrant. Some of them stay so often she forms friendships with them.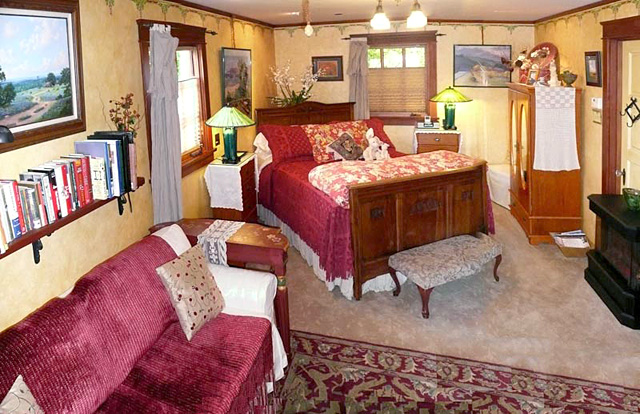 Rose Court Cottage, a Craftsman-era Tudor style house opposite Wildberries Marketplace, took off within six months of its opening in January 2004. It was soon overbooked and the nascent network was born. Today it numbers seven accommodations on or within walking distance of Arcata Plaza and the campus.
The latest to sign on is Parkside Cottage, run by Christine Aus ('84) and Jim Gurman, located in the quiet neighborhood adjoining children-friendly Stewart Park. They officially joined Arcata Stay in the spring.
The earliest to enlist was Plaza View Stay, opened by Arcata Vice Mayor and historic preservationist Alex Stillman ('75) when she and long-time friend Christy recognized in the summer of 2004 that demand exceeded Rose Court Cottage's capacity. Plaza View Stay is sits on the second story of the Craftsman-inspired Stillman Building at the corner of Ninth and H Streets.
"At the time, we realized there was an unmet market here in Arcata for short stay and vacation rentals," Alex recalls. She also operates Plaza Terrace Stay, which is located in the Stillman Building as well. It was added to the Lodging Network in July 2006. 
Christy traces the origins of her bed and breakfast. "The idea for Rose Court Cottage came about when my husband Aldaron moved his office to the newly-constructed McBain & Trush Building downtown. I decided his vacated space could be put to new purpose as an overnight accommodation close to the University."
Between July and late November 2003, Christy got busy devising a marketing plan and designing printed materials and a website. She painted and decorated and sourced furnishings and amenities. A number of elective courses she took at HSU—
photography, graphics, design and layout—were a springboard for her new venture.
Other partners had equally humble beginnings. Scenic View Stay, just north of HSU on Hidden Creek Road amid redwood and acacia trees, began as a "hobbies room" above the boathouse of Athletics booster Edy Vaissade and husband, James—a fourth generation resident of Arcata. They both graduated from Arcata Union High School and Edy attended Humboldt State. They have owned rentals for 35 years and have played host to countless HSU students and their parents.   
Forest View Stay is to the rear of a Craftsman residence in the Bay View neighborhood property owned by Jim ('58) and Karole Ely ('76), who represent three generations of HSU graduates. (Jim's dad, Paul, earned his degree in Industrial Arts in 1933).
The Elys enjoy meeting the visiting parents, scholars, prospective HSU faculty and education consultants who are their guests just two blocks from the campus. "Many of the parents are returning guests who enjoy the home-away-from-home atmosphere," Karole notes.
For all of Arcata Stay's alumni, Humboldt State is a linchpin of their entrepreneurial success. "HSU has been an intellectual resource for me virtually my entire life, well after I earned my degree in the late 70's," says Christy.