How to honor retiring professor Harley Muilenburg after 32 years of teaching Humboldt State students to sing? More than 20 of his former students who were members of his Mad River Transit jazz singers from the 1980s through 2015 return to Fulkerson Recital Hall from all over California. They join HSU Music department faculty performers including pianist Daniela Mineva and violinist Cindy Moyer in a celebratory retirement concert, free and open to the public, on Saturday June 27 at 7 p.m.
Born in North Dakota and a graduate of North Dakota State, Harley Muilenburg taught first at the high school level and then at couple of junior colleges. He was looking for a position at a four-year institution when choral music professor Lee Barlow was retiring from HSU. "The stars lined up," he says now. He was hired to begin teaching at Humboldt State in 1983.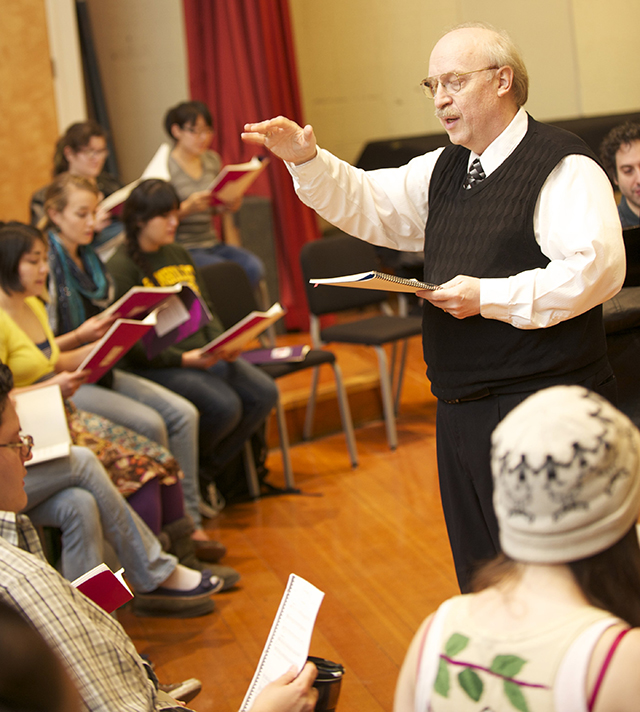 As he prepared to head to the North Coast that summer he spoke with Barlow on the phone and asked about the Arcata weather. "Lee chuckled a little and said it's really nice in the summer, although just about every evening you're probably going to need a sweater if you're outside," he recalled. Muilenburg was still at his current teaching job in Loredo, Texas, where it was so hot and humid it was hard to breathe. "I didn't really believe him until I got here."
Over the years Muilenburg transformed the small HSU chamber choir into the large concert choir now called the University Singers. He started Mad River Transit as a smaller adjunct to the existing jazz ensemble, eventually combining the two in today's slightly larger MRT.
HSU is one of only a few universities to have a Madrigal choir specializing in Renaissance music. But another was North Dakota State, and as an undergraduate Muilenburg had sung in its madrigal group. "Lee Barlow started the Madrigal Singers here in the 50s," he said. "I added the Madrigal Dinner every December, based on the Elizabethan tradition of singing and feasting at Christmastime."
In his 32 years, Muilenburg saw the Music department faculty grow and shrink back. "It's kind of a bell curve in terms of numbers. But the number of majors has remained the same. The quality, the expertise, the care and concern, the excellence of the faculty have helped make this a great place to teach. In a lot of ways, the Music department at HSU has been a well-kept secret. Students find out about it when they come here, or when one of our groups tours in their community. But I've had distinguished, top-notch colleagues in the department here."
Though he has been honored with teaching awards and published scholarly articles and vocal arrangements, Muilenburg talks less about his own accomplishments than those of his HSU Music faculty colleagues, and especially his students. He mentions such distinguished alums as internationally known blues singer Earl Thomas (whose entry in the Blues Encyclopedia notes his "powerful classically trained voice") and jazz singer Juanita Harris, a mainstay in Mad River Transit during her years at HSU who went on to Boston's prestigious Berklee College of Music and a professional career based in the Bay Area.
But he is equally pleased by his many alums who became music teachers, or who participate in community ensembles where they live. (They've kept in touch, he notes, even before the advent of email and social media.) "They carry on the legacy of music and keep it alive," he said. "I'm really proud of that."
One of those alums was Grant McKee, now a retail store manager in Santa Barbara. "He was my student in the 90s," Muilenburg recalled. "He loved Humboldt, loved the Music department and he loved singing. He decided at least five or six years ago that when I retire, there's going to be a concert for me. I smiled and thought it's a great idea but it's not going to happen."
But after Muilenburg's retirement was announced, McKee got on Facebook to contact other MRT alums. Music department chair Cindy Moyer got involved, and the concert was scheduled. "There are probably 22 students who are going to trek from all parts of California, and this alumni group of jazz singers from the 80s right up until the past year. They'll perform the second half of the concert," Muilenburg said. "I couldn't feel more excited and happy and blessed and proud."
Muilenburg's retirement has been in the works for awhile. "Five years ago I had a student whose parents had been my students in the 80s. So I felt it was definitely time for me to retire."
He is currently busy preparing to move in July, to be near family in southern California. "I know I'm going to miss the students," he admits. "August is going to come and I won't have a choir. I'll miss the rehearsal process, contact with students and my academic colleagues. I'll probably sneak back here and drop in sometime, and see how things are going."
Pianist Daniela Mineva, violinist Cindy Moyer and other HSU faculty will open the Harley Muilenburg retirement concert on Saturday June 27 at 7 p.m. in Fulkerson Recital Hall at HSU. Admission is free. Concert is produced by HSU Music department. For more information, visit HSUMusic.blogspot.com.