AS Presenters a number of great events for the coming academic year.
Image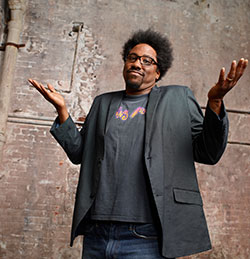 Things start off with a workshop from East L.A. band Las Cafeteras titled The Sounds of Resistance on September 8; Kamasi Washington & The Next Step will bring their unique spin on modern jazz to campus on September 16; the New Orleans-based Soul Rebels will bring a special show featuring rapper Talib Kweli on September 22; psychedelic cumbia-punk quartet Thee Commons perform on September 29; sketch comedy group 1491s perform on October 14; On October 22 the euphoric indie pop group of Montreal performs; Deafheaven, which has been described as a "brilliant collision of beauty and despair" (Pitchfork) will perform on October 23; Alicia Garza Co-Founder of Black Lives Matter will lecture on February 9; Emmy-winning television host, author, and biologist, Jeff Corwin will come to campus on March 25; and The New York Times called W. Kamau Bell "the most promising new talent in political comedy in many years." Bell will perform on April 10.
For more information, call CenterArts at 707-826-3928. Information is also available online by visiting the CenterArts website at: http://humboldt.edu/hsuaspresents or on Facebook: https://www.facebook.com/pages/HSU-ASPresents.
The 2016-17 AS Presents Lineup:
9/8/16 Las Cafeteras Workshop 9/16/16 Kamasi Washington & The Next Step 9/22/16 Talib Kweli & The Soul Rebels 9/29/16 Thee Commons 10/14/16 1491s 10/22/16 of Montreal 10/23/16 Deafheaven 2/9/17 Alicia Garza Co-founder of Black Lives Matter 3/25/17 Jeff Corwin 4/10/17 W. Kamau Bell