Image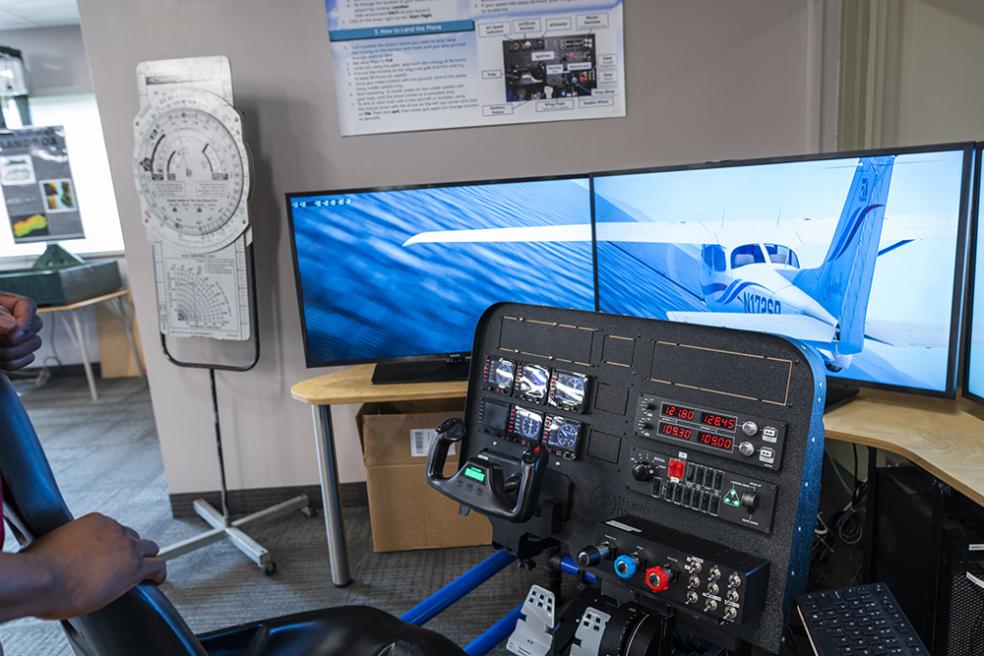 A new club is out to make flying—both airplanes and drones—more accessible to Cal Poly Humboldt students.
The Aviation Club was launched to oversee and teach students how to properly use the airplane flight simulator in the Cal Poly Humboldt Library, which is designed to cultivate interest in aviation. But its members aren't stopping there. 
The club also helps students prepare for the test to become certified drone pilots and hosts drone-flying events on campus.
"Our mission statement is to reduce the barriers to aviation," says Jasmin Torres ('22, Business Administration), the Aviation Club's founding president. "Whether you want to learn how to fly a plane, get your drone license, or just know more about drones, this is for everyone—and you don't have to be in the STEM majors. We're here for people in all majors, anyone who's interested."
Cal Poly Humboldt Professor and Research Associate David Marshall, the first certified drone pilot on campus and former committee chair of the Cal Poly Humboldt Unmanned Aircraft Systems Committee, helped Torres and a handful of other students who share his love of flying start the club. He says the career opportunities in aviation, particularly drones, are endless.
"If you're interested in aviation—and aviation now includes drones—join us," Marshall says. "Drones are used for science and natural resources, to look for animals in the landscape, fly over the ocean and identify whales, take data about water temperatures across Puget Sound—you name it. Every day, I hear about job opportunities for pilots with businesses and organizations like the EPA, PG&E, Cal Fire, and construction and roofing companies. So, if you want a job, get a drone pilot's license."
Torres says drones are being used in many different industries. "Drone technology is becoming increasingly beneficial throughout multiple businesses," Torres says. "As a Business major, I'm excited about all the different applications."
With the club's help, two members have passed and six more are studying for the FAA drone pilot exam. Those newly certified pilots are more than willing to help other students do the same, Torres says. "All it takes is a couple days of dedication to study the handbook and learn the material." 
The Aviation Club has also taken responsibility for the flight simulator, which has been at the library since the PC Gaming Club installed it in 2019. Augmented reality and simulation allow for students to learn the fundamentals and motor skills of piloting. Learning how to fly the simulator makes learning to fly an actual aircraft go much faster. 
One of the Aviation Club hopes to raise funds to upgrade the simulator so students could use it to log flight hours toward their pilot's license with certified flight instructors. 
"It costs so much money to get in a plane to learn this stuff," Torres says. "If you can learn on a flight simulator and have those hours count toward your license, you can save a lot of time and money."
Marshall says updating the simulator would make a big difference. "An advanced aviation training device where a certified flying instructor can sit with student pilots would radically lower the cost of entry into aviation.