It's 30 minutes after sundown, and the temperature has dipped just as the action is heating up. Strung between poles straddling Bull Creek in Humboldt Redwoods State Park are rows of fine netting, waiting to capture tiny creatures that will soon emerge, seeking their evening meal.
Redwood Science Laboratory ecologist Ted Weller (Masters in Wildlife, '00) works with a group that includes RSL lab techs, HSU undergraduates, and Biology Professor Joe Szewczak and his graduate students, who combine their labor for a variety of research projects related to bats. All team members–including Weller–have either graduated from, currently attend, or teach at Humboldt State.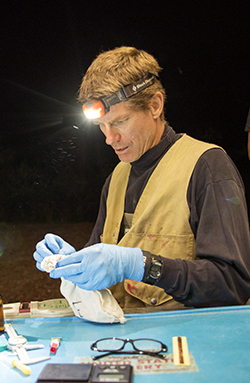 "This requires us to be in the field nearly every night of the week," says Weller. "Doing so requires quite a crew of folks who are trying to balance schoolwork, their own fieldwork, and sometimes jobs outside their fields."
Involved in solving several bat-related mysteries is a team of 14 who have covered the evening shifts six days a week since Sept. 10. They'll wrap up the fieldwork on Oct. 30. One of the questions they hope to answer is if the bats are in town for a brief vacation or if they've set up residence for the winter.
"Ted has discovered we have migratory pulse of bats coming through here this time of year," says Szewczak, who partnered with forestry professor Steve Sillett on a recent study of bats in the redwood canopy. "It's a wonderful opportunity to get our hands on a lot of bats and do some hands-on training."
The location has proven ideal, supplying ample population numbers to accommodate research. Other researchers may have only captured a dozen hoary bats over the course of a career, but that many and more can be captured on a single night in Humboldt Redwoods.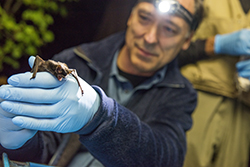 On this particular evening, the seven-person crew's duties include capturing the bats, fitting them with data chips, and extracting tissue samples. Graduate student Jeffrey Clerc's research focuses on fat tissue biopsies of silver-haired bats, which should identify food sources and provide possible clues to migratory patterns.
"This research is largely exploratory and we don't know what the outcome will be," Clerc said. "Best case scenario is that it gives us the results we hope for and we are able to answer questions about how redwood forests are used by this species."
All procedures are conducted with a priority on the 1-ounce creature's safety and comfort. As soon as bats are gathered from the netting, they're gently placed in a cloth sack, which crew members snuggle close to their chests to keep the bats warm on the way to the on-site analysis station.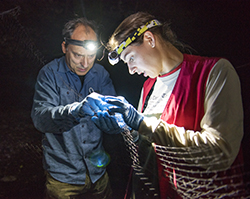 By the glow of head lanterns, Weller and Brokaw examine a hoary bat, a migratory species found throughout most of North and South America. They record data that includes weight, size, gender, age and reproductive status, also checking for health concerns. The last step is injecting a tiny transponder under the bat's skin.
Weller, who has worked with the U.S. Forest Service's Redwood Science Lab since 1996, is particularly interested in the travels of the hoary bat. Evidence indicates that hoary bat populations have been impacted by wind turbines.
"I began looking into questions of bat fatalities at wind energy facilities in 2007," Weller says. "I have now worked at two different wind facilities in southern California measuring the echolocation activity of bats and their fatalities at these sites.
"The link to my local work is that migratory tree bats, in particular hoary bats and silver-haired bats, make up a large proportion of the bats killed at wind energy facilities. Hoary bats in particular make up 25-30 percent of the bats killed at wind energy facilities in North America. The obvious question is, why?"
Brokaw's focus has been on social communication among bat species. She hopes to identify whether bats will respond to recordings of other bats' calls. She continues to volunteer in the field after completing her own study earlier this fall.
Consistent with HSU's hands-on learning endeavors, the research also represents an intersection of a wide range of individual projects.
Clerc and Brokaw, both of whom are advised by Szewczak, have benefited from the collaboration in multiple ways. Along with the rewards of their research, they've had the opportunity to refine techniques and develop their own leadership skills.
"Alyson and Jeff apprenticed under me to develop their bat handling and overall fieldwork skills," Weller said. "I benefitted in the end because they have become quite competent and can now lead field surveys and help train a whole new cadre of volunteers."
"One of great things about Humboldt is we have great biology and forestry programs, and we also are lucky to have the Forest Service up the hill," Brokaw said. "There are a lot of opportunities for field studies. Plus, you get to hang out in redwood forest, which is not so bad either."