Kalindi Rogers and Erin Slattery have nothing personal against burritos. Like countless generations of students before them, the two have sampled more than their fair share of taco truck offerings.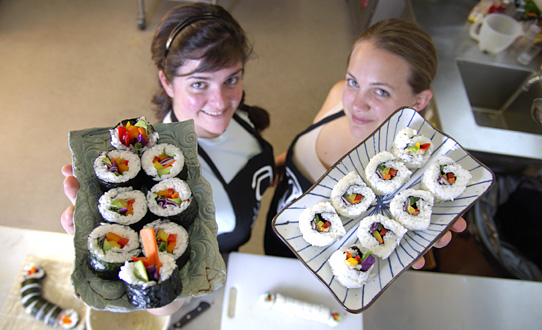 After four years at Humboldt State, however, the two art students realized there was a gaping hole in the local restaurant market: inexpensive, healthy, vegetarian food to go. "You just can't find that kind of food in Arcata on any consistent basis. I mean, I love burritos, but just how many of those things can any one person eat?" asks Kalindi.
"There are some great restaurants in town, but so many of them close early or have really limited hours," adds Erin.
That realization was the genesis for Erin and Kalindi's new venture, Agogo.
Erin and Kalindi envision Agogo as a mobile vegetarian-sushi eatery — a healthy alternative to the ever-popular taco truck. You can find their mobile eatery tucked behind Recycled Youth at G and 16th streets. They offer both ready-made meals and customizable rolls using seaweed, seasoned rice, nut butters, and fresh, local ingredients. They're even considering providing a sushi-at-your-doorstep style delivery service.
Without a fixed address, the two budding restaurateurs have followed demand and taken their sushi straight to the street. It's a product that's tailor made for workers on lunch break, hungry college students, and the bar-hopping, movie-going diners who often face "closed" signs in downtown Arcata once the sun goes down.
At first blush, vegetarian sushi may not sound appealing to every consumer. Isn't sushi supposed to have fish in it? And who'd buy it on the street? Kalindi and Erin, however, are confident in their product's potential.
"Humboldt State students and staff are a big part of our target market, so we've been product testing our rolls and sauces with students and professors for a couple years now," explains Kalindi. "Our menu is full of items that have proven really popular over time."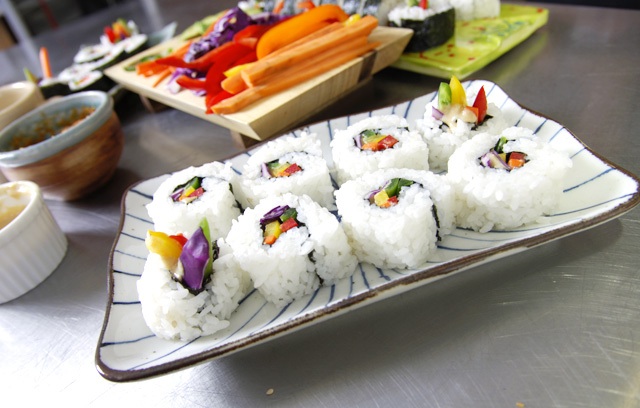 An example? "One of our favorites," says Erin, "is our spicy peanut roll. It's made with spicy peanut butter, cilantro and jalapeño — the flavor combination is so startling and so fulfilling — it's been a consistent knock out. We're ready to go."
Indeed, Agogo's biggest potential hurdle — securing their sushi house on wheels, is a hurdle no more. Just weeks after graduating from HSU, Erin and Kalindi used part of their $25,000 Economic Fuel award to buy their rolling kitchen. They're also starting business armed with important lessons they've gleaned from more experienced entrepreneurs.
"Economic Fuel gave us the chance to meet all these people in the community who have gone through this same start-up process themselves," says Kalindi. "Their advice was a huge help, because we can't afford to take make mistakes or take a trial-and-error approach to this business. We couldn't have launched like this without the people we met—their advice was invaluable."