Image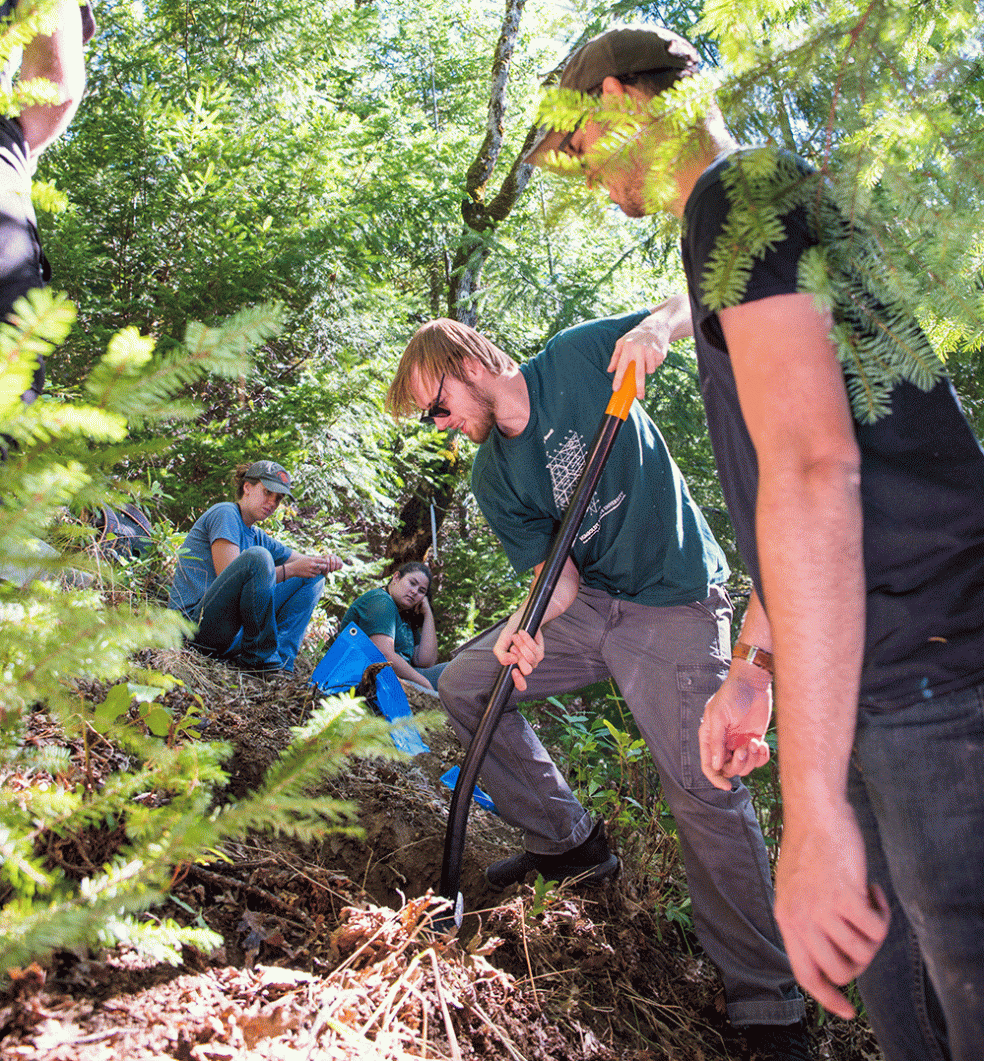 Eighteen Cal Poly Humboldt students will compete in a soil judging contest on Friday, Nov. 10 against students from universities throughout the West including UC Davis, New Mexico State, Cal Poly San Luis Obispo, and Fresno State.
They will converge in Humboldt County for the Soil Science Society of America's (SSSA) Region 6 National Collegiate Soil Competition.
The regional competition, hosted by Cal Poly Humboldt, will gather approximately 50 students, eight university coaches, and seven Natural Resource Conservation Service scientists, explains Susan Marshall, Cal Poly Humboldt team coach and Rangeland Resource Science professor. The three top teams will qualify for a national competition, sponsored by the SSSA, in Iowa in spring 2024.
The competition will take place on a remote property provided by Green Diamond Resource Company, who also dug the soil pits that students are expected to identify, analyze, classify, and describe.
The contest is divided into five sections. They include:
Morphology—description of a soil profile in terms of texture, color, etc.

Profile characteristics—depth, plant available water, water table, etc.

Site Characteristics—slope, landscape position, parent materials, erosion, and runoff

Classification (USDA Soil Taxonomy)

Interpretations—limitations for dwellings without basements, septic tank leach fields, etc.
There will be four soil pits for students to judge, Marshall explains, each of which will take an hour to describe. Three pits are judged by individuals and one is a group pit.
Soil judging allows students the opportunity to study, identify and interpret soil information in different landscapes in an effort to understand and conserve the natural resource.
"The collegiate competition validates the students' hard work at mastering Soil Taxonomy," Marshall says.
Hosting the competition in Northern California enables all students who are enrolled in the SOIL 360 course to participate, she says. The students will compete with partial support from Associated Students' Instructionally-Related Activity funds. The competition comes just a few weeks after the students took a three-day, 650-mile camping field trip to northeastern California where they examined and classified more than 10 soil profiles in desert and forested settings.
Cal Poly Humboldt began participating in the regional competition in 2018, and consistently qualifies for nationals, says Marshall.
The contest has been held at different institutions each year since 1961. Each participating college takes turns hosting the event.
The top three teams in the region are eligible to compete in the national competition, which takes place at Iowa State University from April 21-26, 2024. More than 40 universities compete in nationals each year, according to the SSSA. National champions can then compete internationally.