HSU Alums Excel in Spanish League
Fútbol is wildly popular in Spain. You know, fútbol, that game with a soccer ball the entire world plays without cease, working itself into a universal frenzy every four years over crowning the sport's global champion. Football, on the other hand, is not quite as popular in Spain. You know, football, that game where big, strong guys ram into each other and toss around an oblong ball on a 100-yard field.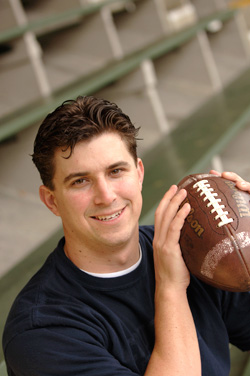 While fútbol still reigns supreme, three former Humboldt State University standouts recently did their part to boost the popularity of American-style football in Spain. Blake Moorman, HSU's all-time passing leader, Joey Stein who played wide receiver for the Jacks, and Josh Costa, former linebacker, all played this past spring season for the L'Hospitalet Pioneers, an American-style football squad in Spain's Barcelona area. The three HSU alums, all members of the celebrated 2006-07 campaign when the Jacks went 9-1, led the Pioners to their best season in the team's 20-year history, capturing the Liga Nacional de Fútbol Americano title.
"We were very successful and had a great time," Moorman says of the experience. "The organization embraced us all and treated us like kings. It made for an easy transition."
After ending their playing careers at HSU in 2007, Moorman and Stein decided to post their biographies on a European Web site that solicits American football players with an interest in traveling abroad to satisfy their passion for the gridiron. Their biographies were spotted by Pioners' general manager Alex Grande and he began talking with Moorman and Stein about playing, and in Moorman's case coaching as well, in Spain. After negotiating contract terms, working out logistics and adding Costa to what Moorman calls a kind of "package deal," the trio made their way to Spain in January 2008. Since American-style football is still trying to gain popularity on the other side of the Atlantic (the Pioners' regular season games are typically attended by only a few dozen fans, mostly wives and girlfriends), the level of competition isn't quite up to par with American standards.
"Athletically it was a lot different, more of a club team," Stein notes. "Some of the players could have played in [NCAA] Division II. And, every team had imports from various countries like Great Britain, Finland and Germany so there were good players on every team."
All three former Jacks players excelled with the Pioners, capping off the season in May with a 36-17 win over the ADT-Valencia Firebats in the league's title game. And while the victory over the Firebats was undoubtedly a great accomplishment and the experience of winning a championship is hard to match, the time the trio spent living in Spain was perhaps even more memorable.
"I was back in Visalia [Calif.] and excited to hear about it," Costa says upon learning of the Pioners' interest in his talents. "It sounded too good to be true. It was a chance to spend time in Barcelona and it's special just to spend time in another country. It appealed to me more in that sense—how many people get to travel and live in another country?"
Moorman, Stein and Costa stayed in a 2-bedroom apartment while with the Pioners and had ample time to explore their new environment as games were played once weekly and practices held only a few times a week. The language barrier proved formidable at different points—Moorman notes his frustrations while trying to go grocery shopping or decipher a restaurant menu without much proficiency in the local languages, Catalan and Spanish—but the three were able to interact with the local people in traditional, intimate settings most visitors are never privy to.
"My best memories are some of the road trips with guys on the team," Costa says. "A good friend took us out like once a week to show us around villages in Catalonia [a region in Spain]."
Sampling the local cuisine was a central part of the experience.
We went to this onion festival where they do traditional onion cooking in the Catalonia style," remembers Stein. "We had lamb, beef, green onions, rabbit head. It was a fun adventure, we got to do things no tourist would do."
The three also noticed significant differences in the Spanish and American cultures and ways of life.
"There was a lot of time to sit back and think and I realized the way they go about life is different," says Stein. "They have a lot of gratitude toward today and aren't as worried about the future. They take care of their family and friends and it's not all about big boats and homes."
Costa also felt his time in Spain gave him a new perspective on life.
"It's definitely a little slower there and more relaxed—they love to have a good time. We seem to leave our good time somewhere else," Costa says. "They don't worry about stuff as much."
After such a successful season, the Pioners would be happy to have any of the three players back for another run at the title, but all three have plans that likely will make their first season in the Liga Nacional de Fútbol Americano their last. Moorman was recently married and plans to remain in the Southern California area with hopes of coaching football at the college level. Stein will return to HSU in the fall to begin earning his teaching credential and Costa will be busy for the remainder of the year as a defensive coordinator for the Exeter High School football program in the San Joaquin Valley.
For more athletics at HSU, visit the Jacks' homepage.