Connecting Africa to America through ritual and language ??Jagun Fly?? by HSU graduate John Oluwole ADEkoje, opens in Gist Hall Theatre on Thursday, Feb. 26 for two weekends.
Image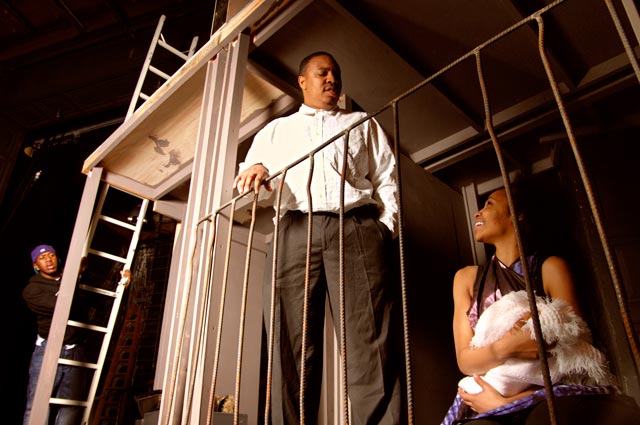 It is the featured production of the HSU New Plays Season—a national competition held every three years.
An African-American family in an unnamed city is in crisis: the absent father (played by Thomas Tucker), the alcoholic mother (Natasha Harrell) and the teenage son whose life is on the streets (Siray Rodgers). A Yoruba spiritual elder (played by Dion Davis) performs a cleansing ceremony for them, not sure if it will work.
"He is afraid his rituals no longer serve his people who are now spread throughout the world," said the play's director, John Heckel. "He's afraid they're losing their connection with their African roots of culture, tradition and history. So he's afraid he will never be able to fly again, because his flying depends on these rituals working."
With humor and drama, dreams and hard reality, language and rhythms from both Yoruba ritual and contemporary urban America, Jagun Fly is in many senses an African-American play.
Playwright John ADEkoje is a graduate of the HSU Department of Theatre, Film and Dance. He originally came to HSU to study filmmaking, but dramatic writing program director Margaret Thomas Kelso convinced him to try writing plays.
Image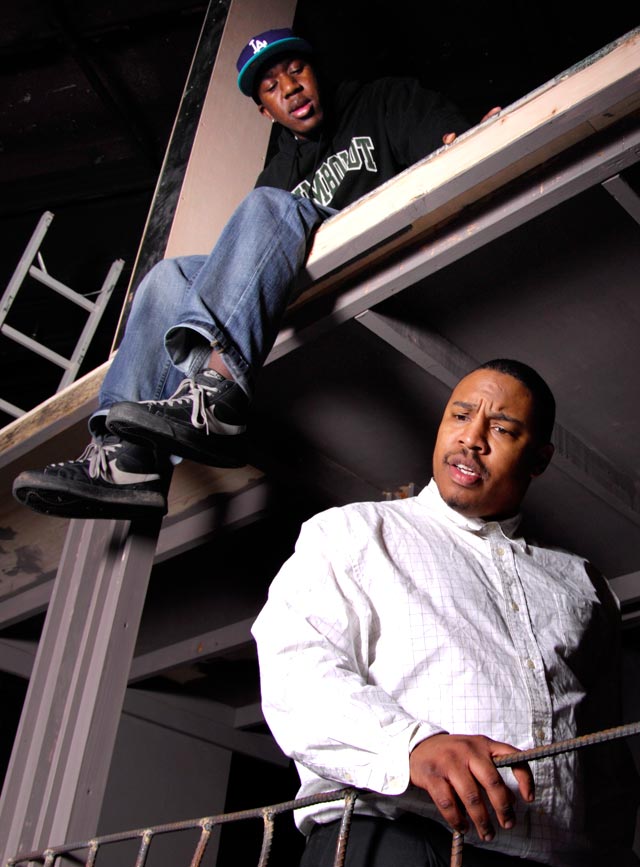 "So it's her fault," he said. 
It seems to be paying off. Now living in Boston, his play Shoeshine Safari is scheduled for production by the Providence Black Repertory Theatre, and his rock musical will be produced next year at the Boston Playwrights Theatre. He is currently an artist in residence at the University of Massachusetts in Boston (where another play is in process) and he teaches playwriting and film at the Boston Arts Academy.


Jagun Fly began as three short plays, one of which ADEkoje wrote while at HSU. "It was called 'Love Jones,' about a kid talking to a gun about death." In two other plays after that, "I kept playing with this idea of a mother, a father and a son who are estranged from each other, where communication is a problem."


That related to the African Diaspora, with people separated all over the world and not able to communicate with each other. "I used the estranged family to talk about that issue."
 But it was after watching a play in New York that he realized how to bring all three plays together.
"That play used the Yoruba tradition. I use it in a different way, but I noticed this was something I was doing in all my plays. It dawned on me that there was a connection between them. So I just sat down and tried to combine the three plays into one, with the ritual behind it."
Having been reminded by director John Heckel that the competition was coming up for the HSU New Plays Season held every three years, he entered this play "and I kind of won," said ADEkoje.
Image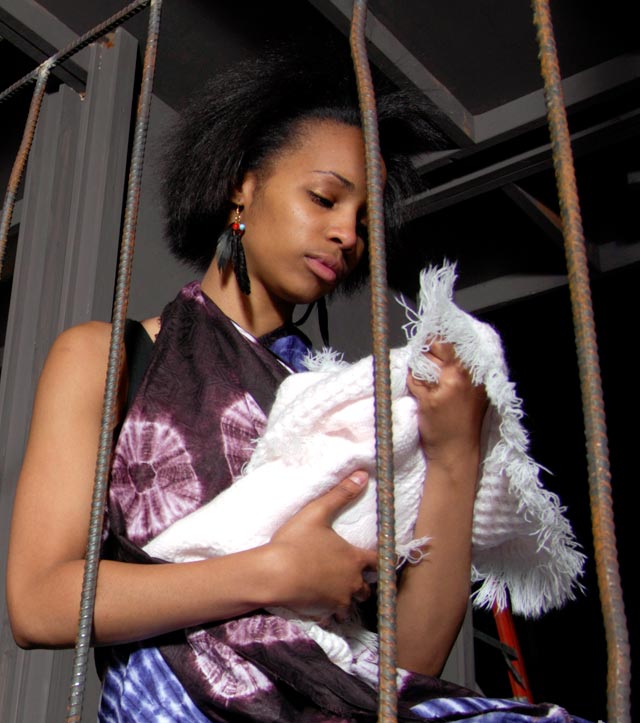 Jagun Fly is performed Feb. 26 through 28, and March 5 through 7 at 7:30 p.m. in the Gist Hall Theatre on the HSU campus in Arcata. Tickets are $10 general, $8 student/senior, with a limited number of free seats at each performance for HSU students, from HSU Ticket Office (826-3928.) http://HSUStage.blogspot.com.
Playwright John ADEkoje is in Arcata for the production. He will be meeting with classes and interested groups. Those interested in meeting with him can contact Margaret Thomas Kelso at the Department of Theatre, Film and Dance (mtk3@humboldt.edu). The playwright, and members of the cast doing brief scenes, will be featured on the KHSU program Artwaves at 1:30 p.m. on Tuesday, Feb. 24.