In various combinations and as soloists, soprano Elisabeth Harrington with clarinetist Virginia Ryder and pianists Deborah Clasquin, Ching-Ming Cheng and John Chernoff perform jazz-inspired classics on Friday, September 26 in the Fulkerson Recital Hall, in the HSU Music Department Faculty Artists Series.
Image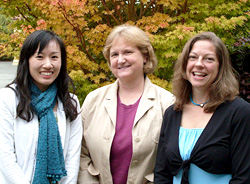 "The major work for me is Ned Rorem's _Ariel_, a cycle of five songs based on the poetry of Sylvia Plath," said Elisabeth Harrington. "Very dark and spooky, and very vivid music." Harrington will sing, accompanied by Virginia Ryder on clarinet and Ching-Ming Cheng on piano.
Rorem is an American composer, and Plath was an American poet who committed suicide at the age of 31. The program also includes the work of British poet Edith Sitwell, interpreted by a British composer, William Walton. Walton, also known for his jazz influences, achieved some of his first fame interpreting Sitwell's poetry for voice and chamber ensemble. He later adapted _Three Songs_ from this work for voice and piano. Harrington will sing, accompanied by John Chernoff.
_Three Songs_ by American composer William Bolcom is also jazz-inflected, but has more of "a cabaret feel," Harrington said. She sings with pianist Deborah Clasquin accompanying.
Clasquin plays a set of virtuoso etudes by Earl Wild based on George Gershwin songs, including _Fascinating Rhythm_ and _The Man I Love_. "Each song presents a different set of technical hurdles," Clasquin commented. "They incorporate some early jazz keyboard styles, such as ragtime."
Pianist Ching-Ming Cheng also performs a solo piece: _Alborada del Gracioso_, a section from a larger work by 20th century Basque-French composer, Maurice Ravel. "This is probably one of the most difficult pieces in the piano repertoire," she admits. "It doesn't sound very difficult, but it's very hard to play. But it's got a lot of variety, and once you have it down, it's a pleasure to play."
Harrington, Clasquin, Cheng and Chernoff, all members of the HSU Music Department, are in concert on Friday, September 26 at 8 PM in the Fulkerson Recital Hall on the HSU campus in Arcata. Tickets are $8 general, $3 students and seniors, from HSU Ticket Office (826-3928) or at the door. http://HSUMusic.blogspot.com