Image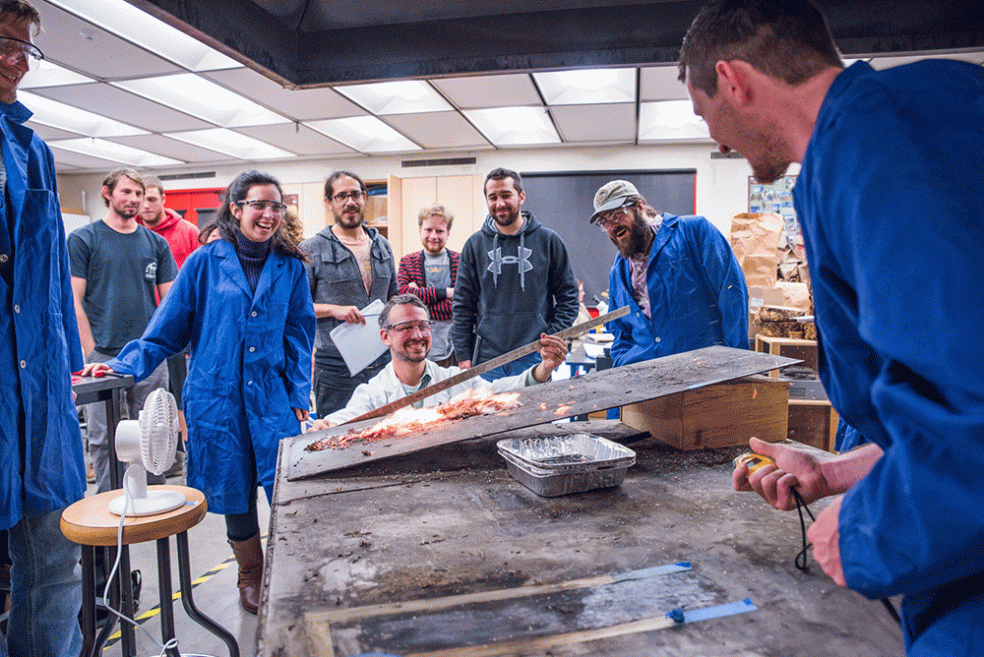 The news has been inescapable: wildfires in California and across the West have become larger, more severe, more destructive, and more deadly. Historical fire suppression and forest practices, coupled with climate change, have created an unavoidable problem.
To address that problem, understand and manage fire, and help educate and train a generation of fire and land managers, Cal Poly Humboldt has launched a new degree in Applied Fire Science & Management, one of only two of its kind in the nation. 
Humboldt has long been a leader in natural resources such as forestry, wildlife, botany, fisheries, and more. Expanding on strengths that the University has been cultivating for decades, the Applied Fire Science & Management program explores the science and management of fire from multiple disciplines and perspectives, including local Indigenous knowledge. Exploring and learning from a dynamic and varied set of practices provides students with a strong background in fire science, management, and policy in a rapidly changing world.
"I think at some level fire is innately interesting to humans," says Jeff Kane, professor of Applied Fire Science & Management. "People are drawn to the profession because of their interest in fire as a phenomenon, and also because it's such an important issue for California and other parts of the Western United States. It is a land management practice that's been used for thousands of years, and it's a helpful tool to help reduce and manage negative impacts of fire."
Ashton Stratton, a first-year Applied Fire Science & Management major from Richmond, California, has been interested in firefighting and fire science since he was a kid. "I've honestly just always just wanted to help people."
A degree in fire science is a good way to do that, he says. "It's a little rough, but I think that being out in nature is just something that really speaks to me."
Stratton was drawn to Cal Poly Humboldt because it is one of only two four-year bachelor's degree fire programs in the nation. The location, he says, allows for unique opportunities to study in and near forests, and from Indigenous communities.
At Humboldt, students take their learning beyond the classroom to conduct timely and relevant research, which local partners then use to inform fire management.
Cal Poly Humboldt's Fire Lab is among the most well-equipped fire research facilities of any university in the country, and its new wind tunnel technology, designed to replicate natural conditions, is unique to the program. 
"We can use live fire as demonstrations, incorporate it into the classroom so that students aren't just hearing and learning and seeing fire," Kane says. "They're actually doing experiments and measuring fire and learning about the science of fire."
Students also have access to the Arcata Community Forest behind campus, the Schatz Demonstration Tree Farm, as well as public and private forest lands. They'll work with partner agencies, such as CAL FIRE, conduct undergraduate research that can have a direct impact on field practices, and learn from some of the nation's top fire and forestry experts.
There's a wide range of professions that students can pursue with a degree in Applied Fire Science & Management, Kane says. "Many of them may at least initially get into federal or state workforces, you know, being firefighters. So kind of that first line of action to help control and reduce negative impacts of fire, but then also the education experience will provide them with opportunities to advance in those careers and to have more supervisory roles and to become land managers."
"I'm just excited that we'll be able to offer a program that students can focus on fire almost exclusively," Kane says. "And one unique aspect of this program is that students can kind of build other training and experiential learning opportunities to help them succeed in their chosen careers."
This is an ongoing series exploring 10 new Cal Poly Humboldt programs launching as part of the University's expansion as a polytechnic institution.