Four years of drought has turned much of California into tinder, and the resulting wildfires have torched vast swatches of forest. Fire suppression efforts have saved valuable commercial timberland, but another tree is being threatened by humans' effort to control nature.
Image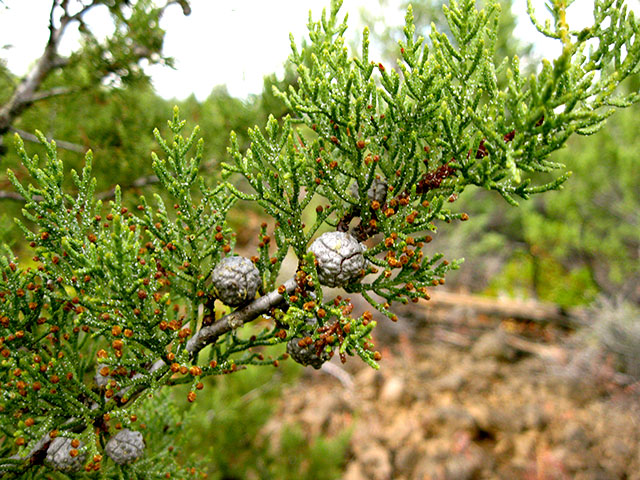 Three Humboldt State researchers have secured an $800,000 grant from the Bureau of Land Management to study that tree, the rare Baker Cypress, and how fire suppression has limited its ability to reproduce. Roughly 800 acres are all that remain in 10 separate populations scattered across Northern California and Southern Oregon.
"Everyone's interested in making sure that commercial species of trees will persist or even expand," said David Greene, professor of Forest Ecology in HSU's Department of Forestry & Wildland Resources. "But there hasn't been much interest in studying the Baker Cypress because it isn't commercially valuable. We hardly know anything about it."
What is known, Greene said, is that the tree's cones are serotinous – a scientific term that means they remain closed until extremely high temperatures heat the resin that's keeping them closed. That's the only time the trees can release their tiny seeds.
Greene has teamed with researchers Jeffrey Kane, also an instructor in Forestry & Wildland Resources, and Melanie McCavour, of the Department of Environmental Science and Management, to conduct the 10-year study. They're busy recruiting a select group of graduate and undergraduate students to help with the task, beginning next summer.
"The undergraduates will get experience measuring trees, establishing research plots, and collecting seeds," Kane said. "Graduate students will serve as field crew leaders to train and manage the undergrads, and also have year-round involvement with the assessment."
The scientists and students will primarily focus on a stand of cypress near the town of Burney, Calif., in the far northeastern part of the state. They also hope to include the native perspective of the Modoc tribe, for which the tree had a special significance.
"It's considered a very beautiful tree, and the most aromatic of the cypress," McCavour said. "There are many reasons why the Modoc might choose this tree to represent them, but most likely it was for its aesthetic significance."
Any value the tree has may soon be extinct because of the specific need for extremely hot fires that sweep through the crown instead of burning below. Wildfire suppression has limited that type of fire, allowing taller, more resilient species like white fir and incense cedar to encroach on the cypress' land. Another benefit of fire is that it burns away much of the organic layer on the forest floor; with its small seeds, the cypress cannot germinate successfully unless mineral soil is exposed.
"In the last 90 years or so, fire suppression has made the fires the Baker cypress needs less likely to occur," Greene said. "Their competitors are able to outgrow them and shade them out."
During their time in the field, the researchers may harvest some of the fir trees as part of their experiment, and if appropriate, conduct controlled burns. They will also experimentally broadcast seeds on prepared seedbeds. Finally, they will construct an interpretive trail system.
McCavour, who previously taught at Concordia University in Montreal, Canada, brings extensive experience conducting environmental impact statements. Working with the BLM, she'll determine whether a formal assessment is appropriate and if so, will lead the effort.
Her focus on the cypress tree's evolution and role in biodiversity may also provide clues about adaptation to climate change.
"The Baker Cypress evolved into a very cold-tolerant tree," McCavour said. "But the climate has become warmer and dryer. It may be that we're seeing a shift in climate that they haven't caught up with."