Funny, it doesn't look like something that's going to save the world, this viscous, green goop. And yet, if you spend just two minutes talking to Brandon Hemenway and Patrick Wiley, the chief officers of AlgaRhythms, you'll walk away believing that their brand of slime might do just that.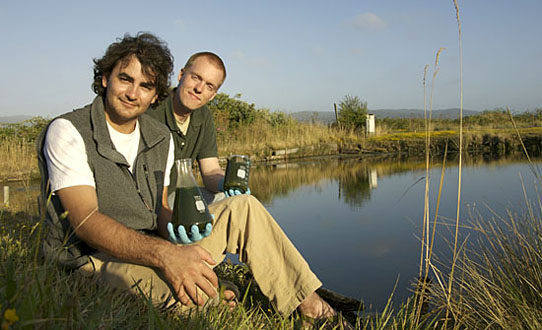 Last spring the pair entered Humboldt County's own business competition, Economic Fuel, and received an Honorable Mention award for their business, which turns a type of algae into an earth-friendly fertilizer. Since then the pair have brought on new collaborators, have fine-tuned the AlgaRhythms business plan and plan on re-entering the upcoming Economic Fuel contest, which is just now gearing up again.
Now entering its third year, Economic Fuel is the brainchild of Rob Arkley, a long-time Humboldt County resident and local businessman. The contest is sponsored by the Eureka Reporter, College of the Redwoods and Humboldt State University. The contest is open to students from College of the Redwoods, Humboldt State University, and recent college graduates who reside in Humboldt County.
"I read about other business plan competitions and I was inspired," says Arkley. "I believed that we could and needed to do that here. The capital we provide to our aspiring entrepreneurs helps to jumpstart their business ventures. We made sure when we created the eligibility criteria and entry guidelines that we focused on fueling the local economy by requiring that new business ventures maintain their principal place of business in Humboldt County and base a majority of their employees here, as well. Having the competition focused on our local economy is what makes Economic Fuel unique when compared to other competitions out there."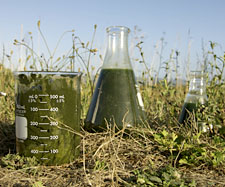 "Humboldt County is the perfect place for a competition like Economic Fuel," says HSU School of Business lecturer and Economic Fuel advisor, Nancy Vizenor. "Small businesses fuel our economy. We all know that the timber and fishing industries aren't what they used to be—Humboldt County's future depends on getting alternative industries to take root here."
BUSINESS MEETS BIOLOGY
Hemenway and Wiley, both recent HSU graduates, are an excellent example of Economic Fuel's power to bring talented people together over great ideas. Patrick is the lead scientist in the project and has spent the last two years conducting graduate research on chlorella—a microscopic, single-cell algae that accumulate in waste-water treatment ponds.
Hemenway brings business acumen and marketing savvy to the table. He's a School of Business grad with a passion for proving that big business and big profits don't have to come at the expense of our environment.
Wiley's research initially centered on asking whether or not he could make cost-effective biodiesel out of the algae. The short answer was "no," but Wiley did learn that all that green stuff floating in the Arcata Marsh could be made into a wonder fertilizer; an affordable, all-natural additive that leaves soil healthier than conventional, synthetic fertilizers. An added benefit? Producing this algae-based fertilizer doesn't require using heaps of fossil fuels—a definite advantage over synthetic fertilizers. When Brandon heard about Wiley's work, he knew the two had a project with real potential.
Like many other Economic Fuel contestants, Hemenway and Wiley benefited from on-campus expertise, enlisting the aid of several Humboldt State professors in drafting their business plan. Several professors from Humboldt State's applied technology, engineering, fisheries and forestry departments helped AlgaRythms fine tune the technology behind their business plan.
"That's one of Economic Fuel's greatest benefits," says Vizenor. "There is tremendous talent and expertise here in Humboldt County. This contest gets experienced people to pool their resources and work together. The ripple effects of that kind of collaboration are huge."
In the end, the brilliant idea and extra brain power helped AlgaRhythms advance to the finalist round where the team received an Honorable Mention award of $1,000. While some contestants might be discouraged if they didn't bring home one of Economic Fuel's $25,000 grand prizes, Brandon and Patrick are more determined than ever to make their business succeed. The pair has brought in additional partners and is tweaking their manufacturing process. They also plan on entering the upcoming 2008 Economic Fuel contest.
"We came away from last year's competition a much stronger company," says Hemenway. "Economic Fuel gave us a real bird's eye view of our market. We had to look beyond just the marketing or engineering or accounting side of things and consider every aspect of the business. Once we did that, we realized where our potential roadblocks were. We may not have won the grand prize, but what we learned is just as valuable to us. And," he says with a smile, "there's always this year's contest."
To learn more about the Economic Fuel business competition, visit www.economicfuel.org