For Carol Stieger ('58) dreams of international travel were in the works from the day she started as a teacher in Sacramento.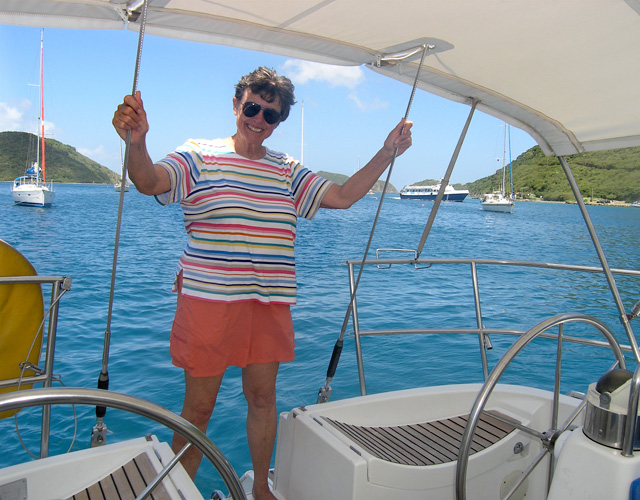 "I'd planned on working three years to get enough experience to join the Department of Defense and work overseas," says Carol.
Well, life has a way of changing one's plans and instead Carol settled into a routine of raising her two daughters as a stay-at-home mom.
But in 1970, the Humboldt College graduate embarked on her first overseas journey. "My husband had been stationed in Guam when he was in the Navy and I wanted to see beaches so we decided 'let's go to Guam.'"
So Guam it was. Carol points out that this trip was nearly 40 years ago and seeing a pair of American tourists was a bit of a spectacle to the residents of this Pacific island.
"They kept asking us if we were from the government, 'no', are you teachers? 'no, we're not here to teach', are you missionaries? 'no'. Oh, you're honest to goodness tourists," says Carol.
In 1973, the couple took their two daughters on a trip across the globe. As Carol puts it, "we couldn't decide where to go, so we went everywhere."
They began their journey in west Africa, visiting places like Cameroon, the Ivory Coast and Mali. Trying to sort out visa requirements actually landed the family in a lock-up in an airport in the Ivory Coast -- but things weren't all bad.
The airport's holding cell was one of the few places the travelers encountered one of life's simple pleasures: running hot water.
As her daughter's splashed around in the tub, enjoying the luxurious tap water, Carol tried to deliver a reality check. "You know you're in jail, right?" she asked the girls, "yeah, but we like it." was their jovial response.
After west Africa, it was on to the east side of the continent, then on to Pakistan, Asia, Europe and beyond. Today, Carol lists Thailand, French Polynesia, Greece, Sweden (where she has family) and Austria among her favorites to revisit. In fact, there's been times when Carol and her husband have been vacationing and upended their plans to head back to their favorite European nation. But despite so many trips, she says she's never made it to Austria's political and cultural capital, Vienna -- an omission she plans on rectifying this autumn with a trip to Europe, where she'll visit Vienna, Prague and a host of other central-European spots.
Of course, life isn't all travel and no work. After earning a master's degree, which focused on researching mentally-gifted minors, Carol returned to the Sacramento School District to work at an alternative school that espoused an inclusive and cooperative philosophy.
The school required parents to spend at least two hours every week volunteering in the classroom. This extra set of eyes gave Carol some breathing room, which she says led to a better experience for everyone involved. One parent even got bitten by the teaching bug in the process.
"One dad was a furniture maker and I used to pair him with all the immature boys in the class. It turns out that he loved it so much that he's now a professor at Sacramento State teaching philosophy to adults," Carol relates.