Down to earth aptly describes HSU senior Holly Leopardi, whose gravity research is one of the reasons the physics major has been honored as a 2013-14 Outstanding Student of the Year for Outstanding Co-Curricular Contributions.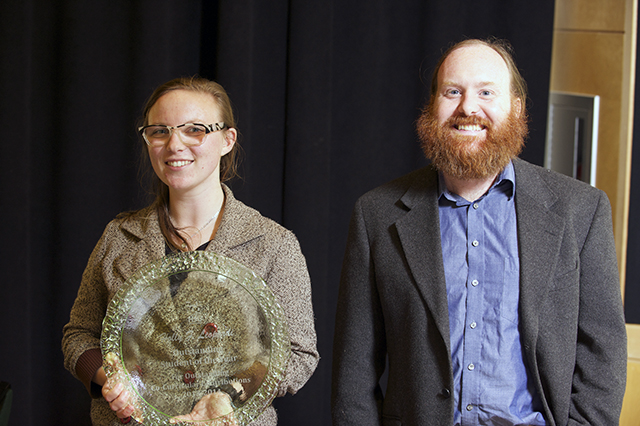 Leopardi, from Salt Lake City, is one of two soon-to-be graduates (the other, Cherrish Courtney-Lynn Robinson, will be profiled here next week) honored during the May 17 commencement ceremony. Their selection was announced by HSU President Rollin Richmond, provost Robert Snyder and Vice President of Enrollment Management and Student Affairs Peg Blake during an April 10 ceremony.
Not quite midway through her journey to prominence as a research scientist, Leopardi has already paved the path with knowledge and expertise well beyond that attained by most college undergraduates. Part of it is her obvious aptitude, but Leopardi also credits the HSU physics program and professor C.D. Hoyle as key to preparing her for the world beyond.
"I've gone to national conferences and it's made me realize how unique our research lab is in the opportunity it provides to undergraduates," Leopardi said. "C.D. treats us like graduate students. You get the opportunity to try, and if you mess up, you figure out how to fix it. You learn how to approach a problem."
Leopardi's contributions to Hoyle's renowned gravity research include a prominent role in designing the pendulum that is key to the measuring apparatus. She has also improved the system's sensitivity by developing a process that allows researchers to remotely adjust the device at the outset of an experiment.
"Without exception, Holly is the most adept and motivated undergraduate that I have ever worked with in the laboratory," Hoyle said in his nominating letter. "She is an incredibly talented, creative and innovative researcher in both theoretical and experimental aspects of the project."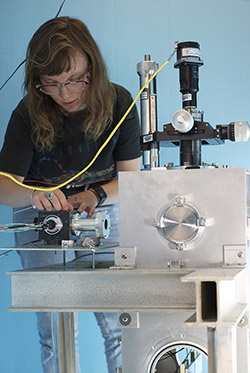 Leopardi discovered Humboldt State during a family trip taken between her sophomore and junior years in high school. In the middle of the Utah summer, her mother spontaneously packed up the car and two children for a trek to the California coast. They plotted the most direct route, mileage-wise, and ended up in Arcata.
"My mom piled my brother and I in the car and said, 'We're driving to the coast.," Leopardi said. "We decided we might as well look at schools while we were out there, so we headed down highway 1. We only spent a couple of days camping here, but when it came time to choose a school I remembered the (Humboldt) area and was excited about the engineering program. I'm glad I ended up here."
An interest in hands-on learning led Leopardi to select engineering as her first major, but after taking a couple of physics classes she found herself drawn to the experimental process and decided to switch majors. She also considered a dual major that added chemistry, but instead chose to pursue a chemistry minor, which she'll finish this spring.
"I've always been analytical," Leopardi said. "I have the mindset to prove somebody wrong. When I was younger my mother always said I should become a lawyer because I liked to argue."
In her seventh semester as an undergraduate researcher in Hoyle's lab, Leopardi has also benefited from opportunities born from that involvement. She has participated in the University of Washington's gravity research program, working at the Seattle-based campus during the summer of 2013 and working on UW projects remotely at HSU during the summer of 2012, both summers funded by a National Science Foundation grant.
Starting next fall, Leopardi will continue her education as a graduate student in physics at the University of Colorado. She plans pursue a doctorate degree, with the future beyond that undetermined and unlimited.
"I probably have about six more years of school," Leopardi said. "After that I'll probably look for a research job, something where I get to design experiments. I'll see what graduate school is like, and go from there."