Alum Looks to Bring CCAT-Style Hostel for Travelers
Eureka — After five years of searching the Humboldt Bay Sustainable Living Center has found a home along the Eureka waterfront, near Halverson Park. The center will feature an eco-hostel, a conference center, office space for green businesses and non-profits as well as a 100-mile café.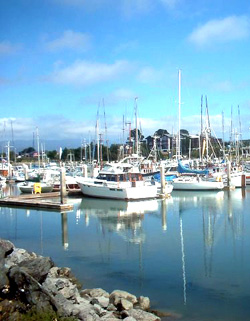 The dream began in 2001 when Lew Litzky, the former president of the Youth Hostel Association, wanted to create an eco-hostel. With the help of HSU alum Sean Armstrong ('01, Natural Resources Conservation), along with the local community, that dream is closer to becoming a reality.
A hostel is an inexpensive over-night lodging facility that typically provides a communal kitchen and commons area. According to Armstrong, president of the Board for the Humboldt Bay Sustainable Living Center, the Eco-Hostel, like most hostels, will feature both couple rooms and dormitory-style rooms for larger groups and single travelers. What makes the Eco-Hostel unique is its holistic approach that allows tourists to stay in a building where sustainable living is something that you can touch and eat.
Armstrong first got involved in 2001 when the group was searching for a site for the Center. As a former co-director at the Campus Center for Appropriate Technology (1999) Armstrong saw this as an opportunity to make an off-campus version of the student-run eco demonstration house.
"I learned at CCAT that the best education is experiential. People learn about sustainability by living it at the Eco-Hostel," Armstrong said. "Using CCAT as a model, we will have student interns living at the Eco-Hostel who will keep the center fresh. Most museums get stale—we want to continually reinvigorate the center and students are a great way to make sure the facility stays relevant."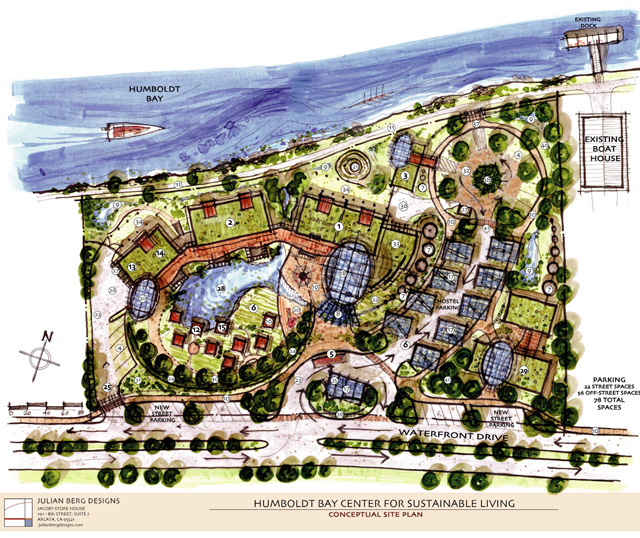 "Everything will be metered, from the water to the lights, so people can immediately see how much they are using and it will be translated into metrics they can understand, like pounds of carbon and utility costs," he added.
Using a regional approach to green building, Armstrong said, the Center will be part product placement, part inspiration and part toolbox.
"Everything you can touch will have a story explaining its ecology—the Center will be a narrative about how people live and how it affects the environment and other communities. Sustainable products will be demonstrated and regional solutions for sustainable living will have their story told so visitors can see the process so they can apply it to their own geographic area."
The site design was created by Julian Berg and Joyce Plath in collaboration with world-renowned architect Sim Van Der Ryn. It calls for a 7,500 square-foot central hostel building, three acres of gardens and educational displays and small cottages that will feature the most experimental green building strategies.
HSU engineering students were tapped to propose the cottage designs. Six student teams designed and constructed scaled models of hostel cottages using materials such as papercrete, aerated concrete, structural concrete insulated panels (SCIPs) and a modern interpretation of a traditional Yurok plank house. Each student effort incorporates cutting edge thinking about green design.
The three acres of gardens will allow food for the 100-mile café to be grown on site.
"We will let people pick their food, like lemons and herbs, to help people get connected to their food system."
The 100-mile café will showcase local foods grown and produced within 100 miles of the Center.
"We are in California, 100 miles is all we need for meats, cheese milk, olive oil, fruits, vegetables, and grains," said Armstrong.
Currently, the board is looking for recipes for the Center's local foods cookbook and volunteers to help with the design of the center, develop web pages and to do outreach.
Contracts were awarded earlier this month to study the Center and the site near Halverson Park's feasibility. Armstrong said that within three years the center will be completed and ready for visitors.
For more information or to volunteer with the Humboldt Bay Center for Sustainable Living contact Sean Armstrong sarmstrong@danco-group.com.