Image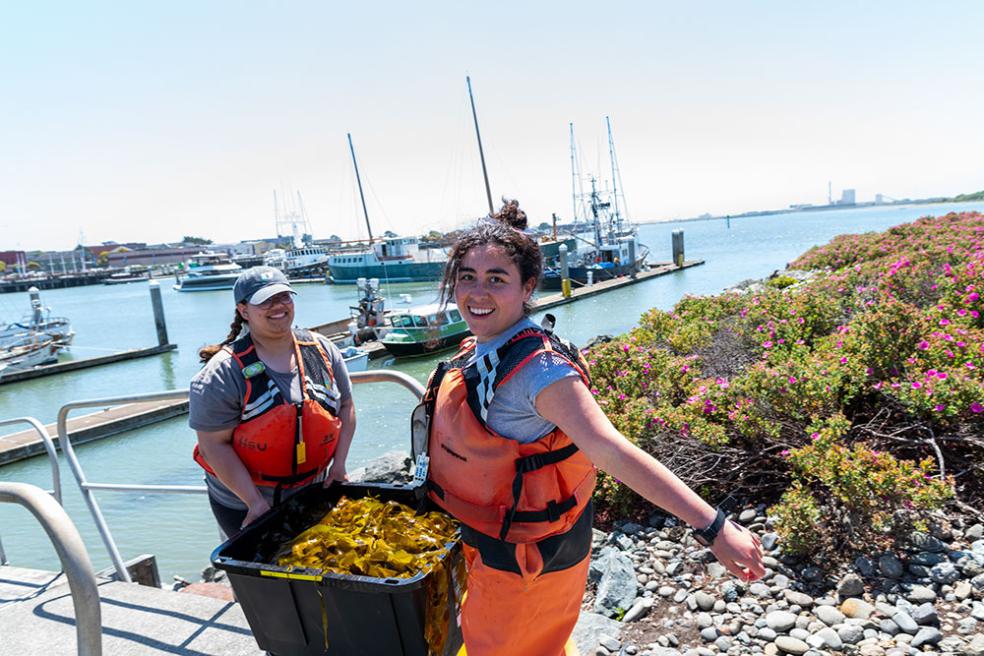 Cal Poly Humboldt students and faculty are reaping the results of their groundbreaking work on California's first commercial, open-water seaweed farm.
Bull kelp is environmentally, culturally, and economically vital for California. Critical for marine life, it serves a vital bioremediation role by cleaning the water and protecting against the effects of climate change. 
Additionally, it's a culturally important food source for coastal Tribal communities. Collaborators harvested, processed, and distributed the seaweed out to local community members and other organizations. One such group, the Rou Dalagurr Food Sovereignty Lab and Traditional Ecological Knowledge Institute, helped to distribute the bull kelp to the Wiyot Food Boxes Project, which provides food to tribal members free of charge. 
For this harvest, kelp was planted onto various types of rope to test growth rates and viability. After harvest, the kelp from each growing medium was analyzed and weighed. Those results could aid future aquaculture entrepreneurs in gaining a head start. After processing, the kelp made its way to the Food Sovereignty Lab. 
The joint project brings together interdisciplinary collaborators from the Department of Fisheries Biology and the Department of Native American Studies, as well as local and regional organizations, to assess the viability of bull kelp growth in Humboldt Bay. 
Other organizations and collaborators that were involved in this project include the CSU Agricultural Institute, ¡Échale Ganas! & Camino al Rancho program, Hog Island Oyster Company, Sunken Seaweed, Telonicher Marine Lab and W.L. Gore & Associates.