For one HSU alum, a passion for beekeeping has grown not only into a successful academic career, but also recently earned her a $500,000 "genius grant" from the MacArthur Foundation.
Image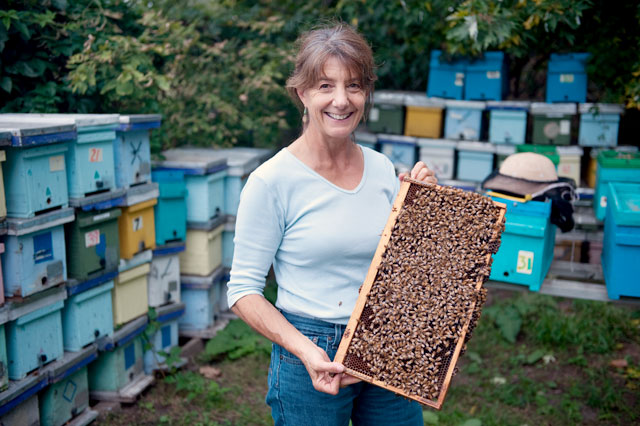 University of Minnesota Professor Marla Spivak ('78, Biological Sciences) is an internationally renown entomologist and expert on honeybee health. She one of this year's 23 recipients of the John D. and Catherine T. MacArthur Foundation annual award which,according to the foundation, "is an investment in a person's originality, insight, and potential."
Spivak's work centers on an issue that could potentially affect nearly everyone. In recent years, beekeepers have seen their colonies disappearing at an alarming rate. With the critical role bees play in putting food on our tables—nearly a third of the U.S.'s food supply is pollinated by bees—scientists have been trying to develop solutions to bolster the ailing populations.
Researchers have identified a host of causes for the honeybee die off, including parasitic mites, viral and bacterial diseases and exposure to pesticides. To tackle these threats, Spivak has targeted genetically influenced behaviors that confer disease resistance to entire colonies . Spivak was able to identify strains of bees that engage in "hygienic" behavior—bees with the ability to detect and remove infected pupae from their hive—and develop disease-resistant strains of bees for use throughout the beekeeping industry.
Spivak's bees, known as "Minnesota Hygenic," have caught industry attention as a sustainable answer to the bee die off, especially in the Midwest, the country's top honey-producing region.
In addition to her research, Spivak leads the University of Minnesota's Bee Lab, which provides research and education to professional and amateur beekeepers. The university's bee research and outreach program, which has been operating since 1918, is the only one of its kind in the Upper Midwest.
HSU President Rollin Richmond lauded Spivak's work, noting that HSU's rigorous preparation of its students is reflected in the MacArthur Foundation grant. "The award is another validation of the quality of education our students receive from our talented faculty. HSU provides students with the opportunity to do research with faculty in a way that prepares them well for their futures. Congratulations are in order for Ms. Spivak, and we look forward to following her continued research into this important area," he said.
About the Grant
As a new MacArthur Fellow for 2010, Spivak will receive a $500,000 "no strings attached" grant. MacArthur Fellowships come without stipulations and reporting requirements and offer fellows unprecedented freedom and opportunity to reflect, create, and explore. The unusual level of independence afforded to Fellows underscores the spirit of freedom intrinsic to creative endeavors. The work of MacArthur Fellows knows neither boundaries nor the constraints of age, place, and endeavor, according to the foundation.
Further Reading
Read Marla Spivak's profile on the MacArthur Foundation's website
University of Minnesota's official press release