Arcata – The state senate has confirmed Gov. Arnold Schwarzenegger's nomination of Humboldt State University alum Del Walters ('77) to be director of California's Department of Forestry and Fire Protection (Cal Fire).
Image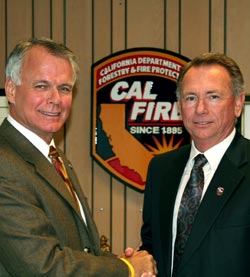 Walters, from Redding, earned a bachelor's of science degree in forest resource management from HSU's College of Natural Resources and Sciences.
"I'd always heard Humboldt State was a great school," Walters said in an interview. "I arrived in 1974, and two of my best professors were Theron O'Dell, who taught dendrology and regional silviculture [the cultivation of trees], and Jerry Partain, who taught economics."
Born in Hollister and raised in King City, Walters has been with Cal Fire for 33 years. He had been executive officer since 2008 and prior to that was assistant region chief and staff chief of operations for Cal Fire's northern region.
From 2000 to 2003 he was deputy chief of the Shasta-Trinity Unit and the Shasta County Fire Department.
Walters and his wife Janet have two adult children.