Arcata – Humboldt State alumnus Bruce Appelgate ('85) has been named associate director of Ship Operations and Marine Technical Support at the Scripps Institution of Oceanography at UC San Diego.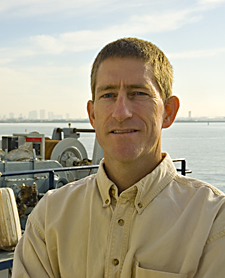 A marine geology and ocean technology expert and a specialist in seafloor mapping, he will manage the Scripps fleet.
Appelgate joins Scripps from the University of Hawaii's Institute of Geophysics and Planetology, where he served most recently as an associate research specialist and director of the Ocean Technology Group in the School of Ocean and Earth Science and Technology.
Scripps is known for its expeditionary oceanographic research. "My job is to make sure the Scripps research fleet continues to provide scientists with the best possible access to the sea," Appelgate said.
He will oversee four research vessels, which comprise one of the largest academic fleets in the world. He also will administer the Scripps Nimitz Marine Facility, the support and management center for the Scripps fleet in San Diego's Point Loma community.
The HSU alumnus earned his bachelor's degree in geology at the Arcata campus in 1985.