Humboldt State University alumnus Robert Thomas (geology, '85), professor of geology at the University of Montana Western, Dillon, Montana, and a 2008 winner of HSU's Distinguished Alumni Award, has been named a 2009 U.S. Professor of the Year by the Council for Advancement and Support of Education, sponsored by the Carnegie Foundation for the Advancement of Teaching.
Image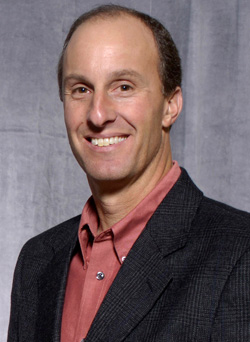 Thomas and three other winners were honored at an awards ceremony Nov. 19 in Washington, D.C. for "actively engaging their undergraduate students in hands-on research and extensive team work."
During his tenure at Montana Western, Thomas has helped the campus evolve from a traditional state 'normal school' into an experiential learning university that uses an immersion scheduling system, in which students take one course at a time in an 18-day stretch. He teaches most of his classes outdoors in the natural laboratory of southwestern Montana so his students "can directly experience how the Earth works."
In his acceptance remarks, Thomas explained why he prefers Montana Western's approach to the standard three-day-a-week, 50-minute lecture system. Faculty should "empower our students to focus on real and meaningful projects that inspire their need to learn more information," he said. "Ultimately this is only possible with a class schedule that provides large blocks of time. The solution is to teach one class at a time."
Thomas recalled that in 2005, his campus became "the first public university in U.S. history to adopt a schedule where students take one class at a time for 18 instructional days." He and his colleagues work directly with students, challenging them with projects in which they learn practical skills while using data to solve real-world problems. Students build portfolios of what they can do, documenting their professional skills and equipping them with "a tremendous advantage over a transcript listing classes."
Thomas was chosen from a pool of more than 300 nominees. Anthony Bryk, president of the Carnegie Foundation for the Advancement of Teaching, said the four national winners "mirror examples of scholarship, citizenship and community involvement that ultimately will lead to contributions toward a better society and indeed a better world."
Lori Dengler, chair of HSU's Department of Geology, said, "The best thing about my job are the absolutely top-notch students we get to interact with and [Rob Thomas] is in the elite group at the top. I can't think of anyone who deserves it more."
As part of his public outreach, Thomas has helped lead 10 "Geo Venture" field trips for the Geological Society of America, and the society recognized him with a Distinguished Service Award. The trips provide both scientists and lay people with enriching learning experiences at each destination, including the Canadian Rockies and Yellowstone, Teton and Glacier National Parks. He has co-authored 25 geological road signs placed along the Lewis and Clark trail in Montana and is collaborating on two layperson books titled Roadside Geology of the Yellowstone Country and Geology Underfoot in Montana.
Thomas's professional service includes many years of teaching the Princeton University geology field camp and serving on the boards of the Tobacco Root Geological Society and the Yellowstone Bighorn Research Association. He also has been president of the Rocky Mountain Paleontological Society and edited Northwest Geology and the Journal of Geoscience Education.