HSU faculty have published three acclaimed open-access textbooks with Humboldt State University Press. These well-reviewed works provide introductions to the fields of Spanish language, LGBTQ history, and geospatial science.
Authored by subject experts at HSU, these free works make high-level education accessible to all students. "These works are the promise and foundation of a high-quality public education,' says Kyle Morgan of HSU Press.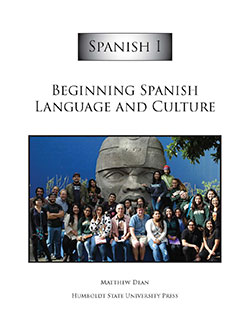 Spanish I: Beginning Spanish Language and Culture (335 pages) by HSU professor Matthew Dean is a peer-reviewed textbook designed for the true beginner in college. Dr. Susan Rubio of Malloy Colleges calls it "an excellent digitally-free alternative to the high-priced college Spanish textbook… [and] affords instructors flexibility and versatility." Each section has its own learning objectives with a variety of assignments: Para estudiar en casa (with detailed explanations), Para practicar en casa (homework exercises), and Para practicar en clase (paired and group classwork activities). The individual exercises are geared towards acquisition of form and function, and the communicative classwork exercises promote interpersonal exchanges between students.
The American LGBTQ Rights Movement: An Introduction (150 pages) by HSU librarian Kyle Morgan and law librarian Meg Rodriguez is a peer-reviewed chronological survey of the LGBTQ fight for equal rights from the turn of the 20th century to the early 21st century.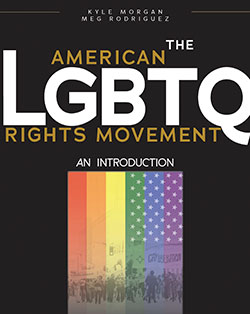 Illustrated with historical photographs, the book beautifully reveals the heroic people and key events that shaped the American LGBTQ rights movement. The book includes personal narratives to capture the lived experience from each era, as well as details of essential organizations, foundational texts, and court cases that defined LGBTQ activism and advocacy. Author and lecturer Craig Loftin of CSU Fullerton claims it "a detailed, well-organized, and visually compelling overview of a frequently overlooked historical subject."
Geospatial Concepts: The Fundamentals of Geospatial Science (674 pages) by HSU faculty members Nicolas R. Malloy and Amy Rock covers concepts and tutorials for readers with little to no experience using geographic information systems (GIS) software. Each chapter starts with text related to fundamental concepts related to geospatial science and its sub-disciplines. The chapters also include one or more tutorials designed to reinforce the concepts learned. Additional references, such as video content and external websites, are also mentioned throughout the text. Cassie Hansen of Johns Hopkins University says the textbook is "well organized and works perfectly for online courses and integrates with changing software."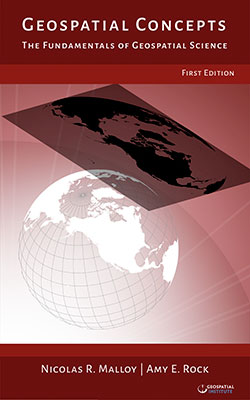 In addition to freely sharing expert knowledge, open-access textbooks such as these:
• Help students financially, so they don't have to decide whether to buy a textbook or pay for food and utilities.
• Provide students immediate access to the content and continued access after they graduate.
• Improve classroom equity for low-income and minoritized students.
• Reduce DFW rates
• Achieve the same or better learning outcomes as commercial textbooks.
• Are viewed positively by the majority of students and instructors who use them.
Visit all HSU Press open access textbooks here.
Humboldt State University Press publishes high-quality scholarly, intellectual, and creative works by or in support of our campus community. The press supports the HSU mission to improve the human condition and our environment by promoting understanding of social, economic, and environmental issues. For more information, contact HSU Press at hsupress@humboldt.edu.
For information on open educational resources (OER) studies about student financial well-being, equity, DFW rates, learning outcomes, or textbook favorability ratings, or to learn more of OER options in your field, contact oer@humboldt.edu.