Cal Poly Humboldt is excited to host two Fall 2022 Commencement ceremonies to recognize the achievements of the graduating class on Friday, December 16 in Lumberjack Arena.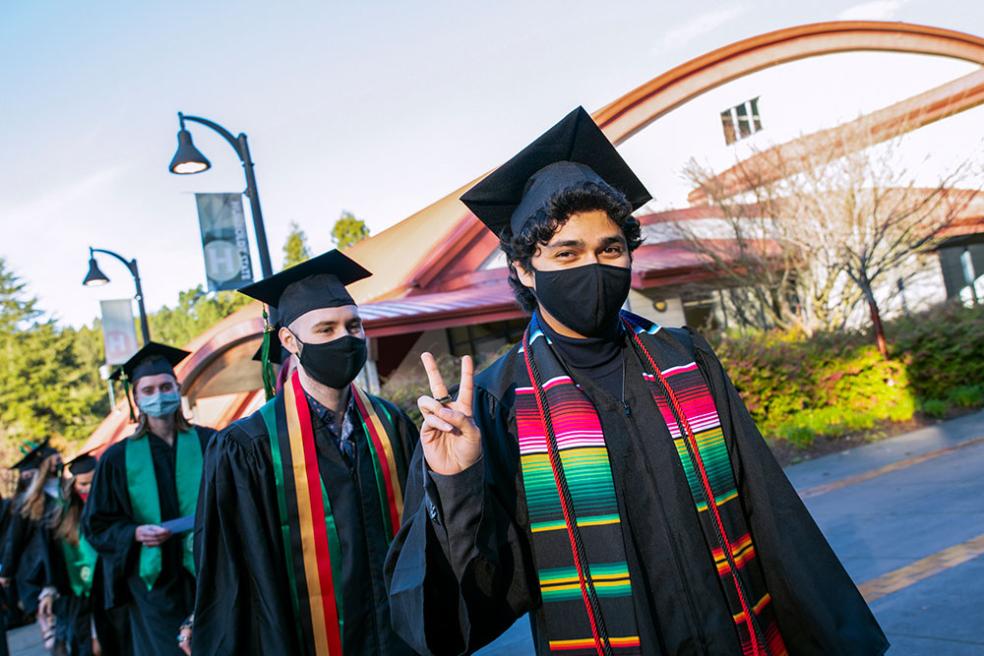 The ceremonies will be held at the following times:
1:00 p.m.—College of Arts, Humanities & Social Sciences and College of Professional Studies
4:00 p.m.—College of Natural Resources & Sciences
The events will be livestreamed, and links to the livestream will be available on the Commencement website and Humboldt homepage on the day of the event. The colleges will be hosting a joint reception for faculty, graduates, and their families between the two ceremonies in the West Gym.
In 2022 more than 2,000 students will have earned degrees and credentials. About 300 graduates have signed up to participate in the in-person Fall 2022 commencement ceremonies.
"It's exciting to honor all graduates now twice a year," says Shannon Collart, event coordinator. "Celebrating the hard work of the students, faculty, and staff at my alma mater is truly incredible. Congrats to the 2022 grads! Looking forward to seeing where you go and how you'll change the world."
Humboldt's first graduation event took place at Arcata's Minor Theatre in May 1915, with 15 women receiving teaching certificates.
More Commencement Information
Forever Humboldt: New graduates are encouraged to register for FREE with Forever Humboldt, the official association for the Cal Poly Humboldt community. Registered alumni members receive ongoing Library access, special discounts at local businesses, access to career resources, special invites to Forever Humboldt events, and more. Get more information on the Forever Humboldt website.
Graduation Pledge: Students are encouraged to take the Graduation Pledge of Social and Environmental Responsibility, a Commencement tradition that began at Humboldt in 1987 and has been used by more than 100 universities worldwide.
Find more details about the Fall 2022 Commencement on the Commencement website.