Du Cheng ('11, Biology) is among 30 recipients of the prestigious Paul & Daisy Soros Fellowships for New Americans, the premier graduate school fellowship for immigrants and children of immigrants.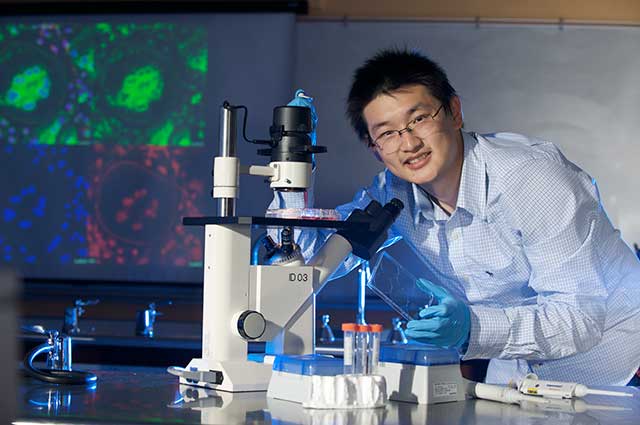 The fellows were selected for their potential to make significant contributions to U.S society, culture, or their academic field, and were selected from a pool of nearly 1,450 applicants. With a two percent acceptance rate, it was the most competitive year in the Fellowship's history. Each will receive up to $90,000 in funding for the graduate program of their choice.
Born and raised in Zhengzhou, China, Cheng came to HSU as an exchange student. Today, he's a medical student and Ph.D. candidate in the Weill Cornell/Rockefeller U/Sloan Kettering Tri-Institutional M.D.-Ph.D. program.
The Paul & Daisy Soros fellowship is among Cheng's long list of academic, scholarly and entrepreneurial accomplishments. As an undergraduate at HSU, he published papers in 11 peer-reviewed journals—four of which he was the first-author—received a fellowship for his tick-borne disease research, completed an internship at the Forsyth Institute of Harvard University School of Dental Medicine, was named an HSU Outstanding Student in 2011, and a first-place winner in the CSU Research Competition in 2013.
Cheng's inventions include a microscope adapter for the iPhone (created at Humboldt State), a 3D-printed model for neurosurgery planning, and a cell phone retinal imaging device—all of which have in some way helped make improvements in the lab, classroom, and the local community.
He says he wants to help people with his research and inventions, and he hopes to apply what he's learned in molecular and stem cell biology to advance the field of neurosurgery.
"One of the things that stand out about Du is that everywhere he goes, he finds a way to contribute to the community," says Craig Harwood, director of The Paul & Daisy Soros Fellowships for New Americans. "This spirit of giving back is part of who Du is."
Cheng credits much of his success to the hands-on learning and mentorship he received at HSU, particularly from Biological Sciences professors Jianmin Zhong and Amy Sprowles.
"I was able to address practical problems and learn skills that were deeply rooted in molecular biology so that later, I could work on stem cells," says Cheng. "All this was offered by HSU, which is amazing. No other school does that, and not many schools would offer these types of experiences to undergrads."
About The Paul and Daisy Soros Fellowships for New Americans
Daisy M. Soros and Paul Soros (1926-2013) founded the Fellowship program in 1997, which has awarded more than 550 Fellowships over its 18-year history. The couple, both Hungarian immigrants, has contributed $75 million to the organization's charitable trust.
The 2016 Fellows, who are 30 or younger, come from a range of socio-economic backgrounds, and are all naturalized citizens, green card holders, DACA recipients, or the children of immigrants.
Their backgrounds reflect the diversity of recent immigrants and refugees in the United States. Those who were born abroad hail from Bangladesh, Burma, Canada, China, the Dominican Republic, Egypt, Germany, India, Iran, Israel, Mexico, Nigeria, Pakistan, Saudi Arabia, the United Arab Emirates, and the United Kingdom.
Each new Fellow joins the prestigious community of recipients from past years, which includes U.S. Surgeon General Vivek Murthy, leading Ebola researcher Pardis Sabeti, Aspiration founder Andrei Cherny, Oscar health insurance co-founder Kevin Nazemi, and 535 other New American leaders.
About Paul and Daisy Soros
Philanthropists Paul and Daisy Soros founded the fellowship program as a way to give back to the country that had offered them and their children such great opportunities. They also felt that assisting recent immigrants at critical points in their educations was an unmet need, and wanted to call attention to their extensive and diverse contributions to the quality of life in the United States.