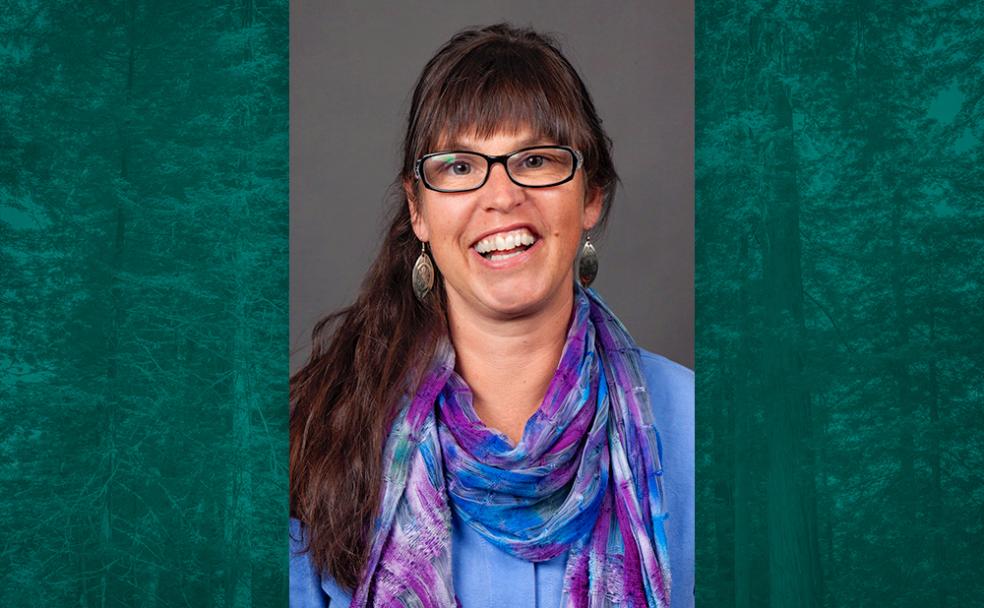 Kari Marie Norgaard ('92, Biology) got more than she expected out of Cal Poly Humboldt.
Kari Marie Norgaard ('92, Biology) got more than she expected out of Cal Poly Humboldt.
Since her graduation 30 years ago, she has remained connected to the University and the North Coast. 
After graduation, she has remained connected to the University and the North Coast. A professor of Sociology and Environmental studies at University of Oregon, she has been a consultant for the Karuk tribe for the past 18 years, working on the Klamath River dam relicensing agreement that resulted in plans to remove the dams, and helping to write the Tribe's recently completed climate adaptation plan. 
Norgaard  is best known for her 2011 book, "Living in Denial: Climate Change, Emotions and Everyday Life," which examines the sociological factors involved in the reluctance to address the global issue.
Her second book, "Salmon and Acorns Feed our People: Nature, Colonialism and Social Action," was published in 2019. It focuses largely on an analysis of the Karuk experiences. Even though it's a modest community, the ramifications of its experience, knowledge and practices have the potential to go far beyond its tribal lands, says Norgaard.
"It's a small place," she says of California's North Coast, "but it's a small place that happens to have a lot of knowledge in hand. Native people have understood that sociology and ecology are tied together. They have taken leadership on so many fronts, including the issue of wildfire."
The world can also learn things about reciprocity and care of the land from the traditional  practices of tribes such as the Karuk, she says.
"The impact of environmental sociology has been the guiding force behind my career direction," Norgaard says, adding that that path began at Humboldt, where as a Biology student, she studied the spotted owl.
"I worked for two years as a field assistant for Professor R.J. Gutiérrez on the population dynamics and reproductive success of the California spotted owl in Southern California and the habitat characteristics of the Mexican spotted owl in Zion National Park.
"I loved Biology," she adds, "and I loved working in the field. But in terms of the world we're in, it struck me that it was really the human side of things that was out of sync. I started making connections between social and ecological problems. That led me to pursue graduate work in the social sciences."
She earned a master's in Sociology from Washington State University and, later, a Ph.D. in the subject from University of Oregon where, following a postdoc at UC Davis and a faculty position at Whitman College, she has been a professor since 2011.  
Much of her recent work has focused on wildland fire management and a large percentage of the people that she deals with, from fire experts to forest managers, have Humboldt connections.
"I meet Humboldt grads everywhere, doing really interesting things," she says. "I'll find myself in a room full of movers and shakers and they're all Humboldt grads."
The University also plays a key role in the work she does with indigenous tribes.
"Humboldt is viewed very well by people growing up in these tribal communities," Norgaard says. "It is something not only to be proud of, but it is important in terms of an ongoing framework and building relationships. I'm very proud to be an alumna and of the work that Humboldt continues to do."
Besides the knowledge and experience she got while an undergrad, she says the school provided something greater.
"Humboldt gave me a kind of orientation to the world," she says, "an orientation of being empowered, to know I can do something to make a difference."