Image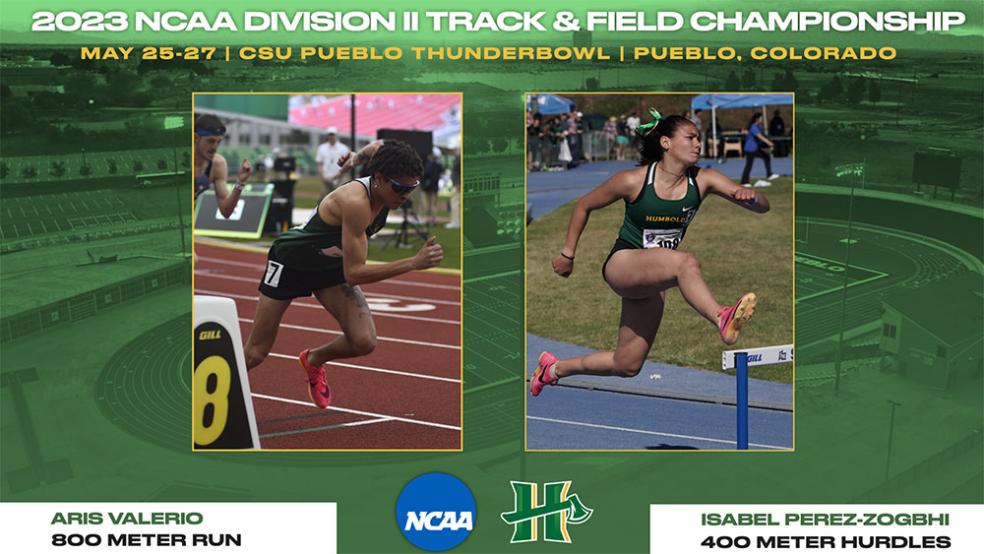 The Cal Poly Humboldt track and field program will send two individuals to compete at the 2023 NCAA Division II Outdoor Track & Field National Championships hosted by Colorado State University Pueblo at the CSU Pueblo Thunderbowl.
The men's and women's program each had one member qualify. For the men, junior Aris Valerio (Murrieta, California/California Baptist University) is the No. 18 qualifier nationally in the 800-meter run with a time of 1:49.43. On the women's side, freshman Isabel Perez-Zogbhi (Merced, California/Merced HS) is seeded No. 19 in the 400 meter hurdles with a time of 1:00.54. 

A total of 754 participants, 377 men and 377 women, will compete in this year's Outdoor Track & Field National Championships. Student-athletes qualified for the championships by reaching a provisional standard established for each event and by being amongst the top athletes on the national performance lists in their respective events. The last time Humboldt had members qualify for the NCAA Divison II National Championships was 2018.
To view the live results beginning on Thursday, May 25, click here. The live stream link will become active on Thursday at NCAA.org. For more information regarding the host site, CSU Pueblo, click here.