Lost Coast Brewery has begun shipping its hearty Big Axe IPA, a special offering that supports Humboldt State University.
A portion of every bottle and draft sold will be given to the Humboldt Loyalty Fund, which supports the student experience at HSU with laboratory equipment, new technology, special projects, and more.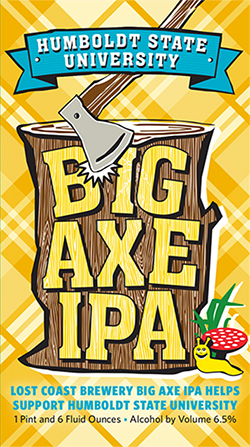 Initially, the beer will be distributed in 22 oz. bottles locally, as well as south to Ukiah and east as far as Redding. It will also be available on tap at select locations, including the Humboldt Bay Tourism Center, which has agreed to offer it for the next year.
"We see this as a fun way to support our local university, Humboldt State, which is such a big part of our community," said Barbara Groom, owner of Lost Coast Brewery. "We know there are HSU alumni all over the state and the country who enjoy our beer. And it's not just because we have a great product – for many of them, it's a connection back to Humboldt. We hear from them, and we know they miss this area."
"Big Axe" is a private-label brand created by Lost Coast Brewery. It debuted, along with three other specially labeled beers from other local breweries, during the university's Centennial Celebration in 2013-14. Lost Coast offered to continue the idea as a fundraiser, expanding from the initial Big Axe Ale to also include Big Axe IPA.
It's an unusual partnership. Many universities have specially labeled or blended wine used for gifts or fundraising, but Lost Coast hasn't been able to identify another microbrewery that supports a university in this way. It seems to fit in Humboldt, with its strong sense of community and support of locally crafted products.
Support to Humboldt State from Big Axe IPA and Ale is expected to be between $5,000 and $10,000 this year.