Image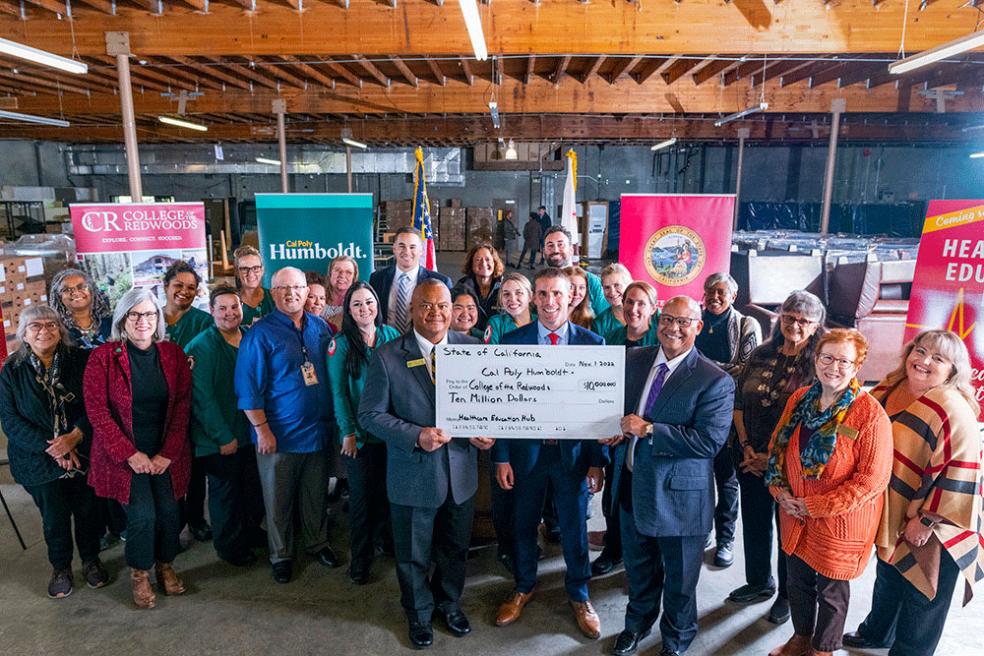 Senate Majority Leader Mike McGuire, along with Cal Poly Humboldt President Tom Jackson, Jr., College of the Redwoods President Keith Flamer, and local healthcare and elected leaders, gathered on Tuesday to announce a $10 million investment in the creation of a Healthcare Education Hub that will become the epicenter of healthcare career training on the North Coast. 
McGuire secured the $10 million in this year's state budget. The funding will transform a 30,000-square-foot warehouse in Arcata into a state-of-the-art learning lab focused on the development of a healthcare workforce in Northern California. This historic investment will help grow healthcare career programs at both Cal Poly Humboldt and College of the Redwoods.
See additional photos from the announcement event. 
"We've made so much progress over the last four years thanks to this innovative partnership with the College of the Redwoods and Cal Poly Humboldt. We restarted Cal Poly Humboldt's Bachelor of Science in Nursing program, we expanded the College of the Redwoods nursing program, and now we're launching the Healthcare Education Hub, which will become the epicenter of healthcare career training for our region," McGuire says. "This $10 million will help build out the most modern healthcare learning lab between the Golden Gate Bridge and the Oregon border and will train thousands of healthcare professionals, from multiple career tracks, in the years to come." 
The Health Care Education Hub will be used to train health professionals such as nurses, psychiatric technicians, EMTs, scrub technicians, respiratory therapists, radiology technicians, and more.
"We are very aware that our future depends on a strong partnership between College of the Redwoods, Cal Poly Humboldt, Senator McGuire, and our community partners," Flamer says. "We clearly understand that we can better help all students on the North Coast by working together rather than separately. This Healthcare Education Hub is another example of what we can do if we dream and work together."
"We're grateful to Senator McGuire for his commitment to deliver on the healthcare needs of the North Coast," Jackson says. "We're looking forward to collaborating with College of the Redwoods to transform this building into a center where the next generation of health care professionals will be educated. This investment in CR is also an investment in our region—one that will help our entire healthcare system become more resilient while providing new opportunities for students and professionals."