Humboldt State University has been recognizing the achievements of alumni since 1960 when the University launched its annual Who's Who Award. This year, we celebrate our 2020 Distinguished Alumni who have been recognized as leaders in their fields and have been outstanding contributors to their community, nation, or Humboldt State University.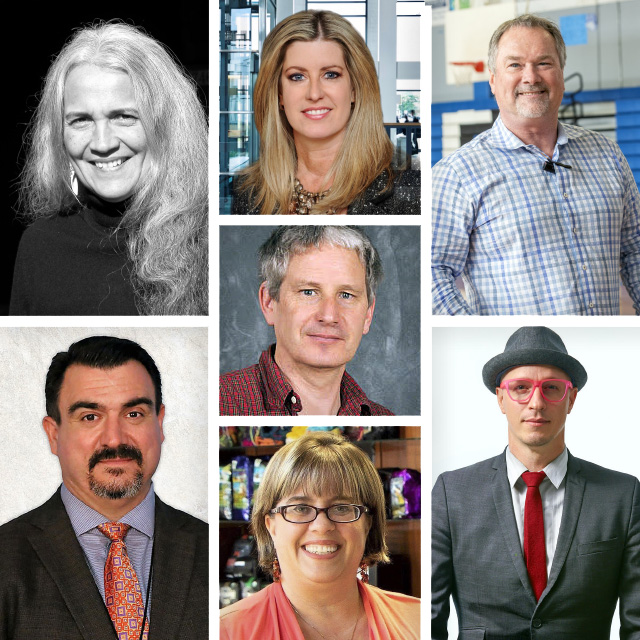 Abby Abinanti ('70, Journalism) is Chief Judge for the Yurok Tribe, where she is an enrolled member. Abinanti was the first Native American woman to pass the California bar and the first Native American woman in California to become a state judge. She also serves as a Court Commissioner for the City and County of San Francisco, a position she has held for 20 years. During her career, she has taught in law schools including University of California, Berkeley and Stanford University Law School, and has delivered lectures at numerous law schools. Additionally, she served as Chief Counsel to a number of tribes and has served by appointment in various tribal courts, including Hopi and Hoopa.
Known as Judge Abby throughout Indian Country, Abinanti is one of a growing number of tribal judges nationwide incorporating traditional culture into their courtrooms, with the dual aim of rehabilitating individuals and providing justice to people often failed by the regular criminal-justice system. This approach is allowing tribal courts to help realign non-tribal courts as they seek to move away from a criminal justice approach, which has increasingly proven to be unjust.
Carin Kaltschmidt ('90, Computer Information Science) is an Ernst & Young executive who leads professional consulting services for large global corporations. For more than 25 years, she specialized in managing complex business and technology transformations for high tech, media, and entertainment industries. She is a strategic leader that empowers global businesses to innovate their operations, to implement cutting-edge technology and to transform their workforce. She has worked with diverse teams of professionals representing more than 40 countries throughout her career.
She led a crisis management program for Sony Pictures Entertainment following a cybersecurity hack, she managed a global expansion markets program at Cisco Systems to set up new Cisco legal entities in over 30 emerging countries, and headed a team at Disney to launch Disney+ into homes, laptops, tablets, and smartphones across the globe.
Kaltschmidt also established a HSU endowment fund that created an annual scholarship for Computer Science students so they can follow in her footsteps.
Dan Phillips ('91, Business and Computer Information Systems) is the Chief Technology Officer at the popular online streaming service Hulu. He is responsible for leading Hulu's technical and product strategy to drive innovation for consumers and partners. Phillips oversees Hulu's entire Technology and Product organization, spanning engineering, data center operations, network and broadcast operations, information technology, and program management, as well as product management, user experience and product development. Phillips has published several papers with NASA and was granted a patent for his work on expanded object models.
In December 2019, Phillips, who grew up in rural Humboldt County, and his wife Cindy, significantly contributed to the HSU community through the creation of the Dan & Cindy Phillips Fortuna Scholarship. This scholarship, established with a $250,000 gift from the Phillips, supports Fortuna High School graduates who enroll at HSU either as transfer students from College of the Redwoods or as first-time freshmen.
Daniel Raleigh ('81, Chemistry, Mathematics) is a Professor of Biophysics at University College London and a Professor of Chemistry at Stony Brook University in New York. While earning his Ph.D. in Chemistry at the Massachusetts Institute of Technology he won the prestigious National Science Foundation Predoctoral Fellowship. From there, he had two postdoctoral research appointments, one at Oxford University and the other at Du Pont Merck Company.
His major areas of research are to develop methods to study proteins. He has conducted ground-breaking studies of the role of protein misfolding and aggregation in disease, and his contributions to this area have led to a new view of the critical unfolded state of proteins. The misfolding and pathological aggregation of proteins is the direct cause of more than 20 devastating human diseases, including Alzheimer's disease, cystic fibrosis, Parkinson's disease, and ALS, and contributes to type-2 diabetes.
Raleigh's achievements have been recognized by a National Science Foundation Career Award, selection as a Pew Scholar in the Biomedical Sciences, membership on the editorial boards of five leading journals, selection as a Wellcome Trust Senior Investigator, and most recently by membership in the National Academy of Inventors.
Jason Ramos ('98, Kinesiology, '14 M.S. Kinesiology) serves as a tribal council member for Blue Lake Rancheria and chairman of the BLR Gaming Commission. Ramos works to advance tribal strategy, policy, programs, and investments in infrastructure and economic enterprise, and collaborates with tribes, federal, state, and local governments, and other agencies. His contributions have strengthened tribal sovereignty, improved education, accelerated climate action, and spurred economic development.
Ramos also serves on the U.S. Department of Energy Indian Country Energy and Infrastructure Working Group, the Northern California Tribal Chairperson's Association, the Tribal-State of California Regulators Association, and Blue Lake Education Foundation. His work for BLR has earned the following recognition: a 2019 "Green Power Leadership Award" from the Environmental Protection Agency; 2019 "Microgrids for Greater Good Award" from Microgrid Knowledge; 2018 "Project of the Year for DER Integration" from POWERGRID International and DistribuTECH; 2017 "Whole Community Preparedness Award" from FEMA; and the 2015-2016 "Climate Action Champion" from the White House and U.S. Department of Energy.
Ramos also has a deep commitment to Humboldt State. He currently serves on the President's Native American Advisory Council, Sponsored Programs Foundation Board of Directors, and the new Masters of Business Administration Program Advisory Board. He previously served on the HSU Foundation Board of Directors, including a tenure as board chair, and the Alumni Association Board of Directors. He continues to support Kinesiology through The Jason M. Ramos Endowment for Kinesiology Research, which funds equipment and research for the Biomechanics and Human Performance labs on campus.
Susan Seaman ('96, Journalism) is the mayor of Eureka and program director for Arcata Economic Development Corporation (AEDC). After graduating, she worked as the Program Information Director for KEET-TV for 15years, developing promotional materials, planning events, producing television shows and developing outreach programs to support children's programming. For a few years, she and her husband owned a small market in Fieldbrook, where she developed an interest in the role of small business in the community. She started working for AEDC to promote small business and economic growth. After three years serving on the City of Eureka's Economic Development Commission, she ran for mayor and won in 2018.
Under her leadership, Seaman introduced the Eureka Family and Children Initiative. This initial five-year plan will focus on making Eureka a more supportive environment for families and young children.
Besides sitting on boards and advisory committees, including HSU's Center for Community Based Learning and MBA Advisory Group, she volunteers with community projects. Currently, she is a Big Sister of a 17-year-old in the North Coast Big Brothers Big Sisters program. She also delivers food to seniors through Food for People's Senior Brown Bag Program.
Forest Stearns ('05, Art) is the Principal Artist at DRAWEVERYWHERE LLC where he produces unique artwork and leads collaborations connecting artists and institutions. He has a passion for founding artist in-residence programs that connect art, science, and technology. Currently he is the creative innovation consultant and artist-in-Residence founder at Google Quantum AI.
Stearns is the first artist to send his art into space. Since 2013 Stearns has been working with Planet Labs, where he created original artwork and helped engineer the process for laser etching each art piece onto multiple surfaces of more than 350 satellites launched into Earth's orbit. His artistic portfolio spans media and substrate from endless sketchbooks of organic characters, art on quantum computers, and giant murals on surfaces ranging from buildings, radomes, and rocket ships. His artistic imprint can be found all over the globe and has been commissioned by companies such as Apple, Adobe, and Google.