Image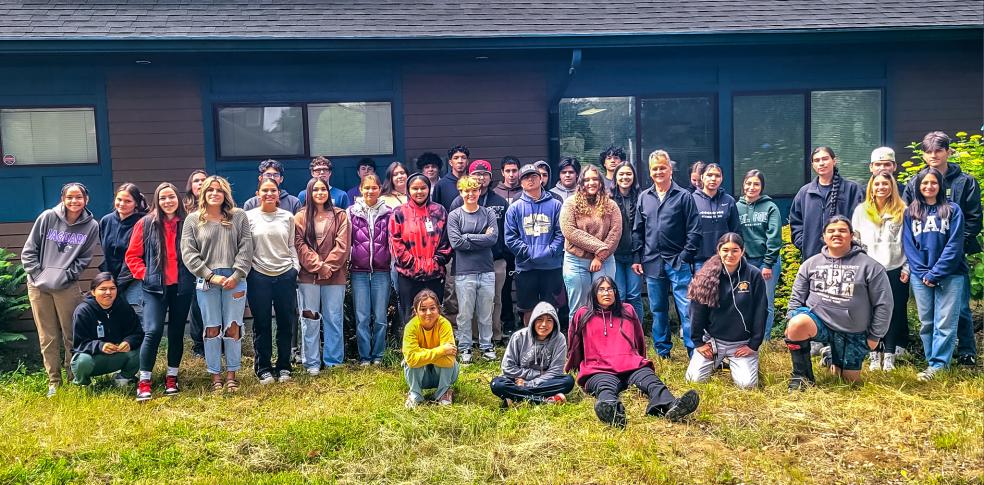 Nearly 50 Native high school and college students spent a part of their summer studying the rivers and surrounding ecosystems throughout the Klamath River Basin, gaining college credit and hands-on experience through Cal Poly Humboldt's Environmental Science & Management 105 course.
The course was created through a partnership between the University and the Yurok Tribe, and is offered through Humboldt's College of Extended Education & Global Engagement. It was funded by the Yurok Tribe, the College of Natural Resources & Sciences, and grants from the U.S. Department of Education.
The course, says instructor Keith Parker ('15, Fisheries Biology, '18, M.S. Natural Resources), was designed to support early college experiences.
Each week, students spent one day in the classroom and three days conducting fieldwork where they were mentored by scientists and educators. Fieldwork, which ranged from fish counts, and water quality testing, to disease monitoring, "provides exposure to multiple disciplines including fisheries, wildlife, watershed restoration, environmental resource management, forestry, fire management, horticulture, and others," Parker says. "The experiences include interactions with multiple watersheds, salmon, sturgeon, condors, elk, rivers, fish hatcheries, plants, etc."
Students also explored the social, economic, and cultural factors that influence the use of natural resources, including conservation and Traditional Ecological Knowledge practices such as cultural burning, Parker explains.
Yurok Tribe Education Director Jim McQuillen says the course gave college credit to Native youth from Yurok, Hoopa, Tolowa, Karuk, and Wiyot Tribes to learn about their own cultures. They also discovered Tribal career pathways available to them.
For most of the students, it was their first opportunity to take a university course, McQuillen says. "The course provided real-life lessons for the Native students to learn Traditional Ecological Knowledge and the monumental restorative efforts to repair the Klamath River watershed." These restoration efforts, he says, mirror the healing that can occur for local Tribal people.
The ability to earn both high school and college credit is significant for high schoolers. "This is huge since students are still academically recovering from the pandemic and there continues to be an achievement gap to close between American Indian students and others," he adds. "The course is a step in the right direction in support of American Indian students and to close the achievement gap."
"Our students have now experienced a taste of college and know that this is a viable option for them," he says.