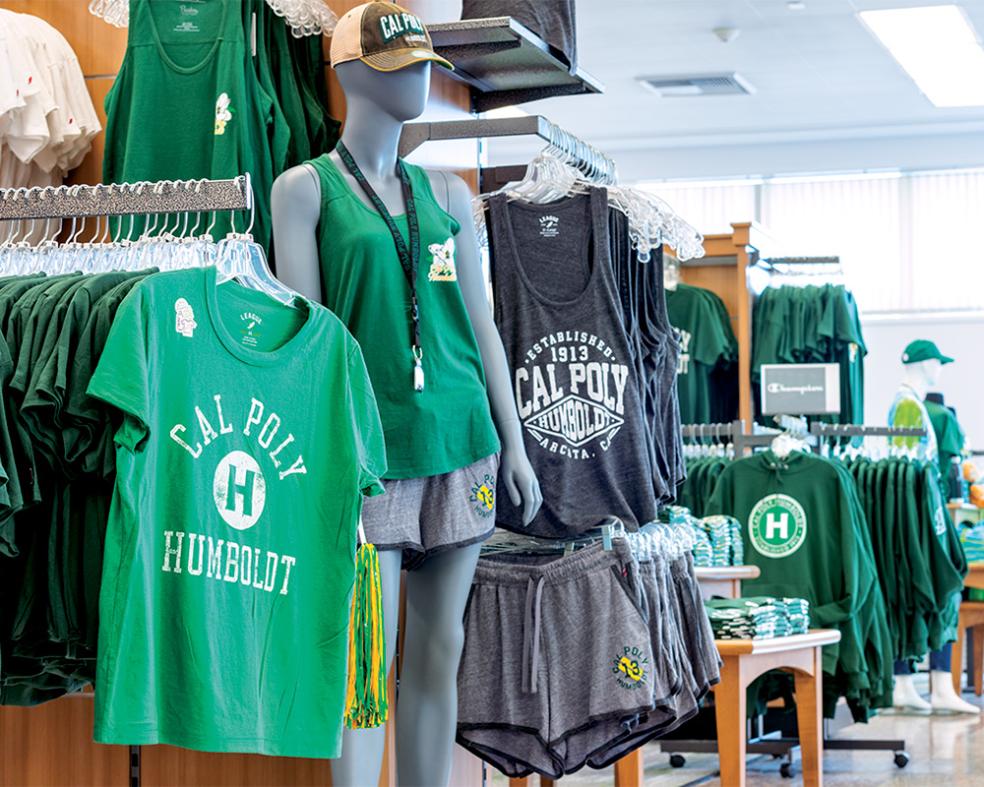 The Campus Store, Arcata follows the opening of the Eureka location. The Campus Stores came out of a the University's desire to have a presence downtown, be represented at events, and be more connected with the community and visitors.
Cal Poly Humboldt announced the opening of its second Campus Store. 
Located on the corner of 8th and G streets on the Plaza, the store sells a range of products including branded items from Cal Poly Humboldt, College of the Redwoods, and local high schools; HSU legacy items; housewares and accessories; and Apple and Dell electronics. The site will have the only Apple-certified service center in Humboldt County.
The store also features public seating with outlets for charging as well, plus free WiFi for students. Items can be ordered online and shipped for free to the store for pickup, or can be shipped directly to customers.  
Another unique feature will be space for student-made items, which will help raise money for campus clubs.
The Arcata location follows the Campus Store, Eureka (at 218 F Street in the Ritz Building), which opened its doors in November, 2021.
The Campus Stores came out of a desire to have a University presence downtown and have the University represented at events like Arts Alive and farmers markets. The stores will help the University be more connected with the community and visitors, and give students a destination to visit in Eureka.
"The Campus Stores showcase the University's pride in being part of our local community.  It's been our pleasure to welcome alumni, visitors, and prospective students and families at both locations," says Todd Larsen, senior director of Housing Operations & Auxiliary Services.
On campus, the College Creek Marketplace will continue to sell University apparel and merchandise. School supplies—including scantrons, textbook pickup and returns, etc.—will be available at The Campus Store Textbook Warehouse in the former bookstore location on the third floor of the Gutswurrak Student Activities Center.
The Campus Stores
Arcata Location and Hours: 
Corner of 8th and G streets on the Plaza,
10 a.m.-6 p.m., Monday-Friday; 10 a.m.-3 p.m., Saturday and Sunday.  
Website: bkstr.com/calpolyhumboldtstore
Eureka Location and Hours: 
218 F Street in the Ritz Building)
10 a.m.-5:30 p.m., Monday-Friday; 10 a.m.-5 p.m., Saturday; 10 a.m. - 4 p.m., Sunday. 
Website: thecampusstoreeureka.com